IUMI on the coronavirus and containership fires | Insurance Business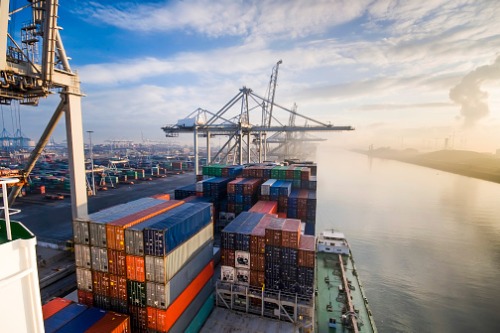 At the annual winter meeting press conference held by the International Union of Marine Insurance (IUMI), a host of the most pressing issues facing this sector were discussed and debated by several IUMI office holders who act as senior representatives of the global marine insurance and reinsurance market.
At the event, Philip Graham, Facts & Figures committee chair, IUMI and Chaucer, highlighted how, at the beginning of the year, the general market was beginning to look quite positive from a shipping standpoint for a lot of marine and shipping clients. The balance on the supply side between the delivery of new buildings and the world tonnage was the lowest it had been in four or five years, he said, and so, on this side, a positive environment was starting to develop, and charter rates were going up.
"Then the coronavirus hit," Graham said, "and it has had, without a shadow of a doubt, a negative impact on the world economy and it's had a negative impact on the demand side of the shipping community."
Read more: North P&I Club creates tool to help track coronavirus
IUMI has seen tanker rates fall once again, as well uncertainty about the supply of goods and uncertainty about the supply chain which is putting pressure back on shipping partners. The question going forward is what the long-term impacts of this will be, he said, especially as nobody knows how long this event is going to last.
Helle Hammer, political forum chair, IUMI and CEFOR (The Nordic Association of Marine Insurers) stated that the highest priority issue for the forum is that of containership fires which has been the case since IUMI started discussions on this issue with a position paper it issued in September 2017. IUMI has outlined a growing issue, stating that container vessels are becoming larger and more complex, and that cargo fires on board these vessels have become an increasingly common occurrence.
In IUMI's 2017 position paper, it called for responsible authorities and the wider industry to engage in discussions on improving inadequate fire detection, protection and firefighting on board container vessels. This paper was released to start a discussion with all stakeholders about what could be done about these fires, Hammer said, and it was taken from a very holistic approach, examining both the prevention and the management of this risk.
Sean Dalton, cargo committee chair, IUMI and Munich Re America said: "2019 was an unprecedented year for the number of cargo vessel fires, predominantly container vessel fires and, recently, with the casualty on COSCO Pacific, the problems have continued."
The consistent through-line of these casualties has been the shipment of hazardous materials and dangerous goods, he said, highlighting that it has been recently noted that the loss of the COSCO Pacific may have been caused by a misdeclaration of a shipment of lithium batteries. There was also a finding issued on the Yantian Express, he said, that found that a misdeclared shipment of coconut charcoal appeared to be a significant factor.
This is a recurring issue, Dalton said, and he outlined how the increased size of vessels is creating greater consequences. The holistic approach Hammer alluded to, he said, is what is required.
He said: "I think we've also seen carriers take the unprecedented step of imposing fines for misdeclared cargo so it's something that's an ongoing concern."
Attacking misdeclaration is an essential part of the action being taken to prevent containership fires, Hammer said, however this cannot be solely relied upon. Containerised goods are increasing, she said, detailing how in 2000 the entire container vessel fleet had a cargo capacity of 4.4 million which rose to 20 million in 2019. There is a rising number of ultra large container vessels about to carry more than 20,000 TEU according to IUMI and, as the risk is increasing, a reliance on misdeclaration would be ill-advised.
"We also need to do something on fire detection and how to put that fire out once it occurs. The larger the vessel the greater the risk to seafarers and to the environment as well," Hammer said. "What we have today is not designed to really cope with a fire on board a container vessel when it's not in the cargo hold."