Lord Browne moves up as Windward chairman | Insurance Business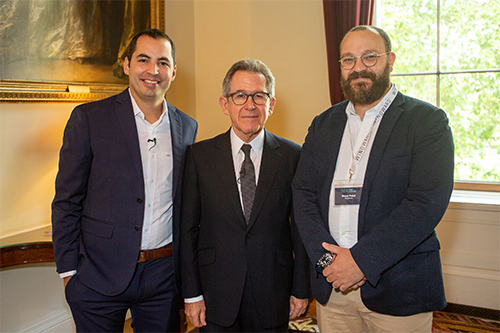 Lord Browne of Madingley (pictured, centre) invested in maritime analytics firm Windward in 2016 and joined the board last year; now the former chief executive of British energy company BP has been named chairman.
Windward, which is headquartered in Tel-Aviv and has an office in London, made the appointment ahead of its global expansion. According to the specialist insurance disruptor, it will be opening offices in New York, Washington D.C., and Singapore over the next few months.
Commenting on the major appointment, Windward CEO Ami Daniel (pictured, left) stated: "To be successful, a company needs wise, experienced hands on its board. They don't come much wiser or more experienced than Lord Browne.
"Since he joined us 18 months ago, Windward's growth has accelerated as it works with an ever-expanding share of the maritime ecosystem. We're thrilled to have Lord Browne as chairman of the board."
Meanwhile Lord Browne is happy to take on the top role.
"Having been involved with Windward for several years, I am delighted now to serve as chairman," he said. "Windward is leading the way with its combination of big data, AI (artificial intelligence), and judgement based on deep expertise."