Insurance professionals weigh in on rallying behind great charity initiatives | Insurance Business UK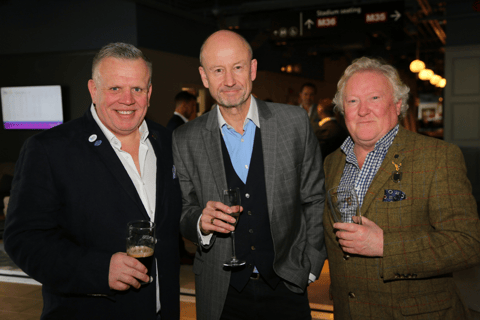 There is a natural alignment between insurance and charitable giving, and the fruits of these labours continue to make marked differences in the lives of individuals, families and communities spread throughout the world. The spirit of giving certainly proved to be alive and well during a recent lunch announced in aid of the MyName'5Doddie Foundation and and the Leeds Hospitals Charity for Rob Burrow
The event, which featured a preview of the Rugby Six Nations tournament, included a review of the Women's World Cup and the Rugby League World Cup and saw sporting stars come together to celebrate the life of Doddie Weir the Rugby legend who passed away from Motor Neurone Disease (MND) in 2022. Discussing how the Realia-organised event came about, MD Paul Williamson (pictured left), noted that it all started when he first met Bryan Redpath, an old teammate of Weir's at Melrose and Scotland.
"It turned out he knows Rob Burrow really well too," he said. "We got chatting and, with the help of a glass or two, we figured we could put on a little lunch with a few guests and some rugby legends with a view to raising a few quid.
"Very quickly we went from the idea of a very modest event to something pretty sizeable, with players from every one of the Six Nations, from both the men's and women's game, plus the prodigious Barrie McDermott. That first event we raised £22,000 with many guests saying it was the best insurance event they had ever attended. Job done."
The success of the first lunch was self-propagating, he said, and so when he decided to do it again, it pretty much sold out in weeks, with every sponsor from 2022 booking again, plus another 25% on top. This time, the event united the whole rugby family with men and women from Rugby League, a world champion from the wheelchair tournament and Six Nations legends from all countries in men's and women's competitions.
"We even had a current international referee, an All Black and the entire Sky Sports RL team," he said. "Every single one of them gave up their time without a fee to help realise Doddie's vision of a world free of MND.
"Our aim, as always, was for people to leave with happy tummies, full hearts and empty pockets. We raised just about £35,500, but more than that, we united rugby fans, competitors, peers and friends from right across the insurance industry in a day of reflection and celebration."
CEO of the Managing General Agents' Association (MGAA) Mike Keating, who attended the charity drive, first heard about the fundraiser from Williamson but was already very aware of the importance of raising awareness around MND. So, when Williamson first introduced the idea of a charity event, he said, he wanted to lend his support both on a personal basis and on behalf of the MGAA members.
"One of my members with me at the event lost a very close friend to the disease," he said, "and was keen to support also."
The fundraiser brought together leaders from a cross-section of the insurance and risk management related professions, among them Mark McMullen who in April 2022 was appointed MD of Rainbow International, a disaster recovery and specialist cleaning services provider. He was encouraged by his new colleagues to get involved following their prior attendance, he said, and saw for himself what a worthy cause it is supporting.
For Paul Redington, regional major loss property claims manager at Zurich UK, his link with Williamson was critical to his getting involved. Having had the good luck to speak at a few insurance-related conferences that Williamson and the Realia team helped organise, he said, he was told about the initiative and what it was hoping to achieve. He was so impressed by the outpouring of energy and commitment on display that he felt a responsibility to help support the drive – not just through his attendance but also by spreading the word on social media and beyond.
As for the impact of the day itself, Keating identified that among many standout moments, the experiment suggested by MND experts at the event of sitting on your hand in order to partially experience what it must be like to suffer with MND was both "poignant and humbling". For McMullen, the Twickenham stadium venue was also striking, as were the thought-provoking and entertaining interviews with rugby legends and MND experts alike.
"It was the second lunch I have been to, and it even managed to top the first," said Redington. "Twickenham is a great place anyway, but to have the opportunity to meet and mix with some rugby greats was amazing. I must admit I didn't know much about MND prior to the first event.
"Understanding how debilitating it is was a real eye-opener. Since then someone I know has sadly contracted MND, and his life has altered immeasurably. He is a surgeon in the US, with a wife and two children and can no longer work. What's clear is that it doesn't just impact the sufferer, but their whole family. When you hear the stories of people like Rob Burrow and the late, great Doddie Weir, it's heartbreaking, but inspiring at the same time."
Insurance is a profession built on personal relationships, noted Keating, which is why it's so critical for insurance professionals to get involved with charitable and community initiatives. It is very likely that everyone will know someone who suffers from such terrible diseases as MND or dementia or the myriad of other illnesses the industry supports every year, and so the opportunity to give back and benefit others should be seized wherever it is found.
"The insurance industry, like others, has challenges," Keating added, "but it should be applauded for its focus and generosity in supporting charity events."
Redington highlighted that the importance of resilience is so often discussed in the context of the insurance sector. The likes of Rob Burrow have tremendous resilience, despite the adversity, and have amazing support around them, he said. But of course not everyone has that which is where charities can come in - to support them and their families, and to hopefully find a cure for this dreadful disease.
"I work in property claims and we are all about helping people at their time of need - when they are facing tough times," he said. "They, or their house or business, are just in the wrong place at the wrong time. It's not their fault, it's just the hand they have been dealt. The same applies to MND sufferers and we can all try to do something as individuals – helping to raise awareness, and by supporting events like this.
"The fortitude of sufferers is incredible of course but what's just as clear, is the need for more funding for research. And of course, the cost-of-living crisis means many may find it difficult to donate to some of these causes now. So, this sort of charity event is even more important. Raising money while hearing from some truly inspirational people."
What are your thoughts on the link between insurance and charity initiatives? Please feel free to share your comments below.