West Ham legends turn up at fundraiser co-organised by insurance broker | Insurance Business UK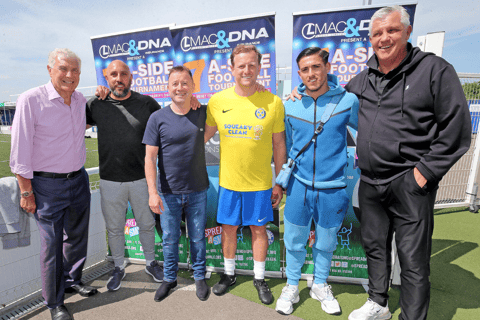 L-R: Sir Trevor Brooking, Danny Imray, Mark Ward, Lee McDowell, Danny Imray Jnr, and Tony Gale
Sir Trevor Brooking, Tony Gale, and Mark Ward have supported a football tournament organised by construction business LMAC Group and broker DNA Insurance for the benefit of children's charity Spread a Smile.
The West Ham legends were in attendance at the seven-a-side football tournament that was held at Billericay Town F.C. in Essex last month to cheer on the 19 participating teams. Masterminded by LMAC Group's Lee McDowell and DNA Insurance director Danny Imray, the event raised £20,224.
Read more: Aston Lark announces swoop for DNA Insurance
"We dedicated a hospital visit at St Mary's Hospital to Lee, Danny, and all those who took part in and organised the tournament," said Spread a Smile chief executive Lucy Jackson, whose camp helps bring joy and hope to seriously ill children in hospitals and hospices through in-person and virtual visits.
"Collectively they raised an incredible amount of money for us, which will help fund our work locally and across the UK, supporting seriously ill children in hospital. We can't thank Lee, Danny, and everyone involved enough. It's only with the help of our supporters organising events, introducing us to their peers, and helping spread the word of our work that we can continue to spread smiles far and wide."