Robertson-McIsaac broker on turmoil in the professional indemnity market | Insurance Business UK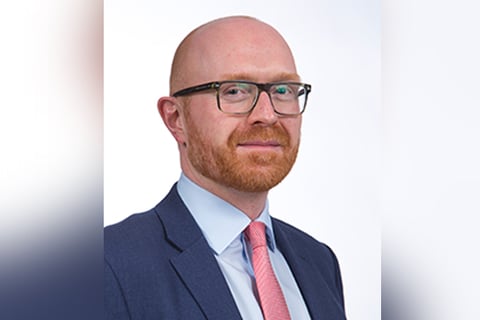 When Will Adams (pictured), account handler and professional indemnity claims handler at Robertson-McIsaac Insurance Brokers, first became involved in the insurance sector as a temporary sales agent at a Norwich Union Direct motor call centre in Liverpool, little did he know that he would still be working within the industry 17 years later.
"After graduating I had dreams of going into journalism," he said, "but, at the same time, I wanted to stay in the North West. When my spell at Norwich Union Direct came to an end in 2003, I ended up working at the Liverpool office of Norwich Union Professional Risks as a filing clerk."
Within a few months a junior PI underwriter vacancy came up, he said, and as Norwich Union's Liverpool PI underwriters traded face-to-face with brokers at that time, Adams was intrigued by the interaction between the brokers and underwriters around him and, seeing a potentially rewarding career opportunity, he decided to apply for the role.
Having worked for several years in construction and solicitors' PI and having achieved the ACII qualification by the age of 30, Adams was appointed senior professional indemnity underwriter at Aviva in 2011 before moving to RSA in Manchester in 2013 where he worked as a trading underwriter.
When he was approached by Zurich in 2014, Adams was keen to broaden his experience in non-construction PI risks and accepted a senior market underwriter role in Zurich's Manchester office. His move to Robertson-McIsaac and insurance broking was precipitated by meeting his partner who lived in Gateshead and deciding to move in together.
"By coincidence, Robertson-McIsaac were looking to recruit a broker at the time, and my background and experience suited the firm's book of business," he said. "In 2017 I joined Robertson-McIsaac and made the move from underwriting into broking."
Working in a smaller organisation, Adams said, has offered him the opportunity to get involved in areas outside the day-to-day focus of his role. He now looks after a portfolio of mainly professional indemnity risks, including solicitors, independent financial advisers, financial institutions and general professions, as well as a wide range of other commercial clients and policies.
"It's refreshing to have direct access to the firm's decision-makers," he said, "and I also feel that I have a greater sense of how I personally contribute to the success of the business."
Adams outlined how working in the broking sector has given him a better understanding of how insurance is perceived by those who don't work in the industry, and particularly of the language of insurance policies which, he said, can frequently be baffling to the layperson.
"A crucial part of our role as brokers is to provide clarity to our clients, above all in relation to what is covered by the insurance products they buy and the things they must do for the insurance to be effective," he said, "these details need to be explained in plain English, which I find satisfying."
Working as a PI claims handler has given Adams significant insight into the challenges and opportunities which have emerged in this market over the course of the last year, and also how this market is likely to develop over 2020.
The PI market experienced a number of headwinds in 2019, he said. Adams specified how the lack of capacity resulting from insurers' increased scrutiny of their PI portfolios following the Grenfell tragedy and the reduction in risk appetite arising from the subsequent Lloyd's profitability review, have made things more challenging when trying to place heavier PI risks.
"Navigating the independent financial advisor PI market can also be problematic at the moment," he said, "particularly where firms have been significantly involved in defined benefit pensions transfer advice."
Despite the current turmoil, however, Adams stated that there remain opportunities for brokers who provide clear and timely advice to their clients at a time when insurers are becoming ever more risk-averse. Market conditions are relatively calm for well-run IT, media and miscellaneous firms and carriers are still willing to compete to insure profitable risks which fall into these categories, he said.
Looking to 2020, Adams said: "The risks of weakening global growth and increasing protectionism may have knock-on effects for the UK economy – growth in the UK has been modest in 2019 and the threat of growth turning negative still looms."
The frequency of professional indemnity claims tends to rise during recessions, Adams said, and he detailed how a UK recession may lead to a further reduction in underwriters' appetite for risk and insurance capacity.
"I was hoping not to have to mention the 'B' word, but looking further ahead, the successful negotiation of the UK's future trade deal with the EU will be key," he said. "A disorderly divorce from the EU looks highly likely to push the UK economy into recession but let us hope that a mutually beneficial trade agreement can be thrashed out over the coming year."
"Elsewhere," he said, "the fallout from the combustible cladding issues brought to the fore by Grenfell will continue – we are already seeing insurers withdraw cover further for claims in the area of fire safety, and rates look likely to continue to rise and capacity to diminish for architects, building contractors and surveyors."
It is also likely, Adams believes, that underwriters' appetite for IFAs giving advice on defined benefit pension transfers will remain limited.
"More generally," he said, "we are already seeing an increasing number of insurers who are less willing to provide the significant limits of indemnity which they used to, and I see no reason why this will change over the next 12 months."