UK business failures projected to surge in 2022 – report | Insurance Business UK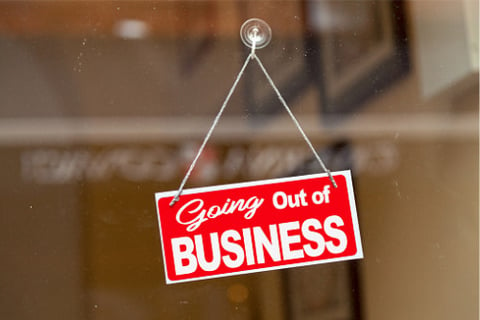 New research by trade credit insurer Atradius suggests that business insolvencies in the UK may increase 33% on pre-pandemic levels.
The new Atradius Insolvency Forecast reported that UK business insolvencies actually declined 27% in 2020, due to fiscal support schemes and anti-bankruptcy measures. It was observed that as these measures continued in 2021, insolvency rates were kept "artificially low," Atradius said, as businesses were shielded from the pandemic's economic impact.
But Atradius noted that once these fiscal support measures are withdrawn, a surge in insolvencies would return in full force, peaking in 2022. The report projected that UK business failures will begin to rise in H2 2021, resulting in a year-on-year increase of 7%. By 2022, annual insolvencies are forecast to spike by as much as 70% year-on-year.
Using a baseline insolvency level in 2019, Atradius economists have estimated that UK insolvencies will be 33% higher in 2022 than they were pre-pandemic – one of the highest rates in the world. The insurer mentioned that only Italy has a higher cumulative insolvency rate, with a forecast increase of 34%, followed by the UK and Australia, each with a forecasted increase of 33%.
Atradius also forecasts global insolvencies will rise 33% year on year on a macroeconomic scale after two years of decline. In spite of a recession, global insolvencies fell by 14% in 2020 and by 1% in 2021. This decline has been noted to be a "significant" downward adjustment to previous forecasts, suggesting the effectiveness of fiscal support packages. But Atradius warned that the sharp decreases in most countries suggest potential "zombie" companies, whose financial situation is too weak to survive once fiscal support is withdrawn.
The expected surge in insolvencies is shaped by three forces: the delayed effect of bankruptcies that would have occurred in 2020 in the absence of fiscal support and changes to insolvency proceedings; the phasing out of support schemes is expected to trigger an increase in bankruptcies towards "normal" pre-pandemic levels; and the elasticity of insolvencies to GDP changes.
"It is simple economics that insolvencies come hand in hand with economic recession which was inevitable as global economies recoiled as the pandemic hit. However, governments worldwide were quick to break this correlation and support businesses through the hardest trading period since the Great Depression," commented Atradius UK southern regional manager Damien Dawson. "As the economy rebounds and support schemes are gradually withdrawn, the escalation of insolvencies is, unfortunately, inescapable."