CEO of Charles Taylor InsureTech on digital transformation | Insurance Business UK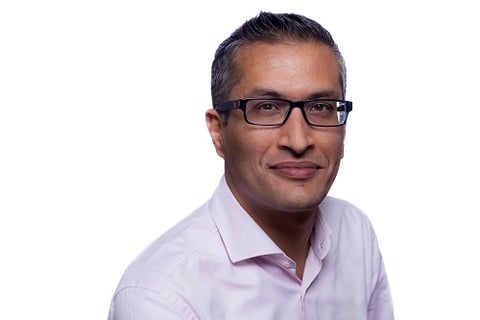 Throughout his career to date, CEO of Charles Taylor InsureTech, Jason Sahota (pictured) has worn a wide variety of professional hats. Having spent the majority of his career in professional services, he has worked in a diverse range of roles from account manager to service delivery manager to head of sales to CIO of a FTSE 30 company and advisory.
Sahota views his key functional skill as "business transformation with a major element of technology" and when his present role became available, he seized the opportunity to build a technology company from scratch. Speaking with Insurance Business, Sahota touched on the essential questions of digital transformation in the insurance industry and the role of different entities in the current insurance environment.
The InsureTech arm was launched, Sahota said, "with a view of bringing technology to really solve business problems… not to be a software product provider." As part of the executive committee of the Charles Taylor Group, Sahota believes his experience on both sides of the table has given him an enhanced understanding of clients utilising technology to drive business value.
InsureTech has enjoyed substantial success in the market to date and Sahota credits this to the involvement of the business across every element of the value chain. Now working with multiple major brokers, carriers and other insurance entities across the value chain as its clients, InsureTech was awarded a five-country contract to implement a policy administration system, INSIS, as the core operating platform for Seguros SURA in Latin America in 2018. Last year it also acquired the insurance-focused technology consultancy and software provider Inworx in Argentina.
Read more: Charles Taylor InsureTech swoops for insurance software provider
"I said from day one that I didn't want us to grow as a business just as another London market player," said Sahota. "A lot of businesses that grow up in London struggle to become global - I had global in mind from the start. So, I set up in London and I set up in Mexico City."
Being in Mexico City recently, he said, reinforced that this global focus was a good strategic decision. Developing economies have a greater need for insurance, he outlined, and with a greater need for insurance comes more transformation.
"The appetite to change in the developing markets is quite a lot greater than the more mature markets in the US and Canada and Europe," Sahota said. While these developing markets still have legacy technology and legacy ways of working, change is not as complicated, both in commercial lines and personal lines.
The two key drivers in the market, as seen by Sahota, are the revenue side with its emphasis on customer retention and acquisition, and the operational cost and operational effectiveness side. He believes that to move the dial and build a successful business strategy, you need to utilise both. To really understand the business problem, you have to understand where the client is and where they want to go, and then question "how do we help them get there?"
"The differentiating factor in every business," said Sahota, "is the people. And we don't want everybody to be the same so that the change journey is different for every organisation. But technology is not the silver bullet on its own."
On the subject of digital transformation, Sahota outlined what he believes to be the fundamental tenet behind why industry players, including brokers, may be slow to embrace such changes.
"I don't think it's just about digital transformation," he said. "I think there's just the general underlying [principle] that human beings don't like change."
However, we live in a world where change is the norm, said Sahota, and businesses that are going to survive in any industry must be agile. Yet a source of confusion for many businesses, he said, is the mix-up between digital transformation and digitisation.
Digitisation, he explained, is when organisations use technology on an existing way of working and it does not change the underlying process being utilised. Digital transformation, on the other hand, is changing the way of working through the use of technology.
"There is a big step change from one to the other," said Sahota, as people get used to the changes that are coming in technology,
Yet, while Sahota identified this transformation and highlighted the importance of continuing to talk about technology, he said the major change within the insurance sector is the move towards customer centricity. This shift in culture has already occurred in the banking industry, said Sahota, and "insurance is not going through a different change, it's just going through the change now."
It is difficult for an industry which is inherently and traditionally product-focused to emphasise the customer instead, Sahota said, but this is a fundamental adjustment required of and being embraced by the industry. Customer centricity, customer experience and the customer journey are the most essential considerations and should be at the heart of all transformation and strategy adjustments carried out in the insurance sector, he said.
Sahota additionally outlined how Charles Taylor InsureTech's innovative Tide solution for the standardisation and simplification of data throughout the distribution system of a business has been designed with the customer experience in mind.
Many brokers engaged in coverholder business have opted to utilise this product which, through the standardisation of the collection, validation, processing and supply of delegated authority data has allowed brokers to spend more time creating a valuable customer relationship, he said.
Between the digital transformation sweeping the insurance industry and the growing demand for the customer at the heart of the business, it seems there has never been a better time for innovative insurance solutions and Sahota is very happy to be a part of this brave new world.
"To watch your ideas and visions become a reality and watch individuals achieve their potential [is] fundamentally what I do now," he said. "I have the best role ever."