Genasys co-CEO on choosing the right strategic partners | Insurance Business UK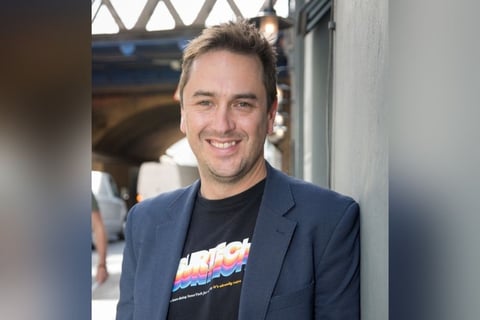 "Never forget to have fun."
It's the advice that the founder of the insurance software solutions provider, Genasys - Steve Symes - gave both Andre Symes (pictured above) and Craig Olivier when they first joined the firm – Symes, 11 years ago and Olivier, 22 years ago. As co-CEOs Symes and Olivier have seized this mantle and assimilated it into how Genasys does business.
It has been a fun journey, said Andre Symes (pictured), and through the stress and hard work that goes into building a successful business, they have not forgotten that advice. Of course, he noted, this has been made easier by the fact that he and Olivier are such great friends and there's little to beat getting to successfully build a business with your best friend. But there's a real lesson in his father's advice as, what comes with such an instruction, is the responsibility to find the right partners to support doing things differently, without doing things differently simply for the sake of itself.
Read more: Insurance software giant Genasys names joint CEOs
That's where the provider's recent announcement of a £12.25 million investment from the Scale-Up investor Frog Capital makes its entrance. Symes noted that once Genasys started to make quite a bit of noise across the industry, it was able to speak with investors across a whole range of different investment models. With the amount of capital flowing around the B2B SaaS space, people want to make deals quickly, he said, but while Genasys was in a position to speak with several dozen potential investors, the team knew what they were looking for.
"The thing that stood out about Frog was that they were more interested in our story and what we were really doing rather than the unit economics of the business," he said. "A lot of the other firms had a very financial data-driven outlook as to how things are going to go. 'What is your CAC:LTV Ratio? How is it going to change over the next couple of years? What are you gonna do about driving down costs and increasing sales in various areas?'
"[Frog] asked, 'What are you doing and why is it working?' And then we told them our story, and supported it with really strong financial data and they said they could help us push and pull the right levers. So, the conversation almost started from a business planning point of view and then worked its way into an investment conversation [unlike] what the majority of CV and other PE firms wanted. Frog took a genuine operational interest in the business and it was their transparency and authenticity that really affected us."
The nature of this partnership means that Frog Capital is not looking to change the business plan that Symes and Olivier have been operating since they took over as co-CEOs. Rather, the investment firm bought into that plan because they wanted to be part of that journey by providing additional finance to support strategic investment in the business, both from a senior hiring point of view and a product acceleration point of view.
Read more: Genasys' co-CEOs on what the UK insurance industry is calling out for
Traditionally, Genasys has always self-funded its R&D as well as its business development, Symes said, but now it is going to be able to accelerate in those areas. But whether it's via increased investment in delivery-tuning or bringing on industry experts to bolster its team – the emphasis and focus of the business remains centred on delivering the right clients, the right products. Genasys has no intention of selling its products as a misfit, he said, or in offering technology for technology's sake. Therefore, the focus is on finding the right customers, not a lot of customers.
"Our profile has been lifted," he said. "We've acquired some really big customers last year. A couple of them are really big key customers that are north of £200 million a year in GWP, which we haven't even gone to press with yet. The accolades we've received as well as the investment have raised our profile, which in turn has sparked a lot of interest. As an example, I put out a couple of senior hire positions recently and I've had more than 1,000 CVs submitted across seven different roles. [The last year] certainly has helped to raise our profile and hopefully, that will turn into more business as we can genuinely help people improve their digital strategies."
Looking to 2022, Symes said he feels "quietly confident" about the year ahead. The ethos at the heart of Genasys remains unchanged by all the growth and excitement of the last year – it's still about doing what they do best for their customers, just better than ever and more than ever.
"We truly believe in the 'if our customers are happy, we will grow together' strategy," he said. "And if we can deliver valuable change to our existing and new customers in 2022, I'll take that as a win."