Insurely co-founder on insurance's struggle for relevance | Insurance Business UK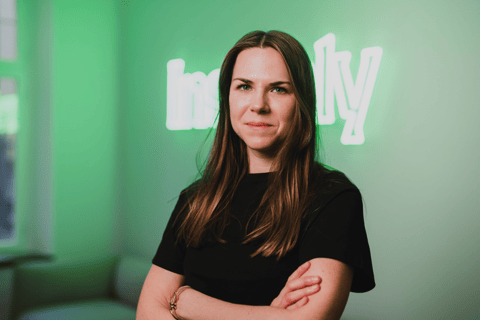 For Insurely co-founder Lotta Rauséus (pictured), who started her career as a management consultant within financial services, working at the coalface of transformation projects within insurance companies and banks alike was an eye-opening experience.
And it was during this time, she said, that she started to learn more about the insurance industry – and to realise that true digital transformation will never come from within the industry but rather have to be initiated from the outside by someone who dares "to lead instead of follow."
"With that said," she added, "I have never worked in the traditional insurance profession. But with years of experience in implementing EU regulations and transforming businesses within the insurance and finance industry, together with an insurance broker license, I feel well suited to be driving change from a consumer perspective in this industry."
Looking at where her path to creating Insurely first started, Rauséus noted that she has always had an entrepreneurial mindset and been interested in creating something meaningful while being unafraid to challenge the status quo. The Insurely journey began with a vision to digitise the insurance industry, she said, born out of frustration with the inaccessibility of insurance.
"Through the collaboration with my co-founders, who have extensive experience and backgrounds from engineering, data and analytics, we were able to turn this idea into reality," she said. "So we founded Insurely, with the purpose of making the insurance industry open and obvious - and by doing so we started a transformation within an industry that hasn't changed for a long time."
Open insurance solutions
As a provider of open insurance solutions, Insurely offers a variety of products, she said, based on the firm's ability to collect, structure, and refine data to help the industry provide better and more seamless services to insurance holders. The team prides itself on being "first movers" in the open insurance space and setting about creating a whole new category in fintech - driving a necessary change within an industry that Rauséus sees as being in need of such transformation in order to meet new consumer behaviours.
Through its open insurance solutions, Insurely is looking to make the insurance industry more transparent, accessible and easier to understand, she said, which is a win-win for both the industry and the consumer. But with a new generation of young adults growing up, not just digital-first but mobile-first, the expectations of technology-driven services are higher and the insurance industry isn't digitising fast enough to keep up with this necessary transformation.
"Sharing of insurance data is what will ultimately digitise the insurance industry and Insurely is providing this service - which offers the industry the chance to substantially enhance their services and products while also staying relevant in an increasingly digital world," she said.
"Increased insights about consumers contribute to better and more personalised offers which generate increased relevancy and sales. Other financial providers, where insurance is relevant, also benefit from accessing real-time insurance data which enables them to compete with an extended value proposition to their customers."

The insurance industry is going through a shift, Rauséus said, which is what she finds the most interesting about working in the sector at this time. For Insurely, which operates in the insurtech and fintech space, being part of such a fast-paced environment can be "incredibly rewarding", particularly when it involves blending traditional industries with cutting-edge technology to improve the overall experience of customers.
"One of the most exciting developments in this field is the emergence of open finance and open insurance, which has the potential to bring a great deal of value to both consumers and the industry as a whole," she said. "In the Nordics, we stand out as the only provider currently offering open insurance solutions which gives us a unique opportunity to shape the future of the industry and drive positive change for both the industry and consumers.
"The combination of fintech and a traditional industry like insurance creates a dynamic and exciting field for growth and innovation."
Looking back to when she first joined the industry, Rauséus highlighted that the sector was then still heavily reliant on traditional methods of operations at the time. The purchasing of insurance, and particularly understanding the intricacies of its products, is difficult for consumers, she said, and there has historically been very little focus on improving the customer experience.
However, in recent years, Rauséus has seen a significant shift towards digitalisation and innovation in the insurance industry. And she noted that the rise of new more digital insurance companies such as Lemonade, Hedvig etc. and other insurtech companies like Insurely were good examples of the increased focus on creating more seamless customer experiences and on making the industry more accessible and transparent for consumers.
"I'm really happy to be a part of driving this change towards a more modern and consumer-centric industry," she said. "Personally, I am excited to see how technology continues to evolve within the industry. As technology continues to evolve, we will see even more developments in the way insurance companies operate, and in the way consumers interact with them."
Transformation at all levels
Amid the evolutions happening around customer experience, insurtech is undergoing internal changes as well, and conversations about the opportunities for a more diverse pool of insurtech talent are ongoing. Adding her insights as a COO and co-founder, Rauséus said she does fundamentally believe that most companies have increased their focus and priority on creating more diverse teams.
It's important that women are represented at all levels of a company, she said, as this reduces the risk of bias evaluation and creates a positive spiral where more women are seen and potentially promoted. The tech world, particularly the fintech sector, is often male-dominated which is why the Insurely team is committed to building a diverse internal team which represents a range of genders, backgrounds, education, and experiences.
"I strongly believe that building a diverse workforce is the way to continuous development and innovation within the industry," she said. "We still have a long way to go, but we're encouraged by the progress we've made so far."
In a message to other women looking to make waves in the insurtech and fintech industry, Rauséus emphasised her understanding of the importance of diversity and new perspectives in shaping the future of finance and insurance. The industry is constantly evolving and adapting to new technologies, she said, and she believes that a diverse group of individuals with different experiences and knowledge will be crucial in driving this change.
The industry may not have a high proportion of women, she said, but she has seen for herself the number of talented and strong women making their mark in the field. Rauséus added that seeking out mentors and support networks had been a key factor in her own journey, and she hopes to be a role model for others who are considering entering the field.
"The journey of driving a substantial change in a traditional industry can be challenging, but I believe that with ambition, drive, and a strong network, we can continue in making an impact," she said. "I have a motto that nothing is impossible and [you need] have a drive to make a real difference which is why I love what we have started.
"What could be better than creating your own workplace, with amazing people that you love working with, for a purpose that will help millions of people in their lives when it comes to financial matters? What we have done so far is just the beginning of something much bigger."
What are your thoughts on this story? Please feel free to share your comments below.