Insurtech layoffs – the dust is far from settled | Insurance Business UK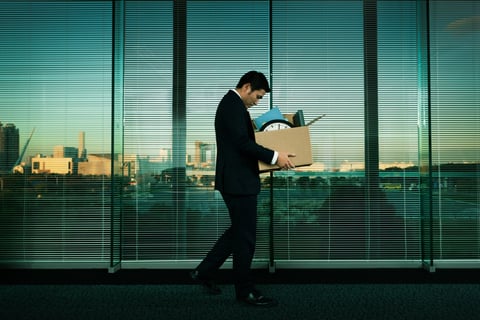 Since the end of June, at least one insurtech company a week has forcibly bid goodbye to multiple members of its team.
Tech layoff trackers suggest that at the very least 11 insurance businesses have cut headcounts since May – and 2022 is shaping up to continue, if not accelerate, down this path, according to industry sources.
While the US has borne the brunt of reductions, the rest of the world has proven not to be immune.
Israel's Tel Aviv has seen workers let go, with staff reportedly affected by changes at US-based Next Insurance and Asurion. India's Nova Benefits slashed 30% of its staff in June, while the UK's Zego reduced its headcount by 17% in July. The UK has also seen evidence of pivoting, with price comparison site challenger Honcho shutting up shop to switch up its model.
Read more: CEO says Zego left with no choice but to reduce staff count
Sources said that this is not a "bubble" bursting, but the environment is constricting as funding dries up.
Investors pumped around $42 billion into insurtechs from 2014 to 2021, according to Gallagher Re.
However, appetite has shrunk in 2022. Even prior to this tightening, later stage insurtechs in the US that did list have seen valuations tumble. At time of writing, just one public insurtech business – Hagerty – is trading above its IPO price, according to HSCM's Public Insurtech Index.
"You've got an economic downturn up ahead, and so – rightly – what you've got is a set of investors in the market who are looking at things just a little bit more cautiously," said Matt Connolly, CEO of consultancy Sonr.
"What the investors are saying is, consider the last round of investments as your last round of money ever. How can you, with the cash flow that you've got in your business, turn yourself into a viable profit-making company?"
This, according to Connolly, poses a real challenge for start-ups already carrying "dead wood" from rapidly scaling up – in some cases having added 100s of employees in a small timeframe.
The cuts will lead to upsides for some businesses once the dust settles on the emotional impact for staff and ex-staff. A cleaner bill of health for companies in the longer run and a natural attrition that will see fewer insurtechs competing in the same space were two mooted by Connolly.
Talent demands have also contributed to the squeeze, with VCs' previously deep pockets having led to a surge in tech pay expectations.
"We [the market] are maturing to a point where there has to be a correction in the investment in the insurtech space, which in turn is going to be a correction in hiring," said Genasys co-CEO Andre Symes.
"We simply can't afford to onboard people at the current salary demands and this is why we see people like Next, Policy Genius [and others] making corrections or rightsizing the organisation to not be so dependent on a VC-based runway to keep their businesses going."
In the run up to industry-wide layoffs, UK and South Africa based Genasys, and other businesses in the space, saw tech talent demanding salary increases of 30% to 40% within a two-to-three-month period, Symes said.
Meanwhile the bulk of Genasys's costs – or 90% – are in human capital. Symes suggested this is likely to be reflected across other firms.
"When you have VCs paying insurtechs 50x revenue valuation [including in cases to people who are digital brokers], and that's the money that they get, they can afford to pay people twice what the market is going to," Symes said.
"The causation is an over investment in hype," according to Symes.
As to whether there's likely to be more cuts to follow, Symes said there "is absolutely going to be more of it" – and not just in the US.
"I've certainly witnessed it in my circle of friends," Symes said. "There are people who are taking the strain with their payrolls who are adjusting accordingly."
European staff may take some small comfort, however, that salary demands in the US were far more pronounced. There had been a 300% surge in demand on the West Coast for blockchain and web3 type skillsets, Symes pointed out.
VC appetite was also far more concentrated across the Atlantic – by the end of 2021, the 1,237 Americas-related insurtech deals accounted for almost 55% of all completed global deals, representing $27.2 billion of investment, according to Gallagher Re.
"People could demand 300x earnings; if you put web3 as part of your slide deck people would just throw money at you," Symes said of the US. "[If you] put blockchain, people would just throw money at you, even if you weren't blockchain."
Where CEOs and founders of affected businesses have offered a reason for cuts, these have typically centred in on macro-economic factors and a need to refocus or trim down operations.
Worldwide, stock market performance has taken a hit with inflation on the rise and the war in Ukraine piling pressure on the global economy. Tech layoffs have been seen across the board – cross-sector start-up layoff trackers peg total staff laid off so far this year as from upwards of 40,000 to in cases above 80,000, with these having accelerated into June and July.
Insurtech UK council member and Konsileo founder John Warburton flagged "macro headwinds" as a driving factor behind the squeeze.
"The view of the UK insurtech scene was that we were slightly more Cinderella-ish in that we weren't the recipients of some of the frothier valuations," Warburton said.
"I don't think UK-based companies, relative to their fundamentals, benefited as much from the excitement that investors had relative to some of the US peers, therefore the headwinds are going to have a lower impact on the UK sector."
Recent insurtechs in the UK to raise since the start of June include Yulife ($120 million, series C) and Instanda ($45 million, series B).
In other geographies, big deals this year have come for +Simple ($100.9 million, late-stage VC), Kin ($82 million, series D), and Socotra ($50 million, series C), according to Pitchbook.
Germany's WeFox, which raised $400 million in July, has said it plans to add 700 staff by the end of the year.
Read more: WeFox sees valuation jump 50% in funding round
A successful funding round, though, does not guarantee that a business will not then look to layoffs – Policygenius raised $125 million in a March series E round, and went on to slash its headcount by 25% in June.
"Strong business models, strong track record, strong traction, those things are still attracting investment," Warburton, whose own business Konsileo raised $4.8 million in July, said.
"It's not like the market is completely seized up, but it is more challenging."
| | | | | | |
| --- | --- | --- | --- | --- | --- |
| Company | Month | Headcount reduction | People laid off/let go | Country | Focus area |
| Metromile (layoffs made by Lemonade) | July | 20% | 60 | US | Motor |
| B3i | July | 100% - insolvent | Unknown | Switzerland | Blockchain |
| Soluto | July | 100% | 120 | Israel | Protection/repair |
| Asurion | July | Unknown | 750+ | US | Protection/repair |
| Zego | July | 17% | 85 | UK | Commercial |
| Thimble | July | 33% | 20 | US | Commercial |
| Next Insurance | July | 17% | 150 | Israel/US | Commercial |
| Nova Benefits | June | 30% | 70 | India | Health |
| Sidecar Health | June | 40% | 110 | US | Health |
| Bestow | June | 12% | 40 | US | Life |
| CyberCube | June | Unknown | Unknown | US | Cyber |
| Ethos | June | 12% | 40 | US | Life |
| Policygenius | June | 25% | 170 | US | Comparison |
| Coterie Insurance | May | 25% | 30 | US | SME |
| Lemonade | April | Unknown | 52 | US | Personal lines |
| Root Insurance | January | Unknown | 330 | US | Motor |
Table sources: LayoffsDOTFyi; LayoffstrackerDOTcom; TrueUP; Insurance Business