The role of brokers in increasingly personalised insurance products | Insurance Business UK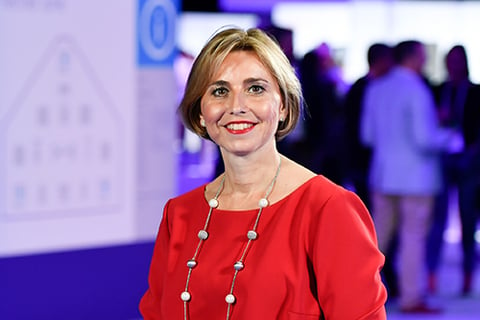 Digital transformation and the developing role of personalisation in insurance products have been key topics of interest in the insurance sector throughout 2019, and Insurance Business recently broached these issues with BT's director of insurance, wealth management and financial services, Alexandra Foster (pictured).
After studying mathematics, statistics and computing, and later actuarial science at university, Foster said that the whole confluence of technology regulation and understanding risk has been with her from the very beginning. Moving into investment banking and operating on the trading floor for a number of years, Foster is well versed in looking at markets and market structures and creating new exchanges.
In her current position, Foster is responsible for looking after the technology and telecom needs of global multinational corporates within the sectors of insurance, financial services and wealth management, and this has given her great insight into the changing requirements within these industries.
"I think we're seeing huge amounts of change, particularly in the insurance world," she said, "in terms of legacy systems, in terms of data, in terms of customer experience, and how all of those play out in light of regulatory pressures."
Technology, she said, is helping to meet a regulatory burden, both in terms of user experience and also from a protection point of view. A problem arises, she stated, when organisations which aren't at the forefront in terms of technology suddenly have more data than they ever did before.
Read more: UK companies display unprecedented confidence in cyber resilience
Personalisation, she said, has therefore become an instrumental theme, allowing businesses to "get closer to the customer so that the customer feels they know them, understand them and provide the most relevant services."
Foster demonstrated the growing uptake of personalised videos as a practical implementation of this changing customer requirement. This personalisation works across the insurance distribution chain, she said. Regulators like it as it shows an implicit understanding of the products and services provided and the insurer likes it due to infinite business opportunities uncovered by the use of data analytics, which also helps them to better understand their customers' needs.
This demand for personalisation is in keeping with the requirement of customer centricity in insurance and Foster outlined how a key element is answering the core question of "how easily can I use the product I've been sold?" Digitisation has become essential throughout the claims process, and in simplifying how to get money into the hands of those who need it.
This has led to interesting developments in contact centres in particular – with technology helping engagements by enabling customers to be recognised quickly and to have their query dealt with speedily.
"We've done quite a lot of work with the integration of bots and humans," she said. "Super-agents are a hybrid of a chatbot and an agent and, so, when a question is asked, the bot can help the agent to learn, while also training itself in the process."
This joint learning of the bot and the human results in quicker resolutions for the customer and operates as a constantly self-refining technique. While this may seem like something of a worst-case scenario in some industry segments, including among brokers, who are highly aware of the impact of automation on traditional roles, Foster revealed a striking positive of this technology – it makes people want to increase their interactions with humans.
Following the initial conversation, she said: "people then suddenly want to be able to talk to a human. They move through different types of technology from voice, to voice with a human and a bot, to video with a human."
The impact of video in consumers' lives through Skype and WebEx and FaceTime, she outlined, has made it a mainstay in the enterprise world and made customers more open to talking to agents who are video-enabled.
Addressing the wariness of many brokers regarding digital transformation in the insurance sector, Foster said: "I don't think it's about replacement, it's around augmentation. Artificial intelligence or robotic process automation is around simplification of the processes to get an answer much more quickly."
When you lay out a process, she said, you will be able to see very quickly what can be automated, what doesn't need a human, and also where the two elements of automation and human experience can come together.
"And there are certainly higher value pieces where you want to have those experts," she said, "those knowledgeable people who add that piece in as a human. So, it's a journey."