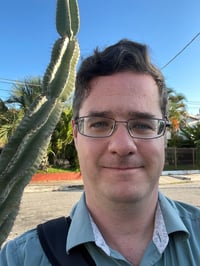 Desmond Devoy is a content specialist for Key Media and joined the Toronto office in 2022. Desmond writes for various Key Media verticals like the Insurance Business and Mortgage Professional websites and magazines.
Prior to joining Key Media, Desmond was a reporter and photographer for The Perth Courier, Canada's second oldest weekly newspaper, from 2012 to 2022, and various eastern Ontario publications beforehand.
From 2002 to 2020 he wrote and delivered the "News from Ireland" on a national Irish-Canadian radio show and was chief reporter for the Toronto Irish News from 2002 to 2013. In 2006-2007 he taught English at a university in Xi'an, China.
Desmond is a graduate of York University (English Honours BA) and Humber College Toronto (journalism print and broadcast honours diploma).
He lives in eastern Ontario with his wife and two daughters.
"Falvey Insurance Group is really one major company with many solutions"

"We're able to reduce claims frequency by an average of 18% in one policy year with our book of business"