Jump to winners | Jump to methodology
Golden State brokers
If you operate a successful brokerage in California, you can do it anywhere. With the 5-Star Brokerages – California awards 2022, IBA recognizes five brokerages that distinguished themselves in 2020 and 2021 across 11 criteria, including revenue, policies written, number of clients, and profit margin.
One winner is growing at 15% annually, while another has increased revenue by $121 million in 18 months – just a few examples of our winners showcasing how to prosper in a tough environment.
The state with the largest GDP in the US is well-known for its regulatory burdens, while the industry has to deal with a litigious culture given to nuclear verdicts and "California flight," a term for talent fleeing due to the high cost of living and other woes, and moving to more business-friendly locations. Unlike other states, California doesn't have a cap on punitive damages, and this paves the way for some eight- and nine-figure verdicts. The average cost of living in California is $46,636 per year, the third highest in the US according to 2020 data from the Bureau of Economic Analysis. Meanwhile, between April 2020 and January 2022, the state lost over 352,000 residents – second in the country for outbound moves – according to statistics from the California Department of Finance.
Proving just how stellar our 5 Star Brokerages 2022 are, even giant GEICO shuttered its brick-and-mortar operations in California, switching to online and over-the-phone business.
The GEICO commercials state, "15 minutes could save you 15% or more on car insurance." Just don't expect to spend that quarter hour with an in-person agent in California.
Industry challenges
One of our winning brokerages ALKEME has no plans to go elsewhere. "People want to be here – they want to do business here," says CEO Curtis Barton, who loves the California market but expresses frustration with the CDI and its impact on carriers. A lot of carriers – especially on the personal lines side – are frustrated because they can't get any rate increases to counter inflation, he explains.
James Drake agrees. The director of sales and operations for California Contractors Insurance Services (CCIS), another winner, says the CDI makes things extremely difficult for his carrier partners.
"It's impossible for them to get new rules and rates and all those things increased with the department of insurance," he says. "It's putting a huge pressure and a huge burden on [our] partners."
The CDI is led by controversial California Insurance Commissioner Ricardo Lara. Citing privacy and consumer concerns, Lara criticized electric car magnate Elon Musk's urging for more use of informatics in vehicles to lower insurance rates in January. Musk tweeted in response: "You should be voted out of office… Your policies are directly responsible for the outrageously high insurance premiums paid by Californians."
The average yearly rate for the cost of car insurance in California is $2,190, according to Quadrant Information Services. This amount is 24% higher than the national average premium for full coverage.
Barton and Drake also criticize the state's litigious culture for awarding nuclear verdicts, which drive up loss ratios. In particular, Drake has seen two of his carriers struggle greatly with loss ratios.
"At the end of the day, we're working for the client," says Drake. "But in the back end, we're also working with the carriers that we're partnering with, so we want to make sure that there's this fluidity and everyone's being taken care of appropriately."
Barton feels the CDI and industry need to be nimbler in reacting to overheated loss ratios being driven up by nuclear verdicts. "That's a California litigious jury thing," he explains. "You get a clear verdict and then you explode [the punitive damages]. It's two $50-million decisions that blow the whole commercial auto space right out of the market."
Bill Johnson, the chairman of the Liberty Company, another winner, agrees with Barton and Drake that California is a litigious environment and not particularly business friendly. He's also critical of employment policies. "I think one of the most notable differences with California is the noncompete laws and non-solicitation laws basically not being in existence in California," he says. "That creates an environment where it's much easier for producers to move round and change homes."
Barton adds that labor is a major concern because of California flight. "People want to take their California salaries and run to different states and operate – and you don't blame them for that," he says. "The businesses are 'headquartered' in California. A lot of them have moved their headquarters out of [the state] on the brokerage side."
California ranks 13th out of 50 for salaries, according to ZipRecruiter.
"People want to take their California salaries and run to different states and operate – and you don't blame them for that"
Curtis Barton, ALKEME
The road to redemption
What are some possible solutions to these problems?
"Just be more proactive," says Barton. "Don't be as reactive from the carrier's perspective. Partner in lean times. Make sure that you're taking care of your broker partners in the lean times, and that's going to lean back on you, and you're able to help them grow. And then you've got to do that with your own people. You've got to lean in. You've got to help them when times aren't good, and you've got to help them grow as well."
For Drake, it's about increasing agility as well – making it easier to make changes from above. "You need to have that constant line of communication between carriers and brokers and clients," he says. "What's going to tick? What's going to work? What can we put in place or what rules and processes or applications can be done to make the constant communication or transaction easier?"
He also suggests, as a broker, leveraging client data to foster innovation.
Meanwhile, Johnson takes a glass-half-full approach to the broker industry. "We have a lot of tail winds," he says. "We're blessed to be positioned in an industry where we take no risks. The carriers shoulder that risk in an increasingly risky world, on multiple layers – wildfire risk or climate change or the litigation environment."
While the legislature, courts and CDI aren't particularly business friendly, he adds, it ultimately adds up to higher rates and higher commissions. "We need to keep learning and growing as risk advisors and with the skills and abilities that we can bring to our clients," he says. "And we just need to focus on continuing to improve our ability to show up and do our job with excellence."
"We have a lot of tail winds. We're blessed to be positioned in an industry where we take no risks"
Bill Johnson, Liberty Company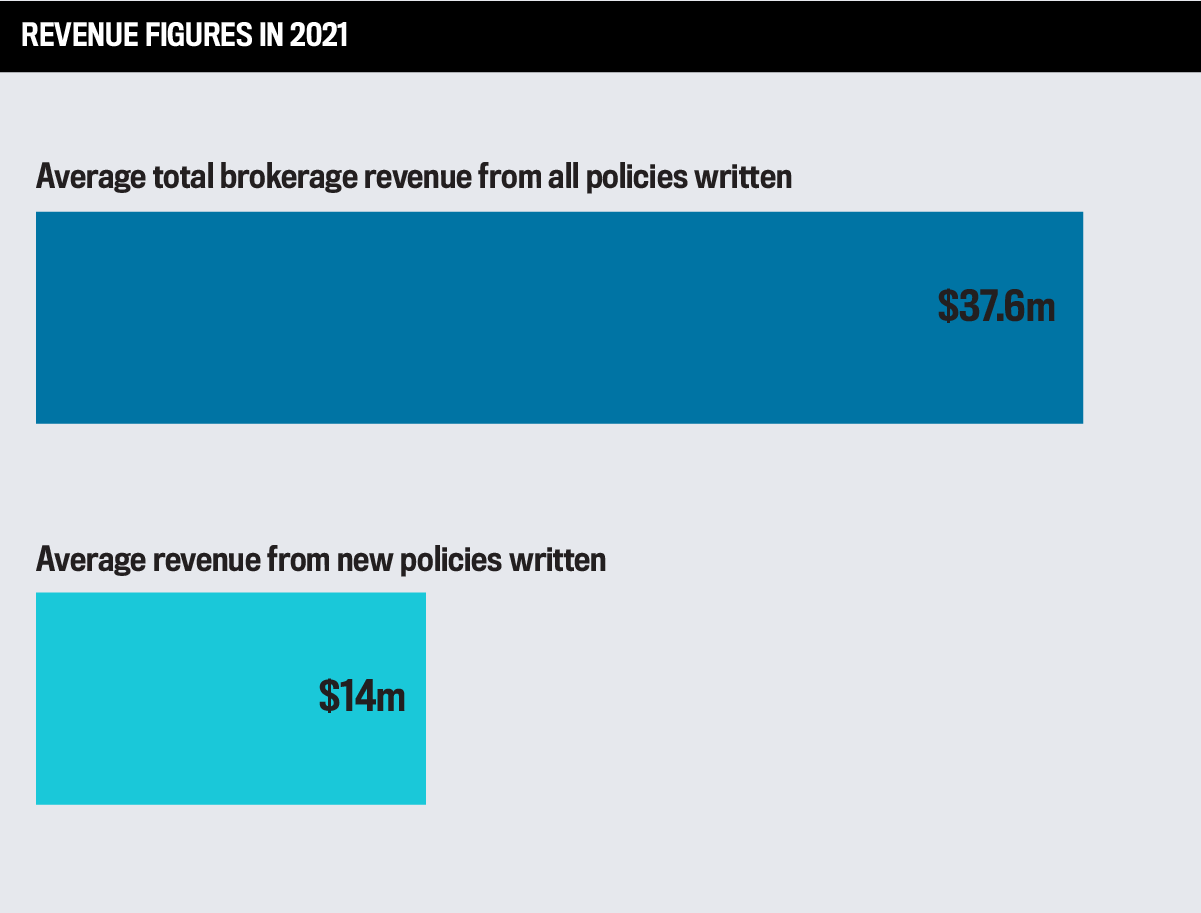 Winning formulas
The Liberty Group has grown its revenue from $39 million to $160 million over the past 18 months while maintaining an organic growth rate of 40%. How did they do it?
"Number one is culture," says Johnson. "And some of the innovative strategies that we've built around that, like our Dream Circle initiative or the online meditations that I lead in the company. Talks on cultivating radiant health. And they're tied into our entrepreneurial deal structure that we've built for our partners and our producers."
ALKEME has been growing at a 15% organic rate year over year due to a holistic approach.
"Building a culture has been the biggest problem that this space has encountered," says Barton. "So, what we tried to do is foster an environment – not only working but [an overall] environment – that feeds and fosters our employees and gives them a pathway forward. And it shows them that they can go further than just the office they work at, they can expand into other states and other roles."
ALKEME also aims to operate with an EBIT margin between 30% and 32%, creating enough cash flow on the front side while maintaining continued growth in the sector.
CCIS has been in business for 51 years. It has managed to corner 33% of the surety bonds for contractors in California and is continuing to grow. What's behind this achievement?
"We definitely invest a lot of time and energy in our employees, as far as just education and allowing them to understand multiple lines of business that we solicit," say Drake. "And then we keep everything in-house. I think that having everyone understand every aspect of the business has really allowed us to do the volume that we do on an annual basis with not a massive [number] of employees, and I think that's extremely important for them to feel some sense of ownership within the company."
ALKEME
CAL Insurance & Associates
California Contractors Insurance Services
Teague Insurance
The Liberty Company
Brokerages were ranked according to each of the above criteria, and all of the rankings were then added together. Akin to a golf score, those brokerages with the lowest overall scores achieved the highest rankings.