Jump to winners | Jump to methodology | View PDF
COVERING A TOUGH MARKET
The construction industry contributes greatly to the US economy. Encompassing more than 680,000 employers and over 7 million employees, the US construction industry builds roughly $1.3 trillion worth of structures each year, according to the Associated General Contractors. Protecting those operations falls to the construction insurance sector, which provides contractors with everything from professional liability and builder's risk to wrap-up and pollution insurance policies.
To find out which insurers and MGAs provide the best products and service in the construction segment, IBA surveyed hundreds of brokers across the country, asking them what ranks highest among their priorities when selecting a construction insurer. An overwhelming 97% said coverage is the most important quality, followed by ease of doing business (73%), underwriting expertise (68%) and service to brokers (60%).
"Brokers want ease of doing business by far," says Gary Kaplan, president of construction at AXA XL, one of this year's 5-Star Award winners in construction insurance. "Our contractor customers also want long-term relationships driven by stability in pricing, terms and conditions. The cost of insurance is often about the same as the margin they make on a project. If they can do well at managing risk, they can additionally benefit from sharing in the insuring of the risk."
Evan Aldrich, a broker and president of the Redondo Beach, California, office of CRC Insurance Services, another of this year's 5-Star Award winners in construction insurance, says each category brokers rated as important is a key element of doing business. He also emphasizes the importance of having a starting point for each negotiation.
"For my team, every conversation begins with setting expectations around the breadth of coverage, carrier quality and claims behind the policy," he says. "We can always scale back or adjust our emphasis if a particular insured has different priorities, but it is essential to start with a strategic perspective and utilize niche expertise that will protect our buyer in the event of a claim."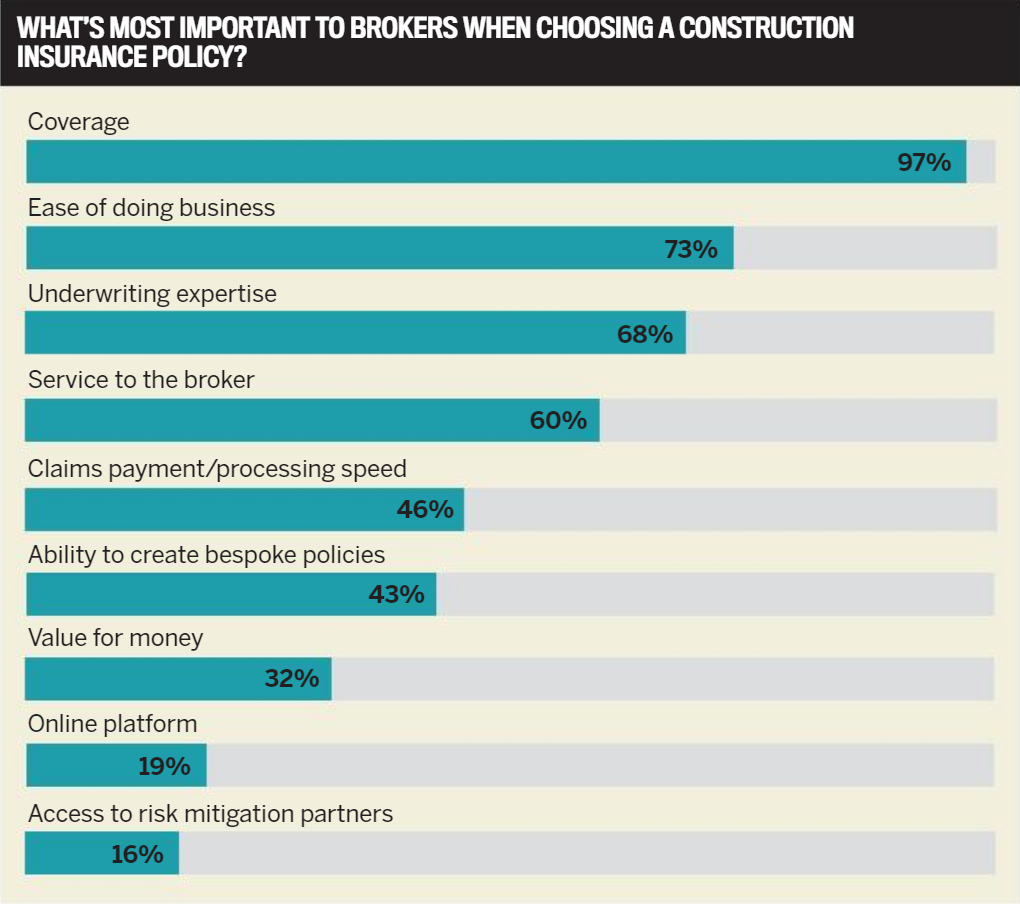 Current market conditions
Each of this year's 28 5-Star Award winners in construction insurance managed to excel in the midst of the COVID-19 pandemic – no small feat. Just over half of the brokers IBA surveyed felt the pandemic had only a moderate effect on insurance business in the construction sector. However, 70% of construction business owners reported having been negatively affected by COVID-19 in Nationwide's latest Agent Authority Survey.
"COVID-19's impacts have brought new and existing challenges to the forefront for many construction business owners," Linda Stueber, senior vice president of middle-market commercial lines at Nationwide, said in a statement accompanying the survey findings. "As the industry recovers, agents can grow their influence by not only counseling clients on their protection needs for changing operations, but also by sharing expertise to help them run their businesses more effectively."
The pandemic isn't the only challenge facing insurers in the construction sector. Before COVID-19 hit, in the fourth quarter of 2019 and first quarter of 2020, AXL XL was already seeing losses in its excess book attributable to social inflation and nuclear verdicts, Kaplan says.
"The market hardened quickly as other companies had the same loss experience, and as a result, we see higher rates, lower limits, and really tighter terms and conditions," he says. "To protect profitability and our long-term commitment to the market, we're exercising underwriting discipline while maintaining strong relationships with our contractors."
These actions have led to improved underwriting results for AXA XL, Kaplan says, but he expects the hard market to continue through 2021.
"This year gave us the opportunity to show how we provide more than insurance and how we partner with clients on the risk management issues they are facing," he says. "Construction is considered essential, so contractors really never stopped working, but they certainly had to make some changes during the pandemic. We worked with our customers to understand what changes were required and helped them adapt."
As for the construction industry as a whole, Aldrich believes it will remain somewhat inconsistent for the time being.
"The past year was filled with unprecedented challenges as our world battled the COVID-19 pandemic," he says. "Absent a national – or global – strategy or direction, further outbreaks have been localized. The construction industry has mirrored this pattern in many ways. Some pockets have stalled investment with a wait-and-see approach, while others are charging ahead. Coupled with macroeconomic conditions that are negatively impacting the cost of materials and human capital, I believe we are likely to see inconsistent growth throughout the next year, with a few demographics vastly outperforming."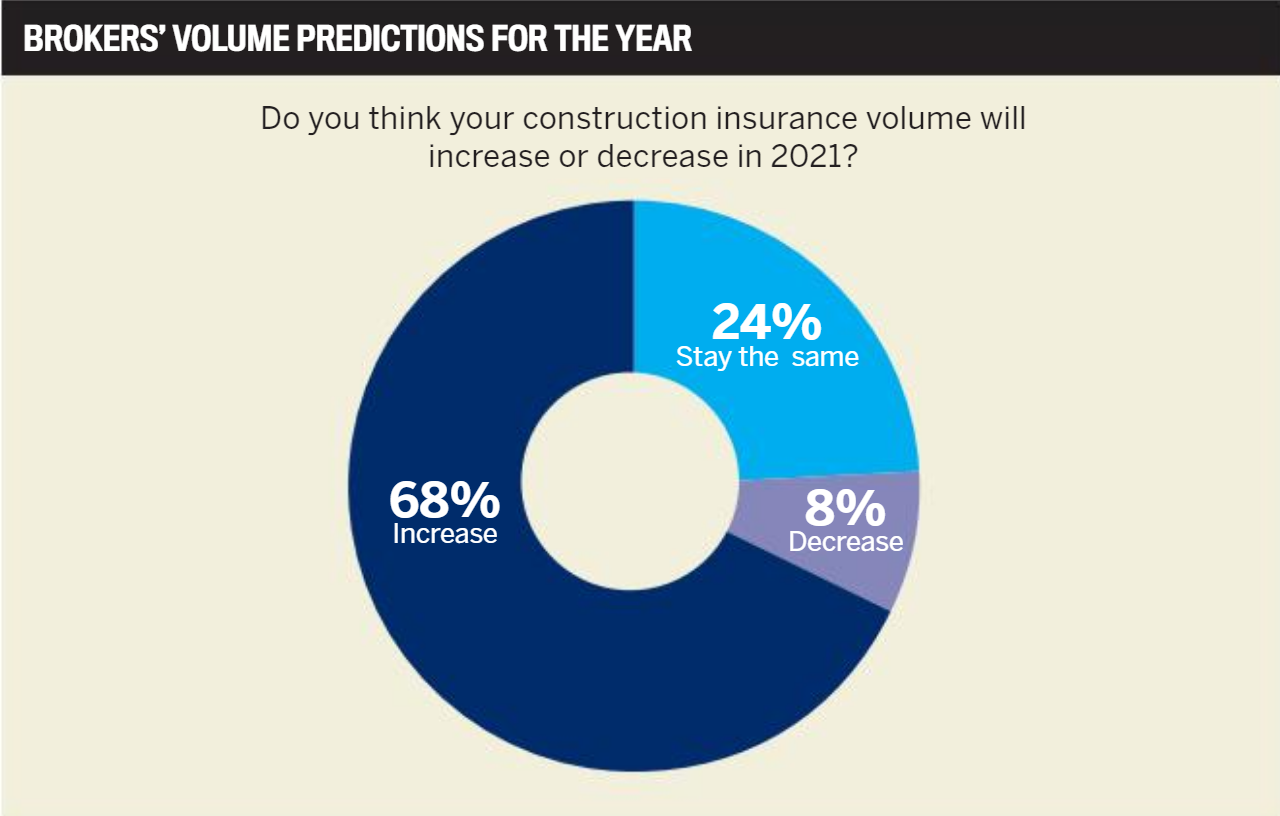 The tech effect
One area where the pandemic hasn't had much of an impact on the construction insurance sector is in claims – Kaplan says the types of claims coming through are mostly the same as they were before COVID-19 hit.
"Courts have been on hold for over a year and will be backed up for the next few years, so we're watching to see if what we were experiencing before the pandemic with social inflation will continue," he says. "For the construction industry, water damage claims frequency has been up over the past few years. We have been driving new tech adoption to help our clients mitigate this exposure, as well as best practices using wet work processes. New technology available gives contractors early warnings of water leaks."
Another major source of construction claims is auto accidents due to distracted drivers, Kaplan says, pointing out that this is another area where technology has the potential to help mitigate risk.
"Again, driving adoption of new tech, such as telematics, and employee training [will] reduce this exposure," he says. "Our construction risk engineering team is always looking for ways to help our clients minimize their risks and avoid costly claims."
Aldrich adds that "as construction brokers, we're trained to focus on products for completed operations because the exposure to extended-state statutes is a risk that can impact carrier balance sheets for years beyond the anticipated project completion date. Such exposure emphasizes the need for quality work.
"While these claims will always exist, the changing narrative has caught me off-guard in recent years," he continues. "We've seen an acceleration of ongoing operations claims, including crane losses, employee injury and action-over losses, or adjacent property damage losses. The development of these claims and verdicts, coupled with the minimal impact they have on account rates, has resulted in much of the rate and deductible pressure we are currently seeing in the construction market."
Insurers
Ambridge Partners
Argo Group
Axa XL
Berkley
Chubb
CNA
Everest Re
The Hanover insurance Group
The Hartford
Hiscox
James River Insurance Company
Liberty Mutual
Markel
Navigator
RLI
Selective
Sompo Pro
Travelers
United Fire Group
Zurich
MGAs
AmWINs
Burns & Wilcox
CRC Insurance Services
Dual Group
RT Specialty
The in-depth information gathered enabled the research team to assign weighted values to each criteria being rated by brokers. At the end of the research period, the insurance providers that received the highest rankings in terms of work quality, specialist expertise and client service were named 5-Star Award winners in construction insurance.