Jump to winners | Jump to methodology | View PDF
The Superstars Of Insurance Law
Over the past year, insurance law firms and lawyers have been working overtime to determine whether insureds have any standing to make claims for COVID-19-related loss of business under their business interruption policies. Earlier this year, the UK Supreme Court found in favor of policy-holders in a business interruption insurance test case that has had ramifications around the world – but it's unlikely to have much impact on legal precedent in the US.
As of the end of May, around 1,880 lawsuits had been filed regarding business interruption coverage in state and federal courts in the US, according to the University of Pennsylvania Carey Law School's COVID Coverage Litigation Tracker. Burr & Forman attorneys Walker Beauchamp and Briana Montminy noted in a post on JD Supra that "around 80% to 90% of all COVID-19 property insurance cases have resulted in dismissal."
Beauchamp and Montminy also pointed out that the number of lawsuits has been waning as the pandemic winds down and prospective litigants have found relief from government stimulus programs.
"US courts in most jurisdictions have now weighed in on the legal question of whether such government-ordered closures, and the resulting economic loss, are covered under a standard property insurance policy, absent any actual physical damage," the pair wrote. "The key language in such policies requires 'direct physical loss of or damage to property.' An overwhelming majority of courts have said this requires concrete physical damage; a mere temporary closure to shoppers or diners is not enough, even if government-ordered for public safety reasons."
The judicial trend toward dismissal of COVID-19-related business interruption lawsuits means different things depending on which side of the courtroom you're on.
"We have seen COVID claims in the first-party property area as businesses – hotels, restaurants, services – try to find relief from the downturn in their business," says Sara M. Thorpe, a partner at Nicolaides Fink Thorpe Michaelides Sullivan and one of IBA's 5-Star Insurance Lawyers. "We are assisting in evaluating claims; however, the claims do not involve 'direct physical loss of or damage' to the insured property or adjacent property."
In addition to commercial first-party property, Thorpe lists workers' compensation, employer liability and fiduciary liability as top COVID-19-related areas of concern.
Anthony Bartell, a partner at McCarter & English and another of IBA's 5-Star Insurance Lawyers, believes business interruption claims are just the tip of the COVID-19 iceberg. He also envisions the potential for general liability claims from customers who caught COVID-19 at a supermarket or another retail or business establishment, product liability claims regarding COVID-19 vaccines, management liability tied to the economic impact of the pandemic, EPLI claims for discrimination against workers who refuse to be vaccinated, and professional liability for producers failing to deliver policies for pandemic-related losses.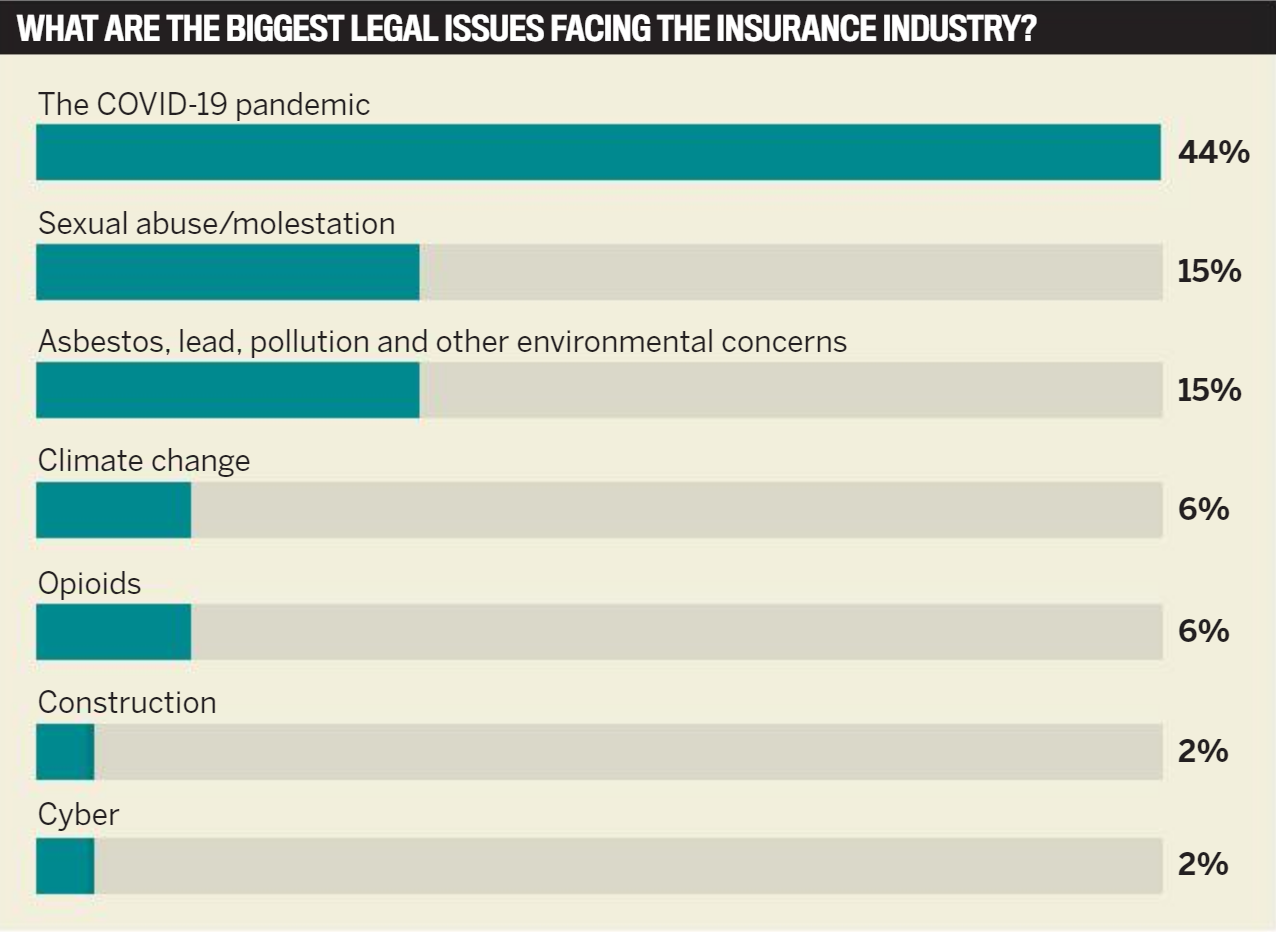 Beyond the pandemic
While it might dominate the conversation, COVID-19 is far from the only issue facing insurance law firms and lawyers today.
"People used to ask, 'What is going to be the next asbestos?' – meaning what's going to be the next awful type of mass claim that's going to bring the insurance industry to its knees?" Thorpe says. "Well, it turns out it's not one but many things: ovarian cancer from talc, opioids, sex abuse in athletics/religious organizations/youth settings, wildfires. Computer/privacy hacking may be next."
Meanwhile, Bartell is focused on helping his policyholder clients purchase adequate cyber and cannabis-related coverage – and he's optimistic about the future of the insurance law sector.
"COVID coverage issues, hopefully, will crystallize over the next year as appellate courts weigh in on the disputes," he says. "I also believe Democratic control of the federal government may lead to the enactment of tighter corporate regulations and more stringent enforcement of existing regulations.
Both implicate the purchase of, and claims under, D&O and other management liability policies and perhaps EPLI policies."
Insurance lawyers' top concerns
As part of the survey to determine the top insurance lawyers and law firms in the country, IBA asked insurance law experts what they thought were the biggest legal issues facing the insurance industry at the moment. Not surprisingly, nearly half (44%) said that the COVID-19 pandemic was the biggest concern, particularly regarding business interruption and workers' comp.
"Business interruption is mainly where the fights are, along with workers' compensation, where there are lots of claims, [and] employers' liability," said one respondent, who added that "COVID will have an impact on reinsurance also." Other insurance lawyers said they were allocating half or more of their time to pandemic-related concerns.
"Half of [my] work at the moment is COVID-related and mainly business interruption," said one respondent, while another estimated that pandemic concerns were taking up 80% of their time, also centered around "business interruption, coverages, loss of business income." Other COVID-19-related legal matters revolve around testing, treatment, diagnosis, hospitalization and ventilators.
A considerable proportion of lawyers (15%) said sexual abuse is another major issue confronting the insurance world, driven by cases involving the Catholic Church, the Boy Scouts, USA Gymnastics and public schools. Respondents detailed thousands of cases against those entities, noting that coverage for this risk is very difficult to find.
Another 15% of the lawyers IBA surveyed pointed to asbestos, lead, pollution and environmental contamination as top concerns. "Asbestos is still ongoing and will be for the foreseeable future," one respondent said. Another noted that "asbestos has changed over time and is more complex now with bankruptcy issues. Pollution rules are getting fairly settled, and loss is more subtle." Another respondent pointed out that new environmental risks are emerging all the time, making this a growing area of insurance law: "Scientists are finding out more about chemicals in cosmetics, herbicides and industrial products that have damaging effects on people and the environment; the more they find out, the more appellate cases there will be."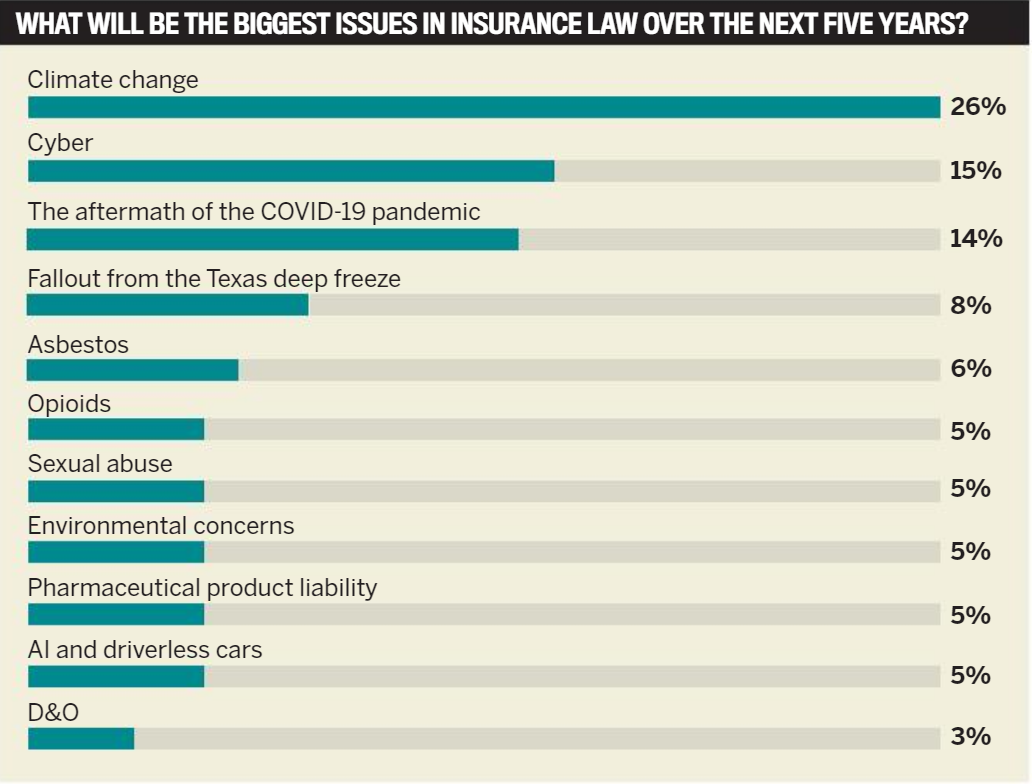 Fewer respondents (6%) highlighted climate change as a pressing issue in the insurance law sector, although 26% said they expect it to become a top concern over the next five years. "Climate change – wild-fires, Texas – has had a huge impact on catastrophe and property coverage," said one respondent. Another disagreed, however, saying that "climate change is getting fairly creative theories but not getting much traction at the moment."
Another 6% of respondents were concerned about the opioid epidemic, noting that issues of negligence are making their way through the courts. "[We're] dealing with the public nuisance in the pharmaceutical area of opioids, where local governments are suing corporations, doctors and drug distributors that failed to maintain effective controls over their drugs," one insurance law expert said. Another respondent noted that "opioids coverage claims are still moving forward, dealing with the manufacturers and nationwide pharmacies, and this year and next there will be a lot of coverage rulings and decisions as to whether there is opioid coverage."
At the bottom of the list of insurance lawyers' concerns were construction and cyber, each of which were named as a pressing issue by only 2% of respondents. In construction, several lawyers highlighted construction defects as a driver of disputes, along with water damage, contractor malpractice and catastrophic weather events.
Many respondents mentioned cyber as an area of insurance law that's likely to become more prominent in the near future – 15% of the insurance law experts IBA surveyed said they expect cyber to be a major issue over the next five years, especially amid the massive shift to remote work brought on by the pandemic. "Cybersecurity is going to be huge," one respondent said, noting that "working from home allows employees to harm and store things that wouldn't be possible if they were working in an office."
Another brought up the specter of state-sponsored cyber intrusion: "The consequential damage is where information can be used against companies – stolen patents and lists of customers. There is no dispute that there is no damage, but is it covered, and if so, how much?"
These issues, along with other areas of risk that have yet to emerge, are sure to keep this year's 5-Star Insurance Law Firms and Lawyers busy.
"The real fun and challenge of insurance coverage work is that one never really knows what lurks behind the next corner," Bartell says. "Eighteen months ago, who could have guessed the industry would be grappling with pandemic-related coverage issues? The unknowns keep us all in suspense and on our toes."
5-Star Insurance Law Firms
Choate, Hall & Stewart
BatesCarey
Bressler, Amery and Ross
Carlson, Calladine & Peterson
Chaffetz Lindsey
Clyde & Co
Coughlin Duffy
Crowell & Moring
Debevoise & Plimpton
Dickinson Wright
Duane Morris
ForanGlennon
Freeborn & Peters
Gibson, Dunn & Crutcher
Greenberg Traurig
Locke Lord
McCarter & English
Mintz, Levin, Cohn, Ferris, Glovsky and Popeo
Mound Cotton Wollan & Greengrass
Nicolaides Fink Thorpe Michaelides Sullivan
O'Melveny & Myers
Porter Wright Morris & Arthur
Saiber
Schiff Hardin
Selman Breitman
Shipman & Goodwin
Sneed Law Firm
Simpson Thacher & Bartlett
Steptoe & Johnson
Stroock & Stroock & Lavan
Troutman Pepper
Willkie Farr & Gallagher
5-Star Insurance Lawyers
Allison Tam, Partner


Willkie Farr & Gallagher

Anthony Bartell, Partner


McCarter & English

Antonia B. Ianiello


Partner, Steptoe & Johnson

Bill Sneed


Principal, Sneed Law Firm

Charles Blair


Partner, Troutman Pepper

Charlie Scibetta


Founding partner, Chaffetz Lindsey

Cynthia J. Borrelli


Principal, Bressler, Amery and Ross

David Spector


Partner, Schiff Hardin

Ernesto Palomo


Partner, Locke Lord

Harry P. Cohen


Partner, Crowell & Moring

Ira Belcove


Partner, Porter Wright Morris & Arthur

James Rocap


Partner, Steptoe & Johnson

James Ruggeri


Co-managing partner, Shipman & Goodwin

Jon Neumann


Shareholder, Greenberg Traurig

Jonathan Hacker


Partner, O'Melveny & Myers

Joseph Schiavone


Member, Saiber

Joyce C. Wang


Partner, Carlson, Calladine & Peterson

Julie Mahaney


Partner, Locke Lord

Kevin Haas


Partner, Clyde & Co

Kevin T. Coughlin


Partner, Coughlin Midlige & Garland

Laura Foggan


Partner, Crowell & Moring

Leslie S. Ahari


Partner, Clyde & Co

Marc Abrams


Member, Mintz, Levin, Cohn, Ferris, Glovsky and Popeo

Marilyn Lion


Partner, Debevoise & Plimpton

Marjie Barrows


Of counsel, Foran Glennon

Mark Plevin


Partner, Crowell & Moring

Mary Beth Forshaw


Partner, Simpson Thacher & Bartlett

Michele Jacobson


Partner, Stroock & Stroock & Lavan

Neil Selman


Partner, Selman Breitman

Nicholas Potter


Partner, Debevoise & Plimpton

Nick DiGiovanni


Partner, Locke Lord

Paul Killion


Partner, Duane Morris

Paul Koepff


Partner, Clyde & Co

Peter Chaffetz


Founding partner, Chaffetz Lindsey

Philip Matthews


Partner, Duane Morris

Richard Goetz


Co-chair, litigation department, O'Melveny & Myers

Robert J. Bates Jr.


Partner, BatesCarey

Robert Lewin


Partner, Stroock & Stroock & Lavan

Sara M. Thorpe


Partner, Nicolaides Fink Thorpe Michaelides Sullivan

Sarah Gordon


Partner, Steptoe & Johnson

Steven Schwartz


Partner, Chaffetz Lindsey

Stuart Cotton


Senior counsel, Mound Cotton Wollan & Greengrass

Thomas Bush


Partner, Freeborn & Peters

Timothy Strong


Insurance litigation partner, Dickinson Wright

William T. Corbett Jr.


Partner, Coughlin Midlige & Garland
The research team also spoke to hundreds of insurance professionals across the country by phone, asking them to rate the insurance law firms and lawyers they had worked with over the previous 12 months. In addition, the team sought the opinions of insurance lawyers themselves to find out which law firms they would recommend besides their own.
At the end of the research period, the law firms and lawyers that received the highest rankings in terms of work quality, specialist expertise and client service were declared 5-Star Award winners in the field of insurance law.