Jump to winners | Jump to methodology | View PDF
PROTECTING THE PROFESSIONALS
Whether it's covering doctors who are running emergency room departments or lawyers representing innocent victims, professional liability insurance (also known as errors & omissions) is the oil that greases the wheels of professional operations in the US. Its close cousin, directors & officers insurance, helps shield company leaders from personal losses in the face of a lawsuit.
Throughout 2021, professional liability has been experiencing a hard market. Due partly to COVID-19 work conditions, coverage for cyber, telemedicine and employment practices liability (EPL) remains challenging. In addition, Amwins' latest report on professional lines warned that "our post-pandemic environment may unleash a backlog of professional liability claims and coverage issues that the industry needs to prepare for."
"EPL has seen rates increase the last two years and remain challenging for insureds in California, New York and Illinois, as well as certain industries, such as restaurants, franchisors and real estate," says Peter R. Taffae, managing director and CEO of Executive Perils, a 2021 5-Star Professional Liability and D&O winner.
Dan Mogelnicki, senior vice president of Professional Lines at fellow 5-Star Award winner Tokio Marine HCC – Cyber & Professional Lines Group, says his company is "seeing changes in the professional lines sector, mainly related to insurtechs. Everyone is watching to see where things are headed, but at Tokio Marine HCC – Cyber & Professional Lines Group, we remain focused on profitability, driven by our underwriting and excellent service. While certain professional lines products experiencing a harder market than others, we made some adjustments to ensure we remained resilient in the marketplace. There are anecdotal signs of changes, but our renewal retention and new business growth remain strong."
D&O has also been experiencing a hard market, which began at the end of 2019 and was driven largely by securities class action lawsuits. However, Justin Psaki, executive vice president of the Executive Assurance and Professional Liability divisions at 5-Star Award winner Arch Insurance, says those hard market conditions are beginning to ease.
"The hard market peaked in the middle of 2020 due to COVID and continued with escalating rate increases until the beginning of 2021," he says. "Since the beginning of 2021, rate increases have decelerated but still offer attractive margins with rate over loss trend. There have been over eight new US insurance carriers who have entered the US D&O marketplace since the end of 2020, which has caused more competition and pricing pressure on excess layers. Although securities class action lawsuits have fallen in 2021 and 2020, the record-breaking number of securities class action lawsuits from 2015 to 2019 – approximately 600 open cases – still weighs heavily on prior-year loss development. We expect average rate increases to continue decelerating and settling around average single-digit increases next year."
Taffae adds that "public D&O has seen increased premiums and restrictive terms for the last 24-plus months [and is] still challenging, [but] excess rates have begun to steady off, and interest has increased with the introduction of new carriers. I believe that D&O and EPL will soften in the next 12 months for loss-free business – much of that is due to supply and demand. Cyber will remain challenging, [and] public D&O will flatten. Fiduciary, especially for large plans, will see high retentions, increased premiums and reduction of large limits."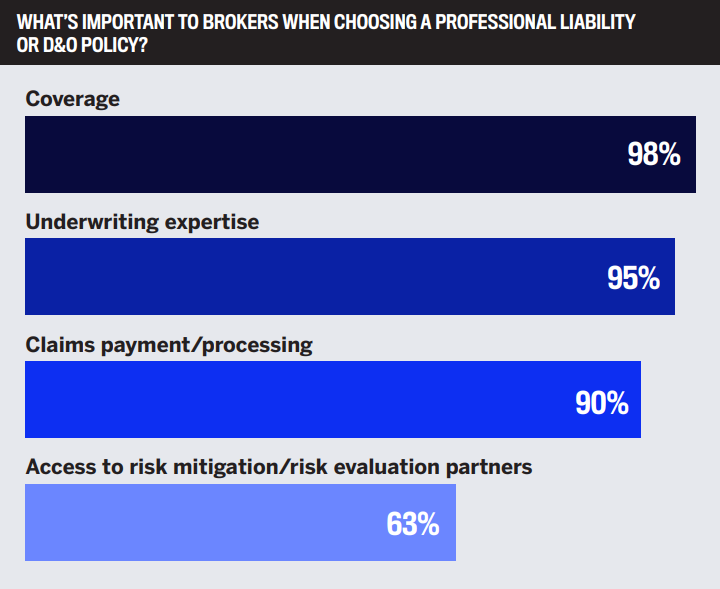 Committed to coverage
As part of the survey to find the best professional liability and D&O insurers in the market, IBA asked brokers what's most important to them when choosing a PL or D&O policy. Overwhelmingly, coverage was the top priority – 98% of brokers said the coverage provided is either important or very important.
According to Mogelnicki, Tokio Marine HCC – Cyber & Professional Lines Group's coverage stands out from the competition because it's tailored to specific industries, including real estate, allied healthcare, social services, law and science.
"Our professional lines are organized in four distinct areas: architects & engineers/ contractors professional, miscellaneous professional liability, healthcare professional and employment practices liability,"
Mogelnicki explains. "In all practices, we target small to medium enterprise risks. Our policies are designed with our target classes in mind and include enhancements that go beyond the typical coverage offering.
"In addition, our culture inherently allows us to be innovative in our approach. We welcome new product ideas that our producers identify as being underserved by the broader insurance community. Our philosophy has always been to identify those gaps and develop speed to market solutions."
Psaki likewise touts Arch's customized coverage, adding that it also differentiates itself by offering D&O products for both private and public companies and by maintaining a large library of manuscript endorsements collected over 20 years.
"The Executive Assurance Arch Essential D&O policy is tailor-made for publicly traded companies of all sizes," Psaki says, "with features such as insured organization securities investigation co-target coverage, inquiry coverage for insured persons, defense costs advancement if the insured organization refuses or fails to indemnify, and claim reporting 180 days after expiration for those insureds who renew with Arch."
Taffae says Executive Perils keeps its coverage competitive by molding it to solve problems while also making underwriting sense.
"Our quote-to-bind ratio is over 95%, and in the last six years, the only insureds we lost are because they went out of business or were acquired," he says.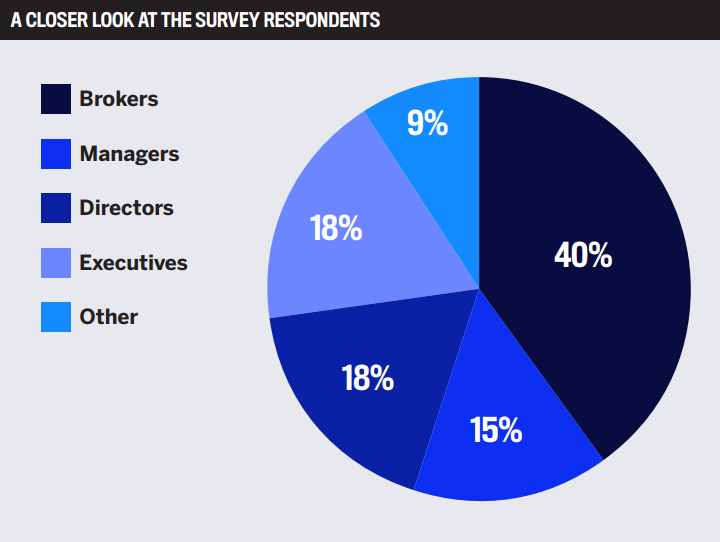 The power of expertise
Underwriting expertise was another critical factor for brokers when selecting a D&O or PL policy – 95% deemed it either important or very important. For this year's 5-Star Award winners, longevity in the sector is key to providing outstanding underwriting.
Both Arch and the Tokio Marine HCC – Cyber & Professional Lines Group have around 20 years of experience in PL and D&O.
As for Executive Perils, Taffae says, "I was a D&O underwriter for five years, but I received a 10-year education because of my mentors. I was in New York at the time of hostile takeovers, greenmail, proxy fights, high-yield/junk bonds, etc. It was a grad school education, and they paid me $16,500 a year."
When it comes to claims – an important factor for 90% of brokers – this year's 5-Star Award winners excel by focusing on maintaining excellent communication and employing teams of specialized attorneys. At Arch, those attorneys also assist clients with crucial risk mitigation.
"[Arch's] Executive Assurance partners with a leading law firm to offer comprehensive risk management services for employment practices such as a free hotline, data analytics, webinars, e-newsletters and training programs," Psaki says.
Meanwhile, Taffae says risk mitigation in this sector boils down to good corporate governance and quality management, adding that "the best mitigation is to be sure you know who you are insuring."
AIG
AXIS Capital
Allied World
Beazley
Berkley Assurance Company
Chubb
Claim Professionals Liability Insurance Company
Great American Insurance Group
Everest
Executive Perils
The Hanover Insurance Group
HDFC ERGO
Hiscox
RLI
USLI
Westport Insurance Corporation

D&O
AIG
Claim Professionals Liability Insurance Company
DUAL
Executive Perils
Federal Insurance Company
Great American Insurance Group
RT Specialty
Tata AIG
Travelers
USLI
Insurers were measured on the strength of their relationships with brokers, ability to handle claims, underwriting expertise and, most importantly, the strength of the individual products they provide.