Jump to winners | Jump to methodology | View PDF
THE PINNACLE OF ACHIEVEMENT
The older you get, the more wisdom you acquire – so one could argue that it's good news that the United States is getting older as a country. While the insurance industry doesn't always see it that way (according to MarshBerry, insurance companies will have to hire five new producers for every veteran producer who will be leaving in the next decade), the value of these industry veterans can't be denied.
IBA's fifth annual Hall of Fame includes 24 executives, innovators and entrepreneurs who have risen from a variety of backgrounds to establish themselves as leaders in the insurance industry. And in the face of a mass wave of retirements from the industry, they're determined to help pass on their knowledge to young professionals who are just getting started in insurance.

"There is no comparison in terms of experience, expertise and skills, as those are all phenomenal assets which have been developed over time by the Hall of Famers," says Margaret Redd, executive director of the National African American Insurance Association (NAAIA), a 2020 Hall of Famer and a member of this year's Hall of Fame judging panel. "However, so many in this younger generation have the passion, the intellectual capacity and the desire to have real and significant impact upon our today and our future.

"These young people have come of age in the tech era, and that gives them an edge. They have also faced major crises like the 'twindemics' of 2020 – COVID and the raised awareness for systemic injustices around the country and the world. As a result, they have an appreciation for their ability to have an impact upon their lives and others'. They have seen companies make tremendous operational and strategic shifts in their business models, seemingly overnight, and so they have built muscle in the face of change and our ability to navigate change."

Fellow Hall of Fame panelist Kevin Davis, president of Kevin Davis Insurance Services, an Amwins company, echoes those sentiments.

"The younger generation appears to use technology and data to solve problems, and sometimes quite effectively, while we – the individuals who have been around for a while – tend to use our contacts, our knowledge, and experience and intuition as a way of solving a problem," he says. "That can also be quite effective."

As panelists, Redd and Davis had the opportunity not only to evaluate this year's Hall of Fame nominees, but also to nominate people themselves. Redd sought out a wide range of candidates, from results-oriented progressive thinkers to those with a strong commitment to diversity, equity and inclusion or community service. Meanwhile, Davis looked for leadership skills, experience and the ability to stay relevant.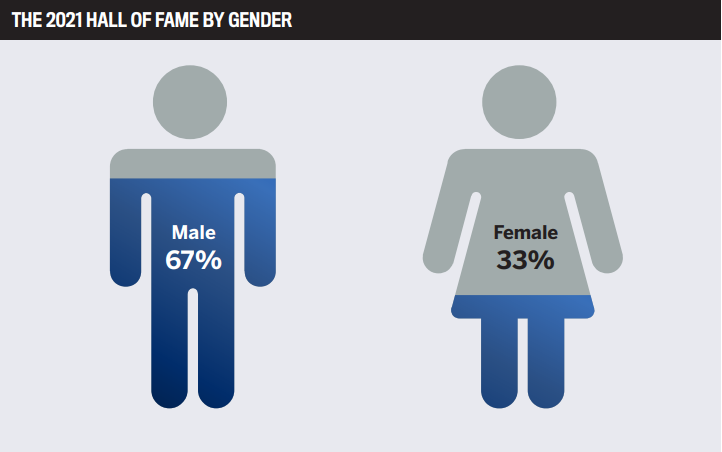 Clients come first
Among the two dozen inductees into this year's Hall of Fame, the importance of doing right by clients was a common thread.

"As an insurance broker, my goal is to bring the best the worldwide insurance marketplace has to offer to my clients, regardless of commission percentage or profit-sharing arrangement," says Matthew Cooper, president of Inner-City Underwriting Agency. "Spend as much time as it takes to make sure the client understands what he/she is buying and how their wealth is being protected."

In addition to founding Inner-City Underwriting Agency more than 25 years ago, Cooper has also launched Inner-City Wrap, a construction wrap-up insurance administration and placement service company that is, among other things, providing the wrap-up insurance for the construction of the Obama Presidential Center. He's also proud to have expanded the distribution of insurance to all Chicago neighborhoods and to have provided a business model that agencies and insurance companies have copied to expand distribution in other cities.

aFellow Hall of Famer Ed Levy, who retired from the industry in 2018 after a 40-year career and currently serves on the board of insurtech Openforce, likewise says he has "always been focused on doing the right thing. To do this, you need to know the marketplace, including your competition's abilities. You need to know coverages, and you need to make sure the insured is actually getting something that fits their needs."

For Hall of Famer Ben Francavilla, president of Amwins Program Underwriters, commitment to clients means taking the time to truly understand what they do so he can provide the right coverage.

"Ben believes in specialization, not generalization," says Sara Morton, director of corporate communications at Amwins Group. "He understands his clients' business, their complex needs and the challenges they face. His unparalleled expertise in programs means his clients have a distinct advantage of a team of underwriting specialists that understands the nuances of the markets they support."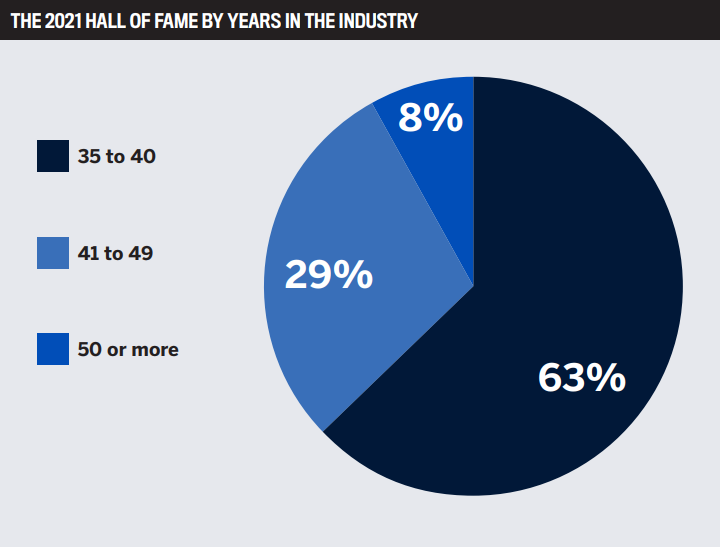 Enhancing diversity
Fostering greater diversity, equity and inclusion is a key priority for the insurance industry at the moment – and to be successful, DEI initiatives must have buy-in from the top. So it's heartening to see how many of this year's Hall of Fame inductees have made DEI a personal priority.

At Chubb, John Lupica, vice chairman and president of North America insurance, serves as an executive sponsor of Mosaic, the company's multicultural business roundtable. In addition, he has "played a key role in the expansion of the company's diversity initiatives, from groups focused on furthering the careers of women and those in the LGBTQ+ community to the rollout of distinct employee networks for Black, Asian and Latinx Chubb colleagues," says Chubb SVP Matthew Merna.

Cooper, meanwhile, founded the Chicago chapter of the NAAIA, and he's optimistic about the work the organization is doing to boost the number of minorities in the industry.

"I believe the NAAIA will expand and work towards increasing the number of African Americans in the business," he says. "It will also be important for more African American-owned insurance agencies to be formed to provide employment and training to the community."

Higginbotham chairman and CEO Rusty Reid is another Hall of Famer who recognizes the importance of organizations like the NAAIA in increasing the diversity of the insurance industry workforce. Last year, he forged a partnership with the NAAIA to build a pipeline for diverse talent at Higginbotham. According to Christina MaGee, Higginbotham's director of corporate communications, "the partnership gives Higginbotham many opportunities to engage with industry and market leaders and create new avenues to attract qualified, diverse talent to the firm."

Nurturing the next generation
So what can young insurance professionals learn from this year's Hall of Famers? Levy credits three values with helping him build a successful career in insurance.

"The first value is, whatever you do, do it for the right reason," he says. "Never sell a policy for the revenue. Sell it because it is the right policy for the insured. The second value I follow is to pay it forward. Someone was there to help me learn – make sure you are willing to help someone else learn. Be a mentor, as it goes a long way to success. Lastly, I think it is important to recognize that everyone makes mistakes. I believe it is OK to make a mistake – just make sure you learn from the experience and don't make the mistake again."

His advice to young people eyeing their own spot in the Hall of Fame one day is to put in the effort to establish yourself as an expert at something. And, paraphrasing Warren Buffett, he cautions, "It takes a lifetime to build a reputation and a second to kill it."
Barbara Strauss


Executive Vice President, York International Agency

Bob Preston


Former Owner/Operator (Deceased), Alternative Risk Underwriting

Brad Havemeier


President, Gulfshore Insurance

Christine LaSala
Senior Independent Director, Beazley Group
Dale Sharpe Jenkins


Founder, Agency Principal, The Jenkins Agency

David Dybdahl


CEO, American Risk Management, Resources Network

Denise Lloyd


President and CEO, D.H. Lloyd & Associates

Ed Levy


Director, Openforce

Jerry Sullivan


Chairman, The Sullivan Group

Karen O'Connor Corrigan


President, O'Connor Insurance

Matthew Cooper


President, Inner-City Underwriting Agency

Maureen Gallagher


Agency President; National Real Estate and Workers' Comp Vertical Leader, AssuredPartners

Richard Denning


President, Shelter Island Risk Services

Rusty Reid


Chairman, President and CEO, Higginbotham

William R. Berkley


Founder, W. R. Berkley Corporation
Nominees had to have been in the industry for at least 35 years. The panel considered each nominee's history of distinguished service to the insurance profession, the leadership and inspiration they provided to others in the sector, their role in guiding future generations of entrepreneurs and business leaders, their contributions to the leadership and direction of industry associations, and any visionary strategies and innovations that have made an outstanding contribution to the industry as a whole.