Holmes Murphy | Insurance Business America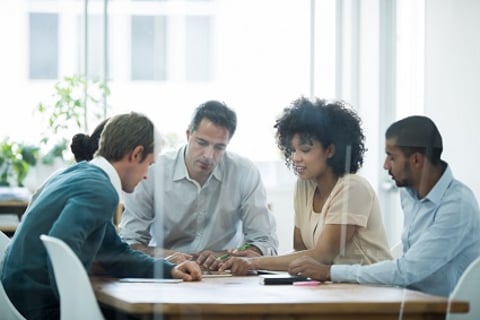 IBA: How did Holmes Murphy get its start?
Dan Keough:
Our firm started when two entrepreneurs, Max Holmes and Ray Murphy, came together to serve the community and customers in the Des Moines area. When they formed Holmes Murphy, they made an agreement to not bring family into the business, which is unusual in this industry. That legacy has provided opportunities to the four generations of leaders and shareholders that have transitioned the ownership of the firm since 1932.
We currently have 100 shareholders, of which 26 are voting shareholders who are not allowed to have family in the business. Our goal has always been to attract the best and brightest the insurance industry has to offer and give them the opportunity to become an owner of the company.
IBA: What is Holmes Murphy doing to attract and develop new talent?
DK:
Holmes Murphy has a long history of supporting and employing college interns as they learn the ins and outs of the industry. If you look back, a few of our former senior leaders, including one CEO, were interns who worked their way up to leadership positions. This summer alone, we had 33 interns across nine of our offices.
On top of that, we know that insurance has the reputation of being an old, tired and boring industry, which makes it challenging to attract new talent. Last year, we started an initiative to change this perception by creating the industry's best training and development program for college graduates, called The Brainery. This year, we hired 34 college graduates for the program. Through The Brainery, we educate these selected graduates on corporate health, benefits and risk management, as well as general business topics that form a strong foundation as they begin their insurance careers.
IBA: How did Holmes Murphy build its culture?
DK:
It has been an evolution. Holmes Murphy has a very entrepreneurial, innovative ownership where we are always looking for what's next in the industry. We believe the role of our brokers is not just to sell insurance. In fact, that is probably the lowest level of value we could bring to a customer. The true relationship is built from trust and integrity by doing what you say you will do.
Also, it is great having entrepreneurs on our team and giving them the freedom and flexibility to serve our clients by understanding their problems at the root cause. To find solutions for our clients, we must start by listening to them and keeping their best interests in mind. We work to find out what they need and then work backwards to determine the solution.
IBA: What is one of Holmes Murphy's more unique offerings?
DK:
I think our Innovative Captive Strategies subsidiary has changed the way member-owned group captives are structured in the industry. It has created greater alignment and lower costs for our customers. We turned the captive into a partnership where agents and brokers can partner with their customers and not just be viewed as someone who is selling insurance.
We take on the risk with our customers, help them improve, and are not just trying to put them in a risk trap. The other thing we have done that I think is revolutionary is starting a clinical and wellness firm, ACAP Health, which measures the production of disease in a population.
These insights allow us to help our clients look at their employee population and help them identify at-risk employees who will drive costs in their healthcare programs. From there, we deliver a program that guarantees the reversal of their situation and ultimately lowers their costs. We have three doctors on our staff who help us solve these problems for our clients.
IBA: What are Holmes Murphy's future plans and goals?
DK:
We just ended 2015 as a $135 million company, and we want to grow tremendously over the next five years. We see there is significant opportunity for an employee-owned and -controlled firm, where we report to our customers and not a third-party shareholder who demands a return monthly. We think our industry is better served when we can look at the best interests of our clients over the long term. Holmes Murphy is committed to being privately held, and we continue to invest in next-generation talent with training and development programs. We are truly excited about what the future of the industry holds and the new opportunities to service our clients.