How all leaders can contribute to the employee experience | Insurance Business America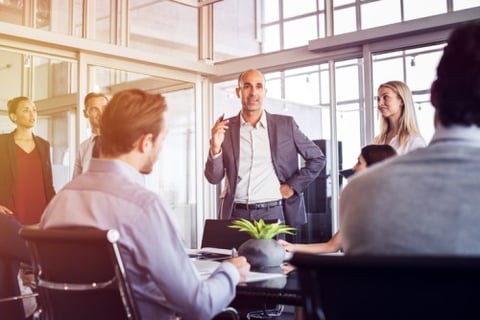 Increasingly, culture and engagement, along with other lagging indicators, are being seen not as unique challenges owned by a specific function, but as outcomes driven by antecedents and behaviours — measures of the state of the employee experience.
Just as the value of a great customer or user experience is well-proven, new research is revealing the benefits of a great employee experience. A joint study by IBM's Smarter Workforce Institute and Globoforce's WorkHuman Research Institute found people who ranked in the top quartile of their Employee Experience Index reported 23 per cent higher job performance, invested almost twice the discretionary effort, and were half as likely to leave.
These results aren't surprising. People experience work in exactly the same way as any other aspect of their life — a series of moments, perceived positively, negatively or neutrally, merged together to create memories and narratives. In this way, the employee experience is the story people recall and retell about their day, week, month, year and career.
Today, future-focused organisations are working towards providing a compelling and coherent experience through all stages of the employee lifecycle: from the employer brand and onboarding experience, to delivering on those promises through the performance, learning and development, safety and wellness experiences, among others.
It's an approach driven by an emerging Employee Experience function, combining aspects of People & Culture, communication, marketing and service design. However, a seamless employee experience requires a cross-functional approach, where all leaders play an active role.
Fortunately, where culture and engagement were nebulous concepts, designing an experience is a surprisingly logical process. And far from requiring monumental changes, grand actions or groundbreaking events, it's the small things that make a difference.
How do people experience a typical day? What's their onboarding experience? How do they experience learning and development? How do they experience safety and wellness? By breaking these experiences down into the moments that matter — the daily conversations, touchpoints and connections — leaders transform the way people feel about work.
Every connection
Work is built on countless connections: between leaders and their teams, people and initiatives, people and knowledge, people and the organisation, and people and peers. It's not unlike an electrical circuit — if even the smallest connection degrades, everything breaks down. Conversely, by strengthening each connection, everything improves.
Leaders play a crucial role in creating the environment and opportunities for connection to occur. This includes fostering psychological safety, facilitating open and transparent communication, improving collaboration, and sharing purpose. Their behaviour sets the benchmark, and if they live and breathe the desired behaviours, their people will too.
As social isolation becomes a significant issue for society, meaningful human connections at work are more important now than ever before.
Every touchpoint
Every point of contact, interaction, and piece of communication, regardless of the medium or channel, is a chance to seize people's attention, surprise and delight them, inspire them, pique their curiosity, teach them something, change behaviour, foster collaboration, improve connection and build culture.
This doesn't mean every touchpoint needs to be perfect, though. People's memory of an experience isn't the sum total of positive versus negative moments, it's an average of just the peak and end moments.
Mapping an experience, be it onboarding, online learning, a wellness campaign, or even the overall employee experience, reveals the touchpoints with potential for improvement. Whether it's simply removing friction or turning an everyday moment momentous, a single touchpoint can dramatically change people's overall experience.
Every conversation
No matter the channel — in-person; via email; or a Slack, WhatsApp or text message — every conversation can be transactional or a chance to build a relationship.
Good conversations happen when leaders ask questions rather than lead with statements, bring curiosity and empathy rather than judgement, and listen and talk in equal measures. These conversations build trust and connection.
By looking for the opportunities in every connection, every touchpoint and every conversation, all leaders can contribute to a better employee experience.
Jen Jackson is CEO of award-winning employee experience company Everyday Massive, speaker, and co-author of How to Speak Human (Wiley, 2018). She works with forward-thinking leaders to transform the employee experience — increasing connection, improving communication, and building capability in leaders and teams. Find out more at www.everydaymassive.com