10 smaller family vehicles thieves target the most | Insurance Business America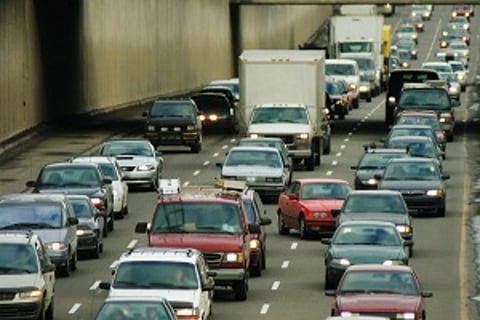 That red-hot Ford Mustang might seem to have a target on its proverbial back for thieves, but new information from the National Insurance Crime Bureau reveals that when it comes to theft, nothing beats the good old-fashioned family car.
Nearly 4,000 sports cars, such as the Mustang or Camaro, were stolen from 2009 to 2012, but almost five times the number of compact and subcompact cars disappeared during the same time period, the NICB report reveals.
All told, the National Crime Information Center reported 19,759 thefts of smaller family vehicles from April 3, 2009 to December 31, 2012. The compact class was the most targeted by thieves, with more than 14,000 vehicles stolen, while the subcompact class suffered losses of 5,500 thefts.
When it comes to taste in vehicles, crooks seem to prefer the Toyota Corolla. More than 3,500 Corollas were stolen during the three-year period, far surpassing the Ford Focus, next on the list with 1,797 thefts. Honda Civics and Nissan Sentras were also popularly stolen compact cars.
Just two subcompacts—the Nissan Versa and Toyota Yaris—made the list of top 10 most stolen compact and subcompact vehicles.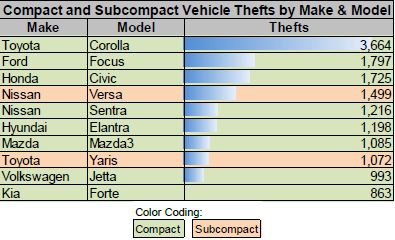 While family cars are stolen more frequently than sports cars, however, the NICB notes that they enjoy better rates of recovery. While 14% of sports cars stolen during the same time period have not yet been recovered, just 8% of compact and subcompacts remain missing.
NICB spokesperson Frank Scafidi notes that most producers are already "well aware of things to consider before writing a policy" for frequently-stolen vehicles, like those disclosed in the report.
However, it may pay to be especially diligent in recommending comprehensive coverage for family clients with vehicles on the top 10 list, as well as cost-saving measures like telematics that may lower auto premiums.
This is especially important for drivers and producers in California, Florida and Texas—states that experienced the most compact and subcompact thefts since 2009. California was a particular standout, with 4,205 thefts reported, and 1,300 of those occurring in the Los Angeles area.
Graphs and charts from the NICB.
You may also enjoy: "Report: The holidays with the most vehicle thefts"
"This sector leads others in questionable insurance claims"
"Keeping good records vital in wake of high rates of equipment theft"