2016 one of the "most severe" hail seasons in history: Report | Insurance Business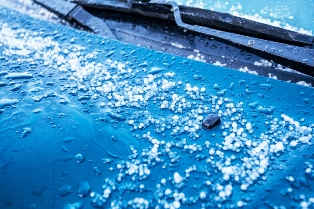 They say everything is bigger in Texas – and it's certainly the case this year as insurance companies continue to be pummeled with staggering hail-related losses in what is proving to be a historic season.
Total estimated damage from spring hailstorms is nearing $700 million in insured losses, on par with the nine-year average, according to a new report from CoreLogic. More than 912,000 Texas homes have been impacted by hail events, a historic high for the state.
Of the several storms that hit Texas this spring, the San Antonio event on April 12 was the most costly. Estimated residential losses totaled between $300 million and $400 million, with a maximum hail size of 3.25 inches.
The Wylie, Texas event of April 11 was also damaging, affecting the largest number of homes in a path of destruction that ran nearly 200 miles in length. The storm cost insurers $220 million to $280 million and hail size ranged up to 3.5 inches.
The report also measured storms in Plano, Texas – which caused between $25 million and $40 million in damage – and in Fort Worth, Texas ($60 million to $80 million).
CoreLogic is releasing the data on the heels of a new hail verification technology from the company, which verifies actual hailfall and diminishes the delay in consumer notification that extends the claims process.
"The algorithm was designed to address the hail verification needs of customers, including actual hail fall information and accurate hail size data," the company said in the report. "In the past, many customers relied on products and services based on science and algorithms intended for public safety needs – products focused on what a hailstorm might potentially produce, not what actually occurred."
The insurance industry has been working around the clock following the storms. Aaron Wilkerson with the Texas Farm Bureau told Texas Public Radio his company has transported extra staff from around the state to respond to claims.
"The main areas, though, that it's impacted so far are the urban areas," Wilkerson said. "And some of the larger hail I understand has gone through people's roofs and through the decking into their house."
Related Stories:
April hailstorm was costliest in Texas history: Report
These 5 states filed the most hail claims in 2015: Report