Agents must adapt or face erosion from captive carriers, say industry leaders | Insurance Business America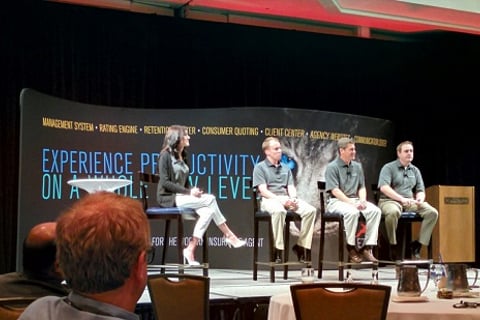 According to Derek Armentrout, marketplace product manager with agency software developer
EZLynx
, there is one obvious threat the independent insurance agency is facing today: retaining and growing market share while under constant threat from captive agencies.
"There are two sides to this: one is how to differentiate yourself from the competition, and the second is how to be just as efficient as captive agencies," Armentrout said Tuesday as part of a "State of the Industry" panel at the AgentLynx Conference in Irving, Texas.
Another panelist, EZLynx product manager Jonathan Kolbo, drew on his background as both a former captive agent and a former independent agent to flesh out this point: the difference in efficiency is driven by "large corporations backing development of technological tools for captive agencies," he said.
"There was just a night and day difference in the tools I had available after leaving a captive program," Kolbo said. "We just couldn't keep up."
Agencies may still be making the crucial mistake of allowing captives to erode market share by failing to invest in technology that promotes a more tech-oriented sales process, said Kolbo. Text messages, for example, now outweigh email in terms of faster response times. And client self-service through online portals is key in meeting consumers where they want to be met – online.
"These preferences change constantly, and we need to keep up on how to best implement them in the sales pipeline to drive efficiency," he said. "And if you ask agents who are looking forward to the role technology will play in sales, they know it doesn't remove the need for the agent, but it does enhance your relationship with customers."
Fortunately, many of the tools that allow independents to compete with captives – both in technological efficiency and marketing – already exist. Agency managers just need to take responsibility for implementing them.
Riley Simmons, another product manager, noted several updates to self-service capabilities from the EZLynx, including consumer quoting, email marketing and mobile capabilities for agency websites.
During the panel, Simmons also suggested that consumer preferences are not as black-and-white as some may fear.
"I think consumers want both online servicing capabilities you see from direct carriers like
GEICO
but also the ability to have a one-on-one conversation with an agent," he said. "Our challenge is in bridging that gap so consumers can embrace the independent agent."
Related Stories:
Are carriers ready to ditch the independent agent channel?
Major tech provider improves its agency management system