Broker celebrates Insurance Business Awards success | Insurance Business America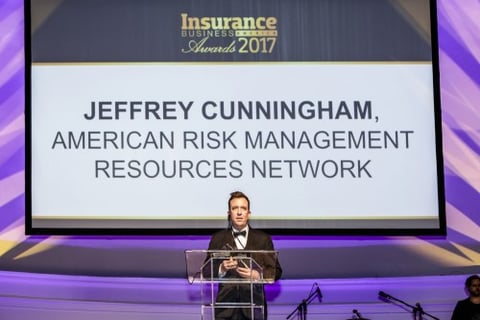 American Risk Management Resources Network (ARMR) is recognizing the director of underwriting at ARMR Net – MGA, a managing general agent within the ARMR network, for being named Wholesale Broker of the Year at the inaugural Insurance Business America Awards ceremony.
Jeff Cunningham was one of six finalists, coming from all disciplines in insurance. He received the award at a ceremony November 29 at the
Aon
Grand Ballroom at Navy Pier in Chicago. More than 600 insurance professionals attended the ceremony.
"To be appreciated at this point in my career is incredible," Cunningham said. "It has been a lot of hard work over the years, and it has paid off. It's a big deal. I'm shocked. I found my niche and this year I've really been able to shine."
"We are very proud of Jeff's achievements and dedication to this industry," said ARMR President and CEO David Dybdahl. "This is not an easy feat. To have him a part of the ARMR MGA is exceptional, and I am looking forward to the new opportunities he will bring to the department."
An industry veteran with almost two decades of experience, Cunningham joined ARMR in early 2017. He's also worked at brokerage firms including
Marsh
& McLennan, Willis Towers Watson and
HUB International
. Most recently, he helped start an environmental division at a wholesale insurance brokerage in Florida.
In addition to his own award, Cunningham accepted the award for Best Wholesale Specialized Practice – Environmental.
Related stories:
REVEALED: Winners at the Insurance Business America Awards 2017
In case you missed it: Insurance Business America Awards 2017 highlights