Chubb exec explains the ROI of going above and beyond for wildfire-exposed clients | Insurance Business America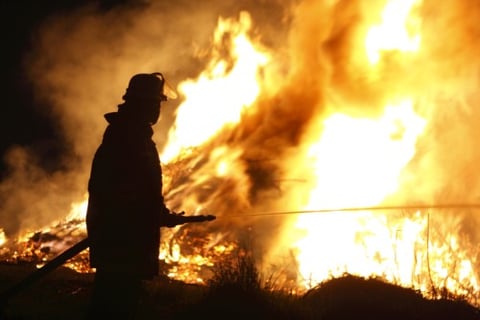 California's record-breaking Mendocino Complex fire is nearing full containment after raging for more than a month and covering a total of 459,102 acres. The largest wildfire in Californian history, made up of the River Fire and the ongoing Ranch Fire, has resulted in one fatality, three firefighter injuries, and the destruction of 280 structures, 157 of which were residences.
The Ranch Fire was the larger of the two fires compiling the Mendocino Complex. As of Tuesday evening, it was 93% contained and had reached 410,182 acres, dwarfing the second largest recorded blaze in state history – the 2017 Thomas Fire, which reached 281,893 acres. The cause of the Ranch Fire remains under investigation, but its deadly impact is very clear.
Paul Krump, Chubb Group EVP, described the Mendocino Complex as "incredibly dramatic" during a television interview on CNBC. He featured on the channel's Power Lunch program on August 17, discussing Chubb's efforts to protect policyholders amid one of the worst wildfire seasons in Californian history.
"Before a wildfire, we know where all our clients are, where they live and how to contact them, so when they're in imminent danger of a wildfire, we give them tactics as to what they can do. Some of it's very practical and some of it is to protect the home," he told CNBC.
"During the wildfire, we send in our private wildfire defense forces to help fight the fire. It's anything from going in and removing any debris that might be in a yard or moving lawn furniture, to using duct tape to cover vents so that smoke doesn't enter a house or a garage, and putting sprinklers in the yard. Ultimately, if the house is really threatened, we put a foam gel on it that acts as a fire retardant and helps repel the fire."
Chubb is one of many insurers feeling the heat of the 2018 wildfire season. The insurer has gone the extra mile to professional private firefighters in 18 wildfire-prone states. It has 13 seasonal squads, seven of which are currently active in California monitoring fires.
Ana Robic, chief operating officer, personal risk services at Chubb North America, told Insurance Business: "Chubb's goal is help protect clients and their homes in the event of a wildfire. We offer Wildfire Defense Services (WDS) as part of our Masterpiece Deluxe House Coverage to all of our single-family homeowner clients in 18 states prone to wildfires.
"Our service is what distinguishes us, meaning we always go above and beyond for our clients. For example, in 2017, Chubb's WDS teams visited over 1,000 properties exposed to active wildfires and our actions saved dozens of homes."
Proactive wildfire mitigation has a "huge return on investment," Krump noted in the CNBC interview. Saving homes pays off in dollars and cents and also in perceived reputation and good will among clients. He added: "It's in the best interest of our clients, it's in the best interests of our shareholders, and clearly it's in the best interest of the communities we serve."