Clements Worldwide: Digging into the complex realm of political violence insurance | Insurance Business America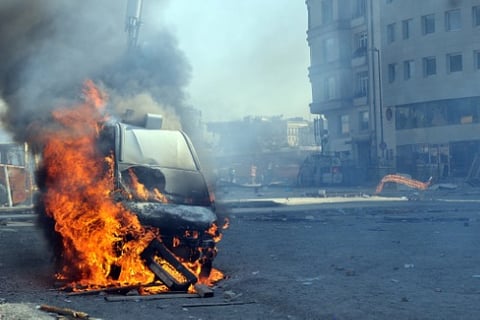 More than 10,000 terrorist attacks are carried out around the world every year, endangering the staff, assets and operations of international organizations. In today's complex geo-political environment, incidents of political risk, political violence, war and terrorism can no longer be pinpointed on a map to areas like the Middle East, Africa and parts of South America. While those jurisdictions remain high-risk, the threat of terrorism is now a global peril and is something that all multi-national organizations should have on their radar.
International organizations can purchase insurance to protect their staff and their operations against the perils of political risk, political violence, war and terrorism. Insurance options are available for purchase as coverage extensions to existing policies or as standalone insurance products - the suitability of which can be measured around the unique risk profiles of the organizations and the countries they're operating in.
Global insurance solutions provider Clements Worldwide has worked with businesses in conflict zones for over 70 years, providing organizations with tailored coverage to guard against the risks of civil unrest, looting, riots, war, and terrorism. The firm dictates that in today's rapidly changing political climate, no matter where an international organization is operating, an all-inclusive insurance policy with political violence included will help mitigate risk.
"It's important that clients don't take any coverage for granted," said Smita Bhargava, senior vice president at Clements Worldwide. "I've seen lots of policies that say war and terrorism are covered, but no other perils in relation to political risk are covered. If an international organization has a policy that includes terrorism coverage, but it doesn't include cover for riots, strike, civil commotion, or other types of politically-driven violence, then they might struggle to make a successful claim depending on the country they're operating in.
"The challenge for clients is that everybody defines these perils differently. This means insurance brokers must make sure they check their clients' policies to ensure they have the right language that will translate for actual coverage for the country or countries an organization is operating in. No two countries share the same risks, so brokers need to investigate where their clients are going and what unique risks factors are associated with those areas. For example, while somewhere like Syria remains at high-risk of terrorism, certain African jurisdictions are more at risk to civil unrest (especially around election time), and brokers need to keep on top of that."
As Bhargava mentioned, what one country defines as domestic terrorism, another will define as political unrest, and what one country defines as rioting, another will define as civil unrest. Getting to grips with the definitions is a constant headache, especially for those organizations operating in multiple high-risk zones. To counteract any confusion and eliminate potential coverage disputes, Clements Worldwide offers clients the option to buy a full political violence policy, which covers all perils and clearly defines each peril so that policyholders understand how their policies are reacting.
"If it's in our clients' best interests, we will advise them to buy the full policy with a full limit, so that all political violence perils are covered," Bhargava told Insurance Business. "We don't advise clients to remove any perils, nor do we advise them to change or have higher limits on a certain peril. That's because we want them to have coverage flexibility so that, if an incident happens, the claim can fall under any of the political violence criteria.
"We work with some very large non-governmental organizations and charities who have employees and assets in multiple high-risk areas. For them, we suggest they buy one policy that covers all of their locations. This is much more cost-effective because they can share out their risk between the high-risk and low-risk countries. Sometimes the client may feel they only want coverage for one country and in that case the rates tend to be much higher than a blanket policy."
Another thing organizations can do to potentially achieve a lower premium rate is develop crisis and contingency plans. This is something that brokers can help with, according to Bhargava. Political violence insurance policies can only do so much following a catastrophic event. After that, it's essential that an organization has a contingency plan it can mobilize to eliminate post-event chaos. That includes simple measures like knowing exactly where all employees are stationed so that an emergency evacuation can be carried out successfully if an event should merit such action.
"Brokers need to ask clients with international operations a lot of questions in order to fully understand their risks – and clients can sometimes feel a little bit overwhelmed," Bhargava added. "For insureds with operations in high-risk countries, it's vitally important for brokers and insurers to ask those difficult questions because a clear understanding of the risks can only benefit policyholders at claim time."