Dream job equals dream results | Insurance Business America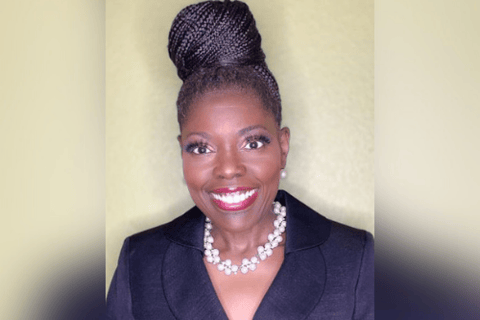 "It takes energy for introverts to interact. I am the opposite, getting my energy from interacting."
Those were the words of Montrae Williams (pictured). As head of P&C claims sales and service for Hartford Financial Services Group, this statement speaks volumes. Williams has risen to the upper management level in a very competitive industry by reaching out and using her declared energy to get the job done.
This energy was evident early on. Williams graduated from university a half year early and was recruited on campus into her chosen profession. Utilizing people skills, drive and curiosity has sustained Williams over a career spanning 33 years and in multiple roles with two top insurance employers.
Working in claims, sales and service, Williams is in her dream job. Responsible for over 50 employees in a remote role that enables Williams to work from home, she can stay very connected with her employees, other departments within the Hartford group and her valued client base.
"My team in claims sales and service work with underwriting, risk engineering, with agents and brokers and Hartford's top VIP distribution partners to provide consultative claim service," Williams pointed out. If the dynamics stand in the way of an effective flow of communication between these different areas, then meeting clients' needs will not be as effective. The bottom line, Williams explained, is that a collaborative approach is key to ensuring that everyone is working towards the same goal.
Williams told Insurance Business that in addition to other upcoming priorities slated on her demanding work agenda, she is looking forward to participating in the upcoming Women in Insurance Texas 2021 roundtable discussions.
Role of technology
During the height of the COVID-19 pandemic many sectors were forced to use any technology at hand to ensure that work could continue from home for many employees. The insurance sector was no exception.
Williams is quick to point out that she was ahead of the curve when it comes to adopting available technology to enable a remote workforce. Working fully remotely for years leading up to the pandemic, Williams knew the value of video conferencing technology and used it daily to succeed in her job.
"I have worked remotely for over eight years by design using all different conferencing platforms," she said. The available technology allows "employees to collaborate for knowledge sharing," Williams explained. "By using the platform available, it helps to create a positive work environment which drives employee satisfaction which then leads to a high-performance culture and ultimately a more positive customer experience."
Does Williams think that working remotely and the technology drive in the industry will continue? "Absolutely," she answered. COVID has proven that employees can work from home and still achieve a very high level of performance.
Unique challenges for women in the industry
The life of a professional woman can often have its difficulties regardless of what position or sector a woman works in. Williams is aware of this unwritten reality. She points to factors that are specific to women, such as balancing family with work commitments, family dynamics, gender norms and societal pressures.
"For many women as primary caregivers, long commutes and inflexible work schedules are not necessarily doable," she explained. "Often there is also a lack of opportunity in the workplace to pursue engaging things that are important to their wellbeing."
Equity and inclusion are also issues that directly affect woman. Williams has taken her own steps to address inclusion by leading the Black Insurance Professional Network. Women can partake in events and are given the opportunity to discuss various resources that may be available to them, such as flex work programs.
Williams' employer continues the push to help employees by providing additional resources such as offering access to online parenting classes, or by offering online information on childcare providers in their community.
"The Hartford is, in my opinion, an ethical company with core values that align with mine," Williams said, highlighting how she has been given the opportunity to balance the needs of her children and allow her to grow her skills while building the experience to direct her career as she envisions.
How about meeting client needs?
"The clients are why we are here. It is our raison d'etre- to service our customers and create the best customer experience," Williams answered.
The Women in Insurance Texas 2021 conference is just another opportunity for Williams to offer solid advice and to lead by example.
"I am looking forward to the panel I am speaking on - the entire day - connecting with other women and keynote speakers," she said.
With a collaborative spirit and undeniable energy, there is little doubt that Williams will be well received by her colleagues. It would be hard to imagine that a little of this energy wouldn't rub off on those in her presence.
Register now to take part in Women in Insurance Texas virtually.