Gallagher Bassett CEO on COVID-19, the broker channel, and the firm's strategic vision | Insurance Business America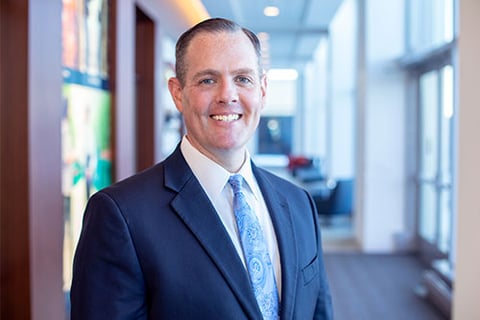 When Mike Hessling (pictured) took on the role of CEO, North America, for Gallagher Bassett in February, little could he know (unless he has a coveted crystal ball) that the novel coronavirus causing problems at the time in China would quickly grow into one of the most deadly global pandemics in modern history. What a time to take on a high-pressure leadership position.
As a seasoned leader – prior to becoming CEO, he held the position of North America chief client officer for Gallagher Bassett - Hessling has taken the immediate challenges of the COVID-19 pandemic in his stride. He said he's "very excited" about his new role and for the future of Gallagher Bassett, especially considering the investments the firm has made over the past several years into innovative solutions and data analytics.
"Ever since I joined Gallagher Bassett, our mission has been consistent - to be the premier provider of risk and claims management services with demonstrably superior outcomes. When I became the CEO of North America, that goal did not change," Hessling told Insurance Business. If anything, my focus and our team's commitment around fulfilling that mission has only intensified. Our clients put their trust in Gallagher Bassett – to care for their injured workers, to protect their brands, and to make their programs better. I take that responsibility very seriously and know that our actions and investments have us well positioned to be the provider of choice in our industry for well into the future."
Read next: Gallagher Bassett creates coronavirus task force
While Hessling dreams big about the promising future of Gallagher Bassett, his immediate attention as CEO has been drawn in by the COVID-19 pandemic. The coronavirus has presented challenges for all companies, including Gallagher Bassett. Like most leaders, Hessling's first priority was to protect the health and safety of employees, while also ensuring continuity of service to Gallagher Bassett's clients.
"This event was an early test of our leadership team, and I'm thrilled with how they responded to the changing environment brought on by COVID-19," he commented. "We successfully executed against our business continuity plans without missing a beat for our clients and team members. For example, we were able to stand up our COVID-19 Taskforce, which consisted of leaders from across the business. We were able to rapidly identify the highest priorities, create and execute a cohesive plan, and mobilize our team under tight timeframes. We modified claims processes in response to incidents with COVID-19 exposure, enhanced our managed care capabilities to serve the unique needs of clients during this pandemic, and produced a robust resource center to engage with clients, broker and carrier partners.
"Beyond the immediate response to COVID-19, there have been remarkable success stories across the business. I'm fortunate to see so much kudos from our clients, recognizing the great work of our team at a time when we're needed most. And I'm thrilled to welcome new clients to Gallagher Bassett, who recognize our innovative capabilities and special culture among our team."
Read more: Gallagher Bassett launches new division
As a business that offers risk and claims management services, Gallagher Bassett has faced a few fundamental challenges amid the coronavirus crisis – the primary one being how to maintain business operations and service claims while also adhering to physical distancing guidelines and stay at home orders. Unlike some claims management firms, Gallagher Bassett had nearly 40% of staff operating in a work from home environment prior to the pandemic. Hessling described this as a strategic decision that enables the firm to attract and retain top talent. As such, Gallagher Bassett had a proven 'remote-ready playbook' based on four key principals – access, connection, engagement, and service - that it could roll out to help the rest of the team transition to work from home during COVID-19.
"I'm really proud of the actions our organization has taken to serve our clients' current and future needs," Hessling said. "In addition to the immediate actions we've taken in managed care solutions and Resource Center, we're also helping our clients think ahead and plan for the implications of our 'new normal'. Within our Technical Services division, we're both consulting and managing efforts to prepare facilities for re-occupancy. Our clients are focused on providing their teams safe work environments and have been enthusiastic about this solution as they plan for the future.
"Additionally, Gallagher Bassett is uniquely positioned to help our clients understand and manage to superior outcomes across their claim programs. Our award-winning SMART benchmarking capability can help clients understand the changing severity of their claim portfolio. Our claim strategy dashboard helps clients prioritize time and energy in managing their claim portfolio. And our best-in-class Luminos RMIS platform provides tremendous information to help manage and monitor trends across client programs. All of these are supported by a team of expert analysts, helping our clients and service teams generate insights to continuously improve performance."
All things considered, Hessling has a very positive outlook for Gallagher Bassett in North America. He added: "We have an exceptional team and strong momentum within our business. I'm very excited about being in this role."