Insurer survey reveals America's quirkiest pet names | Insurance Business America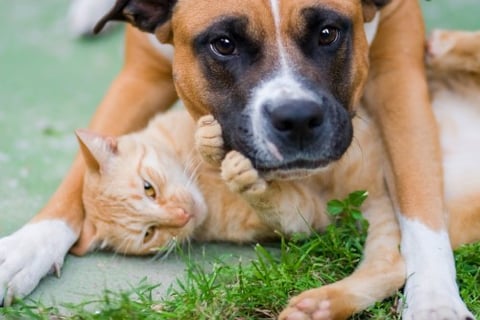 Dunkin Butterbeans nosed out Farrah Pawcett and Fiona Penny Pickles in the dog division, while Little Booty Ham Sandwich purred past Obi Wan Catnobi and Winston Purrchill in the cat category to earn the distinction of Nationwide's "Wackiest Pet Names of 2017."
Nationwide drew the top 10 most eccentric dog names and cat names from its database of over 600,000 insured pets. The monikers were then put to a public vote. Names relating to food took the top spots in both categories. Puns of famous individuals and fictional characters were also popular:
Cats
Little Booty Ham Sandwich
Obi Wan Catnobi
Winston Purrchill
The Great Catsby
Jabba the Butt
Isaac Mewton
Whiskerus Maximus
Ninja Killer Nine Thousand
Fifty Shades of Graham
Dog the Cat
Dogs
Dunkin Butterbeans
Farrah Pawcett
Fiona Penny Pickles
The Other Dude
Yeti Spaghetti
Colonel Mustache
Empress Tzu Tzu
Cheesebro
Tango Mango
Choo Choo Boo Boo
Join more than six hundred insurance companies and brokers who have grown revenue and reduced costs. Download our free white paper to learn how Docusign can help you improve your customer experience.
"The results from our Wacky Pet Names competition illustrate the thought and creativity pet owners put into naming their furry family members," said Scott Liles, vice president and chief pet insurance officer for Nationwide. "Pets hold a special place in our members' hearts, and as such, many give them names with sentimental – and sometimes silly – meaning."
Related stories:
Headstrong program by Nationwide and K&K now offered to athletes in a fourth state
When you own tigers, you're in a unique position to insure tigers