Morning Briefing: Insurance stocks surge on Obamacare ruling | Insurance Business America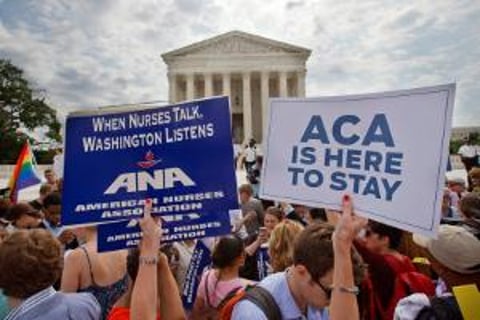 Insurance stocks surge on Obamacare ruling
Thursday's ruling by the US Supreme Court, that federal subsidies provided by the Affordable Care Act are legal, has led to a surge in insurance company stock values. The uncertainty surrounding the matter was making investors nervous but as news broke it saw a resurgence in shares of companies such as Aetna (up 4 per cent) and Humana (up 7.1 per cent). Hospital stocks also rose on the news.
How does North America rank on readiness for change?
The annual index of the readiness of countries for change has been released by KPMG. The survey of 127 countries considers factors such as natural disasters, economic crises and political change and ranks countries for their ability to react and adapt. It also considers long-term change such as demographics and technology. It found that those countries with weaker income equality are generally less prepared for change and that being the wealthiest economy does not necessarily mean better readiness. North America ranks in the top 20, but the lower end along with the UK, Australia and Germany; Canada is at 14 and the US at 20. Singapore, Switzerland and Hong Kong are the top 3.
"A revealing trend from this year's CRI is that countries with higher scores for more inclusive economies tend to perform better in the Index, while conversely, income inequality tends to be associated with low change readiness," says KPMG's Timothy Stiles. "In fact the nine countries ranked highest for inclusive growth are all in the top 15 of the Index. It sends a clear message that policies promoting inclusive growth can help countries be more equipped to manage inevitable change."
Irish insurers faced with increasing premiums
The Irish insurance industry is preparing to hike premiums as the sector struggles with falling profits. Auto insurance premiums in the republic have already soared as costs rise. Premiums have been forced downwards in recent years on increased competition. US insurance firm Liberty has pulled out of the UK personal insurance market recently and is now cutting back jobs in Ireland with 270 of its 950 employees at threat. Brian McNelis of the Irish Insurance Brokers Association told the Irish Examiner that auto insurance premiums could be 25 per cent higher by year-end: "Motor insurance continues to be unprofitable in the Irish market due to prices being pushed to artificially low levels by heightened competition. Much of this was driven by direct and online insurers, but increasing claims' volumes, the cost of claims and insurance fraud are all playing a part.