Next Generation: Where you can find 42% of new industry hires | Insurance Business America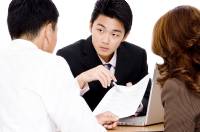 Independent insurance agencies need new blood, but hiring recent college graduates can be a little dicey. According to a study from The Middleton Group, only one out of every five hires eventually becomes a successful producer, and the average cost to the agency is 10 times that employee's compensation.
For agencies not quite ready to hire these new employees, hosting an internship is an effective opportunity for both student and agency to take a "test drive."
"Employers who offer internships can use them as month-long interviews," says
The Institutes
Executive Vice President Anita Bourke, who notes that 42% of all new hires started as interns. "They're able to choose highly qualified candidates from the beginning and determine, at the end of the internship rather than an hour-long interview, if the interns are good fits before committing to hire them."
One of the best industry models of an effective internship program comes from NAPSLO. Dating back several decades, the trade association's competitive internship program allows students across the country to spend five weeks with an insurance company and four weeks with a broker.
During that time, host companies give interns a project designed to give meaningful work to the intern and complete an important task for the company. Interns also rotate through several departments within the host company and work with a variety of high-level professionals.
"Having an opportunity to work on ensuring that NAPSLO has a strong internship program and is supporting the development and growth of our younger people is very rewarding," says Mike Miller, President and COO of Scottsdale Insurance and Culler's co-chair on NAPSLO's Career Awareness and Internship committee. "We are helping a young person get involved in our industry and also having the opportunity to hire them, or at least learn from them. Who knows who you might hire someday that started as an intern?"
Not all agencies have the resources of NAPSLO or its members, but hosting an intern doesn't have to be costly. A nominal fee, even as low as $500, is enough to tempt at least some high school or community college students.
And training does not have to be extensive, either. The best approach is to entrust the intern with a specific project that your agency has meant to do, but simply hasn't gotten around to yet.
In the end, you may find yourself with a new employee.
You may also enjoy:
"Turnover especially costly for independent agencies"
"A fail-proof method for training new hires"
"The insurance agent of the future"