"No plan B" for ACA if Supreme Court cuts subsidies, Obama says | Insurance Business America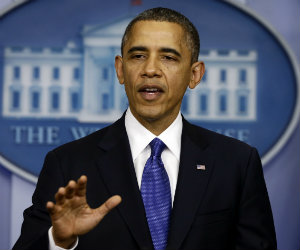 Don't look to the White House for direction on what will happen if the Supreme Court chooses to axe federal subsidies for Affordable Care Act health insurance plans.
After weeks of unease expressed by insurance regulators, carriers and actuaries, President Barack Obama announced his administration has "no plan B" if
King v. Burwell
is decided in favor of the plaintiff. If that happens, policyholders in 32 states will face sharp increases in their premium payments.
The president, however, isn't worried.
"This should be an easy case. Frankly, it probably shouldn't have even been taken up," Obama said at a news conference late Monday. "It's important for us to go ahead and assume that the Supreme Court is going to do what most legal scholars who have looked at this would expect them to.
"I'm optimistic that the Supreme Court will play it straight."
His comments follow widespread concern from states and healthcare associations, who say they are perplexed on the lack of backup planning by the federal government. If subsidies are struck down in states that did not provide their own health insurance exchange, officials would have to scramble to create new platforms to help people afford coverage.
Otherwise, many will likely drop policies that would simply become unaffordable.
"For governors, it's a tough situation for all of them," Seema Verma, a health insurance consultant working with seven states. "No one wants to see people lose coverage. What's ironic is that there's no discussion from the federal government to say, 'Here's our plan.' Especially in the short-term situation, people are going to look to them to outline their plan and they have yet to do that."
For their part, health insurance companies have attempted to hedge their bets. Actuaries say they attempted to come up with two sets of rates for the following year – those they would put in place if things remain unchanged, and higher rates to reflect lack of financial support from the federal government.
Meanwhile, agents and brokers working in the health insurance space will be well-situated regardless of the Supreme Court's decision on the legality of consumer tax credits offered through the federal health insurance exchange. It is more a question of the environment in which they will sell personal and group health plans, says Scott Sinder, partner at Steptoe & Johnson and general counsel for the Council of Insurance Agents and Brokers.
"At some level, brokers will always win because they're advisors," Sinder told
Insurance Business America
. "The [Supreme Court case] will cause confusion, and employers and individuals will need guidance through the confusion.
"From my vantage point, that makes the broker a key player in all these discussions regardless of the case's outcome."