Swiss Re on the trade war and a world post-Brexit | Insurance Business America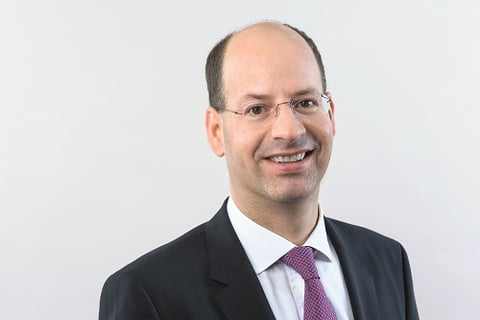 In light of the Swiss Re Institute's recently published Global Economic and Insurance Market Outlook 2020/2021, Insurance Business sat down with Swiss Re's group chief economist, Jérôme Haegeli (pictured), to discuss its implications.
Read more: Swiss Re on Brexit and the US/China trade war
An economist by training, Haegeli worked in central banking for several years becoming a senior economist for Swiss National Bank, before spending a few years at a global investment bank. He was later delegated to the IMF executive board in Washington DC to represent the Swiss National Bank, as well as Switzerland at large, and he highlighted how this role enabled him to examine a broad range of topics from low-income countries to financial stability issues, to the global economy.
Haegeli has now worked at Swiss Re for 12 years, previously as head of investment strategy for the group's asset management arm and now in his current role of group chief economist.
At a Swiss Re briefing last week, he delved into the impact of trade war risk on the global economy and identified this as a particular issue for the insurance sector.
The main risk of the trade war, he said, is that, in a worst-case scenario, it can lead to a global recession. Another risk is its impact on the structure of economies and the removal of multi-lateral coordination and open markets. Without these open markets, he said, societies and economies will suffer and though insurance is likely to hold its value proposition, this will come at a higher cost.
Expanding on his assertion that uncertainty is the enemy of the business cycle, Haegeli detailed his views on the impact of Brexit for the insurance industry. The key question for the industry, he said, is what form Brexit will take and when it will occur.
It's a good thing, he said, that policymakers have taken due consideration and let the political process run, allowing businesses to react and to adapt. He believes that insurance companies have responded well and are ready for a worst-case scenario but also for more positive outcomes.
Looking at a post-Brexit world, Haegeli detailed the importance of the UK carefully considering its current environment and situation. He said: "London is a fantastic city, London is a financial centre. If you look at insurance companies [and] if you look at investment management, sustainable investing is at the top of people's agenda."
There is, therefore, an opportunity, he outlined, to embrace new trends in investment, to potentially help set international standards and to establish an environment in which these investments can flourish. In the long-term, Haegeli is very positive about the relationships the UK may be able to forge after Brexit, including, potentially, with Switzerland.
Haegeli is widely renowned as an expert in his field, having presented to Ministers of Finance at the G20 Summit, held in Australia in 2014, on the subject of breaking barriers to ensure private capital flows to infrastructure investments. He is now also the co-chair for the World Bank's Infrastructure Facility and has great insight into a variety of areas of expertise. These include a thorough consideration of how technology affects the ecosystem of brokers and the threat of disintermediation. In personal lines, he said, digitization has had a clear impact and he highlights how China, in particular, has embraced using technology in insurance and particularly in personal lines.
"For commercial lines, I think that given the complexity of the risks... there will always be a role for the broker," he said. This is not to say that digitization is not hitting the ecosystem, however. He outlined how automation, when it comes to renewals and looking at underwriting policies, will be helpful to brokers and insurance companies but "it doesn't mean that brokers will be disintermediated out completely any time soon."
Given the changing insurance ecosystem, Haegeli said the role of the broker will have to continue to evolve. You can see brokers providing more services than they were even five or 10 years ago, he said, and this is likely to continue to develop.
Discussing his G20 Summit presentation, Haegeli outlined the importance of patience and endurance in any market sector, including insurance and how "you need to have not only a long-term view but also long-term assistance on topics that are worthwhile."