The 10 most uninsured states post-Obamacare | Insurance Business America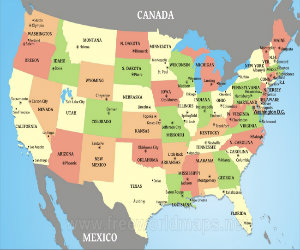 Almost all of America's chronically under-insured states have been at the bottom of the list for decades, but a
new report from WalletHub
shows that some habitual stragglers have made real progress.
In fact, insured rates in some states have improved more than 10% in the Affordable Care Act's inaugural year.
Others were less impressive. Mississippi, which ranked second-last, actually saw a 3.34% increase in its number of uninsured residents.
The study, which considered data from Medicaid and a Kaiser Family Foundation report on previously uninsured Americans, offers an "initial projection of uninsured rates post-Obamacare" for 43 states and the District of Columbia.
While Massachusetts, Rhode Island, Hawaii, Oregon and West Virginia topped the list of most insured states, many more remained near the bottom. They include: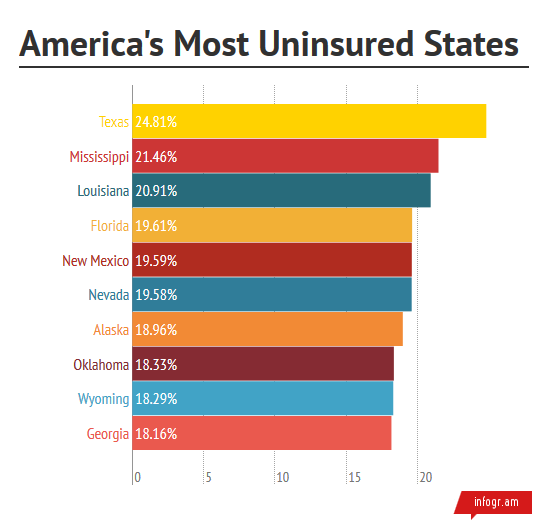 That list hasn't changed much in recent years, but it is notable for states no longer hovering near the bottom. One of those is West Virginia, notes WalletHub CEO Odysseas Papadimitriou.
"West Virginia used to be near the bottom every year, but it's gone from one of the worst to one of the best," Papadimitriou said, noting the state's nearly 11% reduction in uninsured residents. "Rhode Island is another, with close to 9% improvement."
Still, the disparity between the most insured and most uninsured states is a little hard to swallow. In Massachusetts, the state with the fewest uninsured residents, just one in 100 people doesn't carry health insurance. In Texas, that ratio is one in four.
It's upsetting, Papadimitriou says, and can be easily fixed.
One of the biggest differentiating factors in these "most improved" states is the expansion of Medicaid. That's something Papadimitriou says should be a clarion call to states that haven't chosen to grow the program for lower-income residents.
"In order to make a dent in the uninsured population, states will have to expand Medicaid," he said. "With success stories like West Virginia, it's hard to make the case to your taxpayers that they should continue to foot the bill for others, but not for themselves."
WalletHub was not able to analyze data for seven states, including Vermont, North Dakota, New Hampshire, Michigan, Maine, Delaware and Connecticut, due to differences in the timeline of Medicaid expansion and other factors.
You may also enjoy:
"Top 10 most uninsured states--including one of the richest?"
"The 15 US states with the longest life expectancies"
"MLR rebates would be slashed 75% without broker comp"