"We're not going to fold up our tent and go home; we're going to fight through this" | Insurance Business America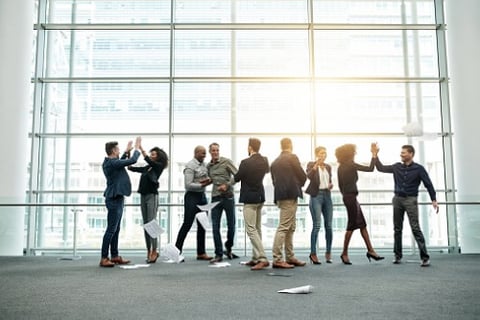 Despite the challenges that 2020 brought, insurance agents are optimistic as 2021 arrives. According to a recent Aon Programs online survey that queried almost 500 insurance agents and brokers about their attitudes for this year (including their thoughts on business outlook, product lines, going virtual, and marketing), 93% are looking at the new year with a "glass half full" mindset.
An Aon expert, however, says to take the results with a grain of salt.
"The big driver here is the audience that we employed to take the survey. Most of the folks that responded are salespeople and entrepreneurs – some of them are agency principals and some of them are sales producers – so I think, naturally, those folks have a positive outlook," said Dave Zeornes (pictured), business development executive at Aon Edge.
Additionally, he explained, "A lot of these are industry veterans and senior folks in the insurance industry that have been through some challenging times before, so it's not their first rodeo … Their response was, 'What other choice do we have? We're not going to fold up our tent and go home; we're going to fight through this.'"
Read next: Nationwide agent survey reveals the truth about cyber
Nonetheless, there is a lot to be learned from the survey and how agencies are positioning their businesses in the coming year. For instance, two-thirds of the respondents plan on doing something different in 2021, namely by putting more emphasis on professional development, which is driven largely by the new product offerings that will come out of the coronavirus situation. For one, Zeornes has talked to agents whose clients are asking about their auto insurance options, and he believes there will be innovation in pay-per-mile offerings, as well as, more broadly, in pandemic coverage.
In light of these changes, "Agents and principals are going to have to understand what those new products are and what they actually cover to be able to talk [about them] to customers," explained Zeornes – hence, the need for professional development.
Many respondents (17%) also brought up their plans to invest in new client retention programs as agents and brokers figure out how they should be interacting with customers in this new normal. On the specialty insurance side, agents are likewise looking to add and expand their offerings for professional services firms, catastrophe, non-profit organizations, and healthcare providers.
Read more: Insurance agent on how COVID-19 has impacted his business
On the digital front, 66% of agents do not plan on taking their company fully virtual in 2021 and only 6% plan to be fully virtual by the new year, while social media was identified in the survey as the marketing tool that agents are betting on to give them the biggest boost in 2021, with webinars and virtual events, as well as e-mail blasts coming in second and third. Moreover, 41% of agents believe Facebook will give them the best return on investment in 2021, with LinkedIn following closely behind.
"The way in which agents, brokers, and consumers take in information is changing, so I think agents and brokers are responding to that," said Zeornes.
Read more: Insurance agents struggle to meet digital demands of consumers today
Overall, the Aon expert recommends that brokers and agents remain open to what's coming down the pike from a product and client retention standpoint, especially when it comes to how clients want to be contacted by their insurance advisors and understanding how that has changed over the course of the last 10 months.
On a lighter note, the Aon survey also asked respondents about the classic movie quote that best describes their mindset going into 2021.
"The winner of that, with 30% of the responses, was 'Do, or do not. There is no try,' from Star Wars," said Zeornes, "with a close second of, 'There's no crying in baseball,' from A League of Their Own."