Nationwide agent survey reveals the truth about cyber | Insurance Business America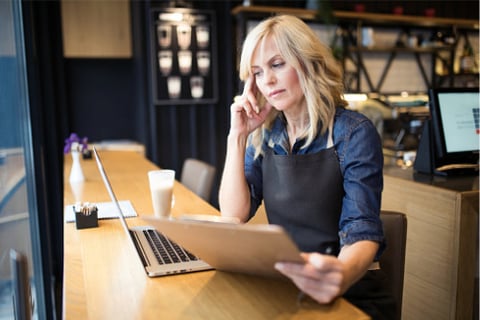 Consumers and businesses are dangerously unprepared for evolving cyber threats, according to a new Nationwide Agent Authority survey.
"Our survey highlights concerning vulnerabilities for consumers and small business owners, many of whom may be more focused on keeping their family or business afloat in tough times, as opposed to guarding against cybersecurity threats," said Catherine Rudow, vice president of cyber insurance for Nationwide. "It's encouraging that middle-market business owners appear to be more attuned to risks and are proactively preparing their defense. But regardless of the type of client, now is an important time for insurance agents to talk to their customers about cybersecurity solutions and best practices."
Key findings of the survey included:
Small business owners are underprepared and overconfident.
Middle-market business owners have a better handle on cyber threats.
Consumers underestimate their exposure to cyber risk.
Agents can help clients understand cyber risks, including new and evolving threats.
Small business owners often don't recognize their cyber vulnerabilities, according to the study. While nearly half of all cyberattacks target small businesses, only 37% of small business owners reported that they believed themselves to be at risk of attack. About one third said they were not confident that they could recover should their business be victimized by a cyberattack.
While nearly half of small business owners believed they were prepared to handle a cyberattack, only 39% of independent agents believed their customers were prepared for one. Only 17% of small business owners said they had cyber liability insurance, and more than half (53%) said they did not offer cybersecurity training to their employees.
About eight in 10 insurance agents said that many of their clients were unsure of how exposed they were to cybersecurity risks, they don't know what is covered in their cyber insurance policy, and they believed the chance they would be victimized by a cyberattack was small, Nationwide found.
Middle-market businesses, on the other hand, typically have a greater awareness of cyber threats and are more prepared for them, Nationwide said. Seven in 10 middle-market business owners were concerned about a cyberattack, and 79% felt they were prepared to address one. Eighty per cent (80%) said they felt they could recover from a cyberattack.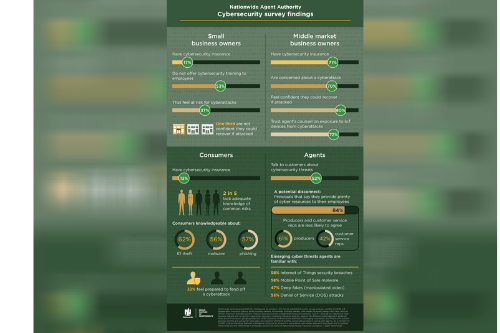 "This confidence may be warranted as they are more likely than small business owners to have taken key security precautions," such as buying cyber insurance, Nationwide said. The survey found that 71% of middle-market business owners purchased cyber insurance. Seventy per cent (70%) said that they trusted their insurance agent to provide advice about cyber threats.
The survey also found that consumers had an alarming lack of knowledge about cyber threats, with 40% reporting that they had never been the victim of any kind of cyberattack, including phishing. About two in five consumers lacked adequate knowledge of common risks, and only 62% reported being knowledgeable about identity theft. Just 56% knew about malware, and only 57% knew about phishing.
Only 32% of consumers said they felt prepared to fend off a cyberattack, and 8% reported taking no cyber security precautions at all. Just 13% said they had some kind of cyber insurance, Nationwide said.
Meanwhile, 51% of consumers thought they could recover from a cyberattack, and 40% didn't know how much it would cost to recover from such an attack. Of those who had experienced an attack, 30% said it impacted their personal finances.
Agents can help
"Insurance agents have an opportunity to strengthen relationships by offering effective counsel to help their clients protect against cyber risks, including several new and evolving threats that remain off the radar of most consumers and business owners," Nationwide said. However, while agents surveyed were aware of the knowledge and protection gap, only 52% said they talked to their customers often or always about cyber threats.