White House announces final enrollment figures | Insurance Business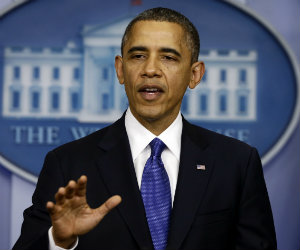 More than 7 million people enrolled for insurance coverage through public exchanges established under the Affordable Care Act, the White House announced today.
The 7.04 million figure beat a revised estimate of 6 million and met the Obama administration's initial goal of 7 million applications in the first open enrollment period. White House Press Secretary Jay Carney attributed the success to "a remarkable surge" in the final day of enrollment.
"It's fair to say we surpassed everyone's expectations," Carney said.
The last-minute rush to sign up for health insurance was indeed great, with lines stretching out of the door and lasting more than two hours in some cases. Washington state agency owner Dan Eich said both individual and commercial applicants piled into his office yesterday.
"It is nuts for both the individual open enrollment and all of my renewing groups," he told
Insurance Business
.
The true measure of success of the health insurance exchanges remains to be seen, however. Carney said the White House does not yet have a breakdown on the enrollees, including age and relative health—two factors that will play a significant role in 2015 health insurance rates, some of which are due this month.
In the absence of more concrete information, some carriers—including Indiana-based WellPoint Inc.—warned they may be instituting "double-digit plus" premium increases for the upcoming November enrollment period.
The White House also declined to say how many of the 7.04 million enrollees had paid their first insurance premium.
However, the Obama administration is hailing the news as a victory, citing the lowest quarterly level of uninsured Americans since 2008. As of the first quarter of 2014, just 15.9% of Americans were without health insurance.