"You think you're never going to go through something like that and then it happens" | Insurance Business America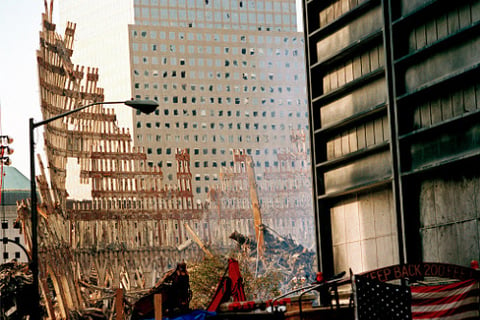 The world changed forever on September 11, 2001 – not that Becky Steel needs reminding of that.
On that day, she was in the UK at Aon Benfield but worked closely with the people in her company's offices in New York City – or more specifically, in New York City's World Trade Center.
"There was a team there on the day," she recalled with emotion in her voice. "Several of them didn't make it out. It was back and forth to New York afterwards for funerals and just generally trying to get our head around it all. You think you're never going to go through something like that and then it happens."
Up until then, her insurance background was in property, but seeing the devastation of a terrorist attack up close – not just in the lives and property lost, but the economic impact on the businesses affected by the events of that day – convinced her that it was time for insurers to rethink terrorism.
"Before 9/11, terrorism was wrapped up in property placement; it was just sort of something that was there," she said. "It didn't really exist, particularly in the US or in the UK. But after 9/11, there was a lot of questioning. Was it one event? Was it two events? The two towers, the Pentagon… Obviously, you can imagine all the legalities that went into it.
"It (the 9/11 attacks) just made everyone realize – and insurance is that kind of industry, we try to be proactive, but many times it's more reactive. And when something happens, you look at it and think, 'Should that really be placed into the property marketplace?'"
Finding answers to those kinds of questions has propelled Steel's career for the past 20 years. Following eight years at Aon Benfield, she was later vice president at Cooper Gay Swett & Crawford in New York City before becoming head of property and terrorism for Omnyy (part of the US broker Lockton) and then lead underwriter for terrorism at Ensurance UK.
This February, she joined Rokstone to lead its international political and terrorism division. Shortly after she came on board, the London-based MGA announced the launch of a new terrorism facility for the US market, with A-rated capacity, as part of the underwriter's efforts to grow its geographic presence and diversify its speciality product range.
As one of its leading proponents, Steel can take some pride in advancing the idea of terrorism coverage, but she acknowledges it's not always an easy sell.
"Last year, before we went into lockdown, I was at a cyber event," she recalled. "The guy that was talking about it said people don't understand the risks of cyber, they don't think it's relevant, they think just because they've got a virus blocker on their computer that they're protected. At the end of it, I introduced myself and said, 'I do terrorism and political violence' -- and his words to me were, 'So you feel my pain.'"
"You can't go out there all jolly and say 'I sell terrorism insurance' because people look at you and go, 'Oh.' And then they go, 'Well, nobody is going to bomb my building.'… I think especially for the US there's a huge client base out there that don't buy it, don't understand it, don't think it's relevant for where they're located. And also, from a premium standpoint they probably think it's going to be too expensive."
That kind of resistance to the idea, she says, is why Rokstone is working with brokers to give them the real-time tools they need when talking to clients about property placements, tools that can show them how little terrorism coverage costs for what it covers.
"One of the things I do all the time when I go and meet with brokers is I talk about an event and then say, 'If this were your business and you were located there and this happened, this is what would happen if you had terrorism cover and this is what would happen if you didn't.' And I think when you put it in real terms, people start to understand it."
Understandably, talk of terrorism coverage has taken a back seat recently because of the pandemic's impact on terrorist activities in the world.
As noted in a recent paper from the Daniel K. Inouye Asia-Pacific Center for Security Studies, lockdowns, controlled border crossings, and limited movement among government officials have all contributed to a lower number of terrorist incidents worldwide over the past year and a half. Conversely, resources that were once allocated to counter-terrorism efforts have been redistributed by governments during the pandemic, potentially forcing security services to adapt to a post-pandemic reality with fewer resources to work with.
And while Steel hesitates to make any bold predictions, she can see how the months of enforced isolation and subsequent loneliness experienced by millions of people might be seen as an opportunity by terrorists looking to spread their propaganda.
"While there hasn't been any terrorist activity because people can't travel and they can't infiltrate where they used to… you've got to think they're looking at the vulnerability of people, they're looking at that fear, and they're thinking this is an opportunity to play with it," she said.
While the world is slowly recovering and life returns to a sense of normal, she says, there are still many downtowns where fewer people have been walking around for many months, and security measures have been lowered as a result. This was something she keenly felt the first time she was allowed into her new office space and noticed that the energy that's normally there in downtown London wasn't quite back yet.
"You're looking around and you think this is an ideal time for them," she said. "If they wanted to make their presence felt, just to have an event would make people scurry back in."