Historic Texas floods likely to take a hefty toll on NFIP | Insurance Business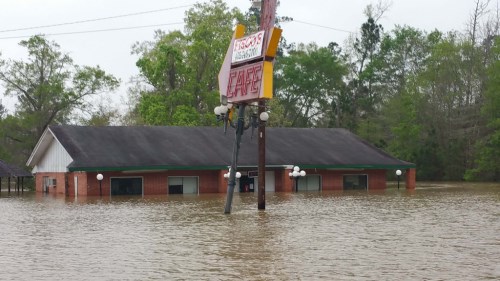 The heavy rains in Southeastern Texas that have forced the evacuations of hundreds and killed at least six people will also prove a drain on the already heavily indebted National Flood Insurance Program.
The rising Brazos River is expected to hit a record eight and a half feet above flood stage following four days of heavy rain. Authorities say each of the 11 reservoirs fed by the swollen river are already 95% to 100% full, and will remain at flood stage through this week at least.
The area is even expecting up to two more inches of rain between now and Friday.
And though active flood insurance policies have been declining in number in recent years, the rains are expected to generate millions in flood insurance claims.
Texas is already a heavy weight on the NFIP. From 1978 to 2016, the Federal Emergency Management Agency has paid out more than $6.2 billion on 204,000 flood insurance claims in Texas. Houston alone was responsible for $1.4 billion in that time period, and San Marcos – the site of much of this week's flooding – filed 659 claims in that period worth $23.8 million.
Other major areas include:
Travis County – 917 claims, $42.6 million
Austin – 2,053 claims, $54.4 million
Hays County – 351 claims, $22.4 million
Wimberley – 138 claims, $18.4 million
Williamson County – 2015 claims, $8.7 million
Round Rock – 179 claims, $5.4 million
Caldwell County – 107 claims, $5.7 million
More damaging will be the effects of flooding on those who do not carry insurance. In Hays County, the Wimberley City Council declined to adopt new flood plain maps issued by FEMA, instead leaving it up to property owners whether they would follow the guidelines.
Without that requirement, many have gone uninsured.
Alice Gracias, who inherited property from her father, said she could not afford a policy in Fort Bend County and would need to rebuild without insurance money.
"It's really sad. Thirty-three years and never ever seen it like this," she said.