Improving the science of hail verification | Insurance Business America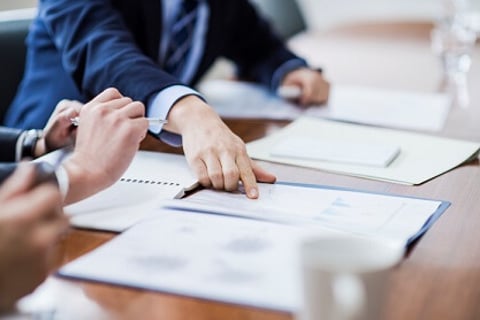 By Corelogic
On May 21, 2016, the IBHS responded to a severe hail event in Dalhart, Texas, as part of its annual Hail Field Research Study. The storm moved through the town from roughly 02:03 UTC until 02:26 UTC (9:03 through 9:26pm local time), with Local Storm Reports (LSRs) issued by the National Weather Service regarding the maximum hail sizes indicating that hail of at least golf ball-size was common across many parts of the town. IBHS collected stones between 9:37pm and 11:15pm local time at nine unique geographies in Dalhart. The maximum-sized hailstone IBHS recorded was 1.58"; and was measured roughly 45 minutes after the passage of the storm. Some melting would have occurred between the time when the stones impacted the ground and conditions were "safe" enough for IBHS to measure.
When compared to the ground truth collected via the study, CoreLogic advanced hail verification technology showed a 1.5" contour at the location of the largest measured IBHS stone. Factoring in melting, weather scientists estimate that hail of at least 1.75" fell over parts of Dalhart, based on the time elapsed between the hailfall and actual collection of the stones and ambient temperatures.
The below figures show the recorded IBHS measurements compared to the CoreLogic Hail Contours on the day of May 21, 2016. The comparison of these measurements highlights the accuracy of the latest CoreLogic science when it comes to forensic hail verification.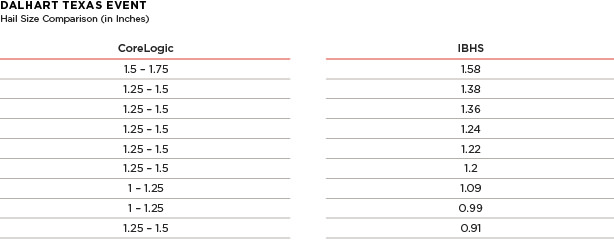 Importance of accurate hail verification technology
Until now, after a severe thunderstorm event, insurers had to wait for policyholders to notify them of a loss event. The delay impedes the insurance process. Recent innovations by CoreLogic in hail verification enable enhanced precision of post-event analytics that support insurers and property owners. The ability to receive accurate verification of hail events within one hour of a storm, with ongoing hourly updates, enables insurers to prioritize and validate claims, quickly react and respond to events strategically, prevent fraud and better assess potential risk and damage as they relate to underwriting.
This proprietary hail verification science from CoreLogic, using IBHS's ground truth data from the hail study as one source of verification, is one of the only sources for hail data designed to provide actual size and impact of falling hail. The algorithm was designed to address the hail verification needs of insurers, including actual hail fall information and accurate hail size data. In the past, most insurers relied on products and services based on science and algorithms intended for public safety needs — products focused on what a hailstorm might potentially produce, not what actually occurred.
About the study
The Insurance Institute for Business & Home Safety (IBHS) is continuing a multi-year, major field research effort started in 2012 to study hailstorms, with the goal of reducing property losses and improving weather forecast models and radar detection of hail. As part of this effort CoreLogic has been working with IBHS to better understand the characteristics of damaging hail, which includes many variables such as size, shape, density and hardness of hailstones.
Want the latest insurance industry news first? Sign up for our completely free newsletter service now.
Getting the whole story with CoreLogic
By aggregating vast amounts of complex data into useful information, CoreLogic provides an integrated view of property risk that enables enhanced underwriting, refined pricing, and accelerated claims. To achieve a complete view of natural hazards, CoreLogic data provides the answers to three critical questions: What could happen? What if it happened? And, what did happen?
Our deterministic models calculate the likelihood of a natural disaster such as a severe storm, flood or earthquake; our probabilistic models give you comprehensive and highly credible loss estimates; and our forensic models show the actual frequency, severity and location of severe weather - right down to a specific property within your portfolio. Information which will help protect your customers and your bottom line alike.
Related stories:
Catastrophe losses spike in North America – Swiss Re
Flooding and damaging wind were most destructive natural hazards in 2016