Number of named storms increases in CSU 2020 hurricane season forecasts | Insurance Business America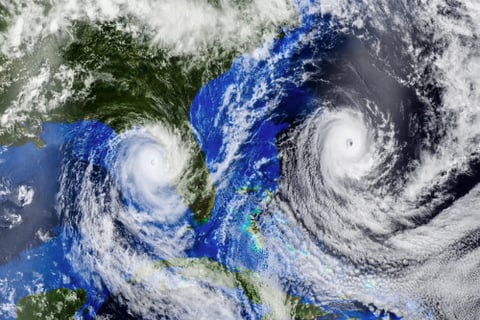 The 2020 Atlantic hurricane season is off to an active start with six tropical storms so far including Arthur, Bertha, Cristobal, Dolly, Edouard and Fay – and there are likely many more storms to come, according to an expert from Colorado State University. This forecast reinforces how important it is for agents to discuss flood insurance with their clients today, considering the potential damage that an active hurricane season can bring.
Read more: National Flood Services helps agents sell flood insurance amid COVID-19
"Our latest forecast is for a total of 20 named storms. Out of those 20, nine will become hurricanes and, of those nine, four will become Category 3, 4 or 5 hurricanes on the Saffir-Simpson scale," said Dr. Phil Klotzbach, research scientist at Colorado State University, during a webinar hosted by National Flood Services (NFS) entitled, "2020 Hurricane Season Forecast from the Experts at Colorado State University."
This forecast reflects a change from April when Colorado State University predicted 16 storms, eight hurricanes, and four major storms. "The reason for the increase in the number of named storms was primarily due to the six storms that we'd already had," said Klotzbach. "We also increased the number of hurricanes with our early June update. We haven't had any yet, but overall we think the climate conditions look more conducive for hurricanes now than they did in April."
The forecast also takes into account a margin of error based on historical uncertainty in the statistical model. As a result of the uncertainty range, Colorado State University currently predicts between seven and 11 hurricanes, and between 17 and 23 total storms.
Forecasting is a difficult task, whether experts are trying to determine how COVID-19 will impact the US over the coming months or whether they're making predictions about hurricane activity. However, the latter has the benefit of providing clues about what we can expect based on previous years. "Looking at historical weather and climate data can teach us a tremendous amount about how active the upcoming hurricane season is likely to be," noted Klotzbach.
Read more: Resilience 'paramount' as pandemic-stricken businesses race into hurricane season
Experts have found that there is one set of precursor conditions that occur before active hurricane seasons and another set that takes place before inactive seasons. One of the first precursors that was discovered that led to forecasting of Atlantic hurricane seasons was the relationship between El Niño, which is warmer than normal water in the central and eastern Tropical Pacific, and Atlantic basin hurricanes.
An El Niño event creates strong upper-level westerly winds in the Caribbean and Tropical Atlantic, which increase vertical wind shear. "If vertical wind shear is strong, it tends to tear apart hurricanes as they're trying to develop and intensify," explained Klotzbach, adding that as a result, El Niño "decreases the frequency of hurricanes and their intensity, so overall El Niño is favorable for us living along the coast and detrimental for the hurricanes."
Nonetheless, it is more likely that we will see a La Niña event occurring this year, which is declared when sea surface temperatures in the central and eastern Tropical Pacific are colder than half a degree Celsius below normal for several weeks at a time. "Right now, we're not quite up to that threshold," noted Klotzbach. "We've hit minus half a degree Celsius, but not consistently." During La Niña, westerly winds high in the atmosphere weaken, resulting in an expanded area of low vertical wind shear, allowing more Atlantic hurricanes to develop.
Moreover, sea surface temperatures in the Tropical eastern and central Pacific have been trending downwards. "We think there's plenty of cold water potential for supporting a weak La Niña event during the peak of the Atlantic hurricane season," said Klotzbach. "From August to October, which are the peak three months of the Atlantic season, the official forecast from the US government is basically split about 50/50 between La Niña and neutral (e.g., neither El Niño or La Niña) conditions."
Read more: Revealed - Insured loss from Tropical Storm Fay
Meanwhile, there have also been warmer than normal water temperatures across most of the Tropical Atlantic and the Caribbean, which provides more fuel for developing hurricanes. When the tropical Atlantic is warmer in July, historically this correlates with a much more active hurricane season, noted Klotzbach. As for whether hurricanes will make landfall and potentially cause extensive damage, he explained that active storm seasons tend to have more landfalling hurricanes. This year, there's a seven in 10 chance of any major hurricane making landfall – compared to the 50/50 chance in an average year – because of the above-average hurricane season.
Major storms can bring winds, floods, and rainfall that leaves property owners with significant out-of-pocket expenses for uninsured losses. Considering this risk, insurance agents need to prepare their clients for the storm season by continuing the conversation around the importance of flood insurance.
With this seasonal forecast in hand, in addition to the many resources to help agents sell flood insurance provided on the NFS website, insurance advisors can help insureds strengthen their hurricane defenses today.