Wrap Up Insurance Solutions helping the little guys compete | Insurance Business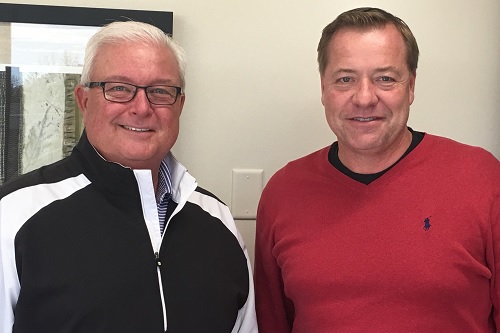 It's a company within a "boutique niche" and unashamedly "not a household name", but Wrap Up Insurance Solutions are involved in some huge construction projects throughout America, partnering with independent agents to help secure big insurance deals.
"We're not a household name but we're an industry name," said senior vice president Larry Jackson. "One of the challenges in our business is we fly way under the radar. We're probably one of the bigger administration companies in the country – we do a lot of large, high-profile projects – but nobody has ever heard of us because … we're not the broker of record, but we're the engine that makes it run."
Does your company deserve to be named Insurance Industry Employer of Choice? Nominate yourself or a colleague now in one of 24 awards at the Insurance Business Awards – it's free to enter and takes just a few minutes.
Brian Billhartz, also SVP, said the company offers a service that many independent agents don't have the staff scale to be able to handle.
"Let's say there's a large project – a baseball stadium, a football stadium, a large hospital – we're working with an independent agent-broker … [and] helping our agent-partner navigate the maze of wrap ups and hopefully win out on the project [against the larger brokerages, who usually have in-house wrap up teams]," he said. "We're basically the internal staff for over 50 or 60 independent agents throughout the country.
"When we're working with our agents-brokers, we tend to be going against, a lot of times, the national brokers like Aon or Willis or Marsh.
"It's a boutique niche within a huge construction market. In the United States, right now, it's booming. We've got over 100 projects right now, from as small as $5 million condos up to $2 billion automobile manufacturing facilities. We work all across the country."
While they may not be a household name, they're still garnering recognition from within the industry. And that "means a lot" to the company, said Billhartz.
"It means we're obviously taking care of our agent-partners, and that's our main mission," he explained. "It's kind of jointly recognizing all of our business partners, as well. I know they're thrilled when they see us in magazines, because they know they're part of our team, so it reflects on them. That makes us feel good," he said. "It's also recognition for our employees, because it means a lot to them when Larry and I are recognized."
Following on from Insurance Business Canada's highly successful awards, Insurance Business America is pleased to announce the launch of the inaugural Insurance Business Awards in Chicago. For a full list of individual and organizational award categories, click here and find out how to become a winner this October!
Related stories:
Be recognized at the industry's biggest night!
Cream rises: importance of celebrating industry success