Chubb names new climate business, adds to leadership team | Insurance Business America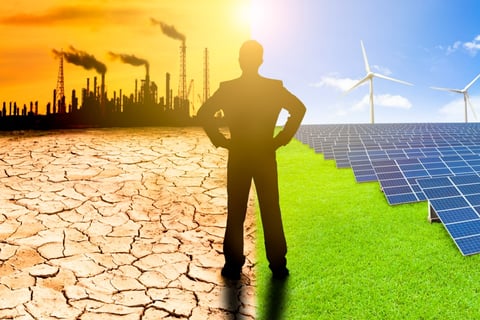 Chubb has announced the name for the new global climate business it launched last month: Chubb Climate+. The company has also announced the appointment of three executives to the business unit's leadership team.
Chubb Climate+ will provide insurance products and services to businesses engaged in developing or employing new technologies and processes that support the transition to a low-carbon economy. It will also provide risk management and resiliency services to those managing the impact of climate change.
"The new name and visual identity reflect the value proposition of our global climate business unit, which is about enabling climate change progress around the world, at an industry level, and in local communities," said Matthew McMullin, leader of Chubb Climate+ in North America. "We are drawing on Chubb's extensive technical capabilities in underwriting and risk engineering and bringing together our practices engaged in traditional, alternative and renewable energy, climate tech, agribusiness and risk engineering services."
"The 'plus' in Climate+ is about having a positive impact and adding value for our clients across all industries as they transition to a low-carbon future and take action to be resilient to the threat of a changing climate," said Matthew Hardy, leader of Chubb Climate+ for the company's general insurance operations in 51 countries outside the US, Canada and Bermuda. "By offering a wide and extensive range of risk transfer and risk engineering solutions, we can scale to meet the growth and needs of clients, however complex."
New appointments
Three new executives have joined McMullin, Hardy, and global climate officer Margaret Peloso on the Chubb Climate+ leadership team.
Maria Guerico has been appointed climate tech industry practice leader for North America. In her new role, Guerico is responsible for growing Chubb's underwriting portfolio and creating products and services to support climate tech companies focused on the efficient and sustainable use of resources, products and technologies aimed at mitigating the impact of climate change.
Prior to her current role, Guerico held management roles at Chubb's Montreal branch, the North American Underwriting Center, and as commercial insurance manager. She began her career at Chubb in 2003.
Melanie Markwick-Day has been appointed natural resources head for Chubb Overseas General. In this role, she brings her energy and underwriting expertise to companies as they transition to lower-carbon solutions.
Prior to taking her new role, Markwick-Day served as head of upstream energy and offshore renewables for Chubb Global Markets. In that role, she led the launch of Chubb's offshore renewables product offering. Markwick-Day joined Chubb Overseas General in 2020 as a senior underwriting officer. She began her career in 2009 as a claims specialist for a Lloyd's of London syndicate.
Jared Concannon has been named head of climate tech for Chubb Overseas General. In that role, he is responsible for ensuring that climate tech businesses are protected from the unique risks associated with their operation.
Prior to taking his new role, Concannon served as head of developing industry practices, where he developed Chubb's property and casualty industry practices for media, healthcare, advanced manufacturing, and climate tech across the company's international operations. Concannon joined Chubb in 2013 as a professional associate in the North America financial lines division and has also served in various underwriting roles.
Read next: Chubb reports 2022 annual results
All three appointments are effective immediately. Guerico reports to McMullin, while Markwick-Day and Concannon report to Hardy.
"Our ability to field this team of experienced leaders for Chubb Climate+ reflects the strength of our bench of talent, our deep underwriting and technical capabilities, and the breadth of our industry practices," McMullin said. "With her experience in underwriting across different industries, Maria is well-positioned to enable progress for our climate tech clients."
"Chubb Climate+ is a global business, and Mel and Jared bring the level of technical experience and international perspective that will allow us to continue to be on the leading edge of new technology developments," Hardy said.
Have something to say about this story? Let us know in the comments below.