Protestors spill fake oil outside Lloyd's HQ | Insurance Business America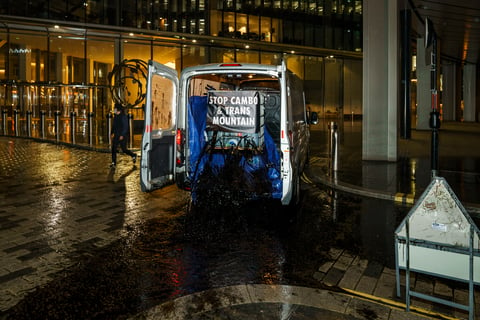 Image credit: Insurance Rebellion
Climate protestors have spilled 220 gallons of fake oil outside the Lloyd's of London headquarters Friday as part of a campaign to shine a light on the finance industry's support of fossil fuels.
The climate activists were protesting Lloyd's underwriting of fossil fuel projects, including a Canadian tar sands pipeline, according to a Bloomberg report. Police arrested one activist after climate group Insurance Rebellion dumped the fake oil – a plant- and water-based liquid – onto the street outside the Lloyd's building.
The protest at Lloyd's was part of a global day of protests meant to raise awareness of the finance sector's role in climate change ahead of the COP26 climate summit in Glasgow, Bloomberg reported.
Read more: Lloyd's joins Net-Zero Insurance Alliance
Many insurers have pledged to meet net-zero targets – including Lloyd's, which announced last week that it had joined the Net-Zero Insurance Alliance. Global insurers like AXIS have announced targets to divest from and stop insuring oil exploration projects and other fossil fuel-related activities.
However, climate activists want a total and immediate end to funding for fossil fuels, Bloomberg reported.
Friday's protest wasn't the first at Lloyd's. The climate group Coal Action Network has now held multiple "climate justice memorials" outside the company's London headquarters.