US Open winner Webb Simpson on what the Burns & Wilcox sponsorship means for him | Insurance Business America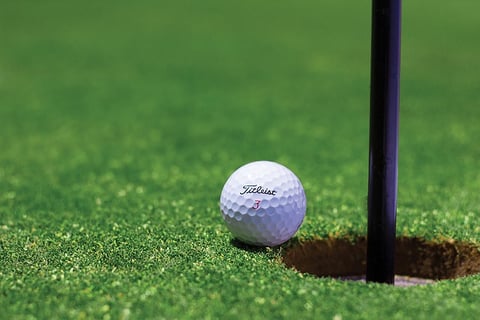 Burns & Wilcox's sponsorships of American golfers Jimmy Walker and Webb Simpson paid off this year in TV exposure during the PGA tour alone, but it's also been a rewarding experience for the players. Simpson, a five-time PGA victor and winner of the 2018 Players Championship at TPC Sawgrass, sat down with Insurance Business during the 2018 Kaufman Leadership Meeting (KLM) in Detroit, and said the sponsorship was a perfect fit from the start.
"When we look at different sponsorships, we look at the people behind the companies and immediately upon meeting Rich [Shipley], and Alan and Danny [Kaufman], and hearing about the company, it was a great relationship," explained Simpson. "I love that Danny and Alan work together. My fallback plan if golf didn't work out was to go work with my dad in residential real estate, so I did like that [about Burns & Wilcox], but I also love that it's not this massive organization where it's hard to grasp and get your head around what they do and what they're all about."
At KLM this year, Simpson helped attendees master their swing on a virtual golf course and took part in a lunchtime Q&A on his career, diving deep into his achievements, what he's learned from setbacks, and his standout moments. He later reminisced on how he first got into the sport while growing up in Wilmington, North Carolina, where his parents' home bordered a golf course.
"I was eight years old, almost nine, and there was a kid out there who was a year older and he was pretty much the best 10-year-old in the state at the time," said Simpson, adding that he followed his friend around the course, though his dad also golfed regularly and let Simpson ride with him in the golf cart. "That summer is when I got hooked and I kept playing other sports until I was 15, but golf was the one that I wanted to play every day."
Since then, Simpson has achieved success on and off the course – he's currently ranked #21 in the world, and his wife recently gave birth to a baby girl. The Kaufman team, meanwhile, has vouched for his character and renewed its sponsorship of Simpson in September.
"Webb Simpson has held himself to the highest of standards," said Alan Jay Kaufman, chairman, president and CEO of H.W. Kaufman Group, the parent company of Burns & Wilcox. "His work ethic and success continues to amaze and inspire our team – the true champions of our business."
For Simpson, the sponsorship has led to new relationships, with Burns & Wilcox leaders bringing clients and their team members to golf tournaments, dinners, and other events where they get to meet the pro golfer. One of the qualities of a good partner, says Simpson, is one who's conscientious of his packed agenda.
"A good sponsor works around your schedule and you mutually agree what fits for both of you," he said. "That's what makes a great relationship – we get to know what their needs are, they get to know what's best for me, and I think that so far it's been a great thing."