MJ Insurance chooses non-profit to receive grant worth thousands of dollars | Insurance Business America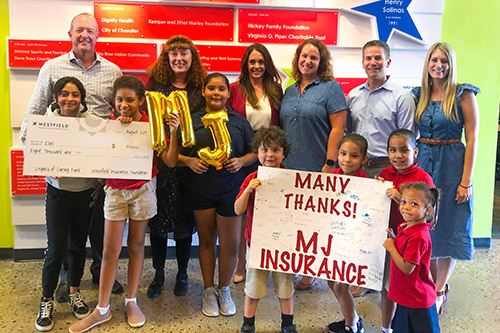 Privately held insurance agency MJ Insurance has nominated a non-profit in Chandler, AZ to be the recipient of a sizable grant.
The non-profit, ICAN: Positive Programs for Youth, will receive $8,000 from the Westfield Insurance Foundation. The funds will support the organization in continuing its mission of offering free programs that empower youth, a release said.
Westfield Insurance invites independent insurance agents, such as MJ Insurance, to nominate a local non-profit each year that would receive a grant through Westfield's Legacy of Caring program. For this year, Westfield Insurance Foundation donated over half a million dollars to communities in 15 states; MJ Insurance is one of 76 agencies that nominated a non-profit.
"We want every member of our community to grow and experience a vibrant future," said MJ Insurance CEO Michael H. Bill. "All of us at MJ Insurance are proud to collaborate with partners like Westfield Insurance who allow us to honor our commitment to inspire the success, fulfillment, and wellbeing of each person we serve."
"ICAN is truly a community-supported organization, and we are so grateful for the generous support of both MJ Insurance and Westfield," mentioned ICAN chief philanthropy officer Cassie Patris-Browne, who added that the grant will allow ICAN's quality prevention-based programs to be offered free of charge.
Cassie Patris-Browne also noted that within the past five years, Westfield and its associated agencies have distributed about $2 million through the charity program.