The social pressure the energy industry is facing "has never been greater" | Insurance Business America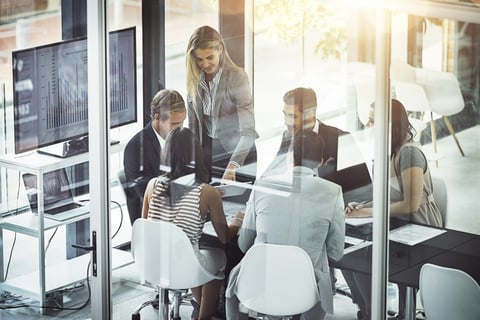 This article was produced in partnership with Breckenridge Insurance.
Bethan Moorcraft of Insurance Business sat down with Thomas Blanquez, energy insurance broker at Breckenridge Insurance, to discuss the pressures on the energy industry as it navigates its COVID-19 pandemic recovery.
The energy industry in the United States is facing a wide swathe of challenges as it attempts to recover from the impacts of the COVID-19 pandemic. Some of the challenges are universal and existed in the industry before COVID-19, such as supply chain issues and the lack of skilled workers – both of which have been exacerbated during the pandemic. Others are new and related to the social pressures around climate change and the race to net-zero carbon.
"The social pressure that the energy industry is facing, specifically companies operating in traditional fossil fuels, has never been greater," said Thomas Blanquez, energy broker at Breckenridge Insurance Services, a wholesale brokerage, binding and programs firm. "We're seeing that pressure everywhere. The Biden administration has backed a green / clean energy initiative, and the banks are being forced to rethink how they lend to traditional fossil fuel companies, which means that the capacity that was once available for capital expenditures is now under significant pressure."
When the price-per-barrel of oil is in the range of $75-$80, as it has been recently, historically that would have triggered an almost automatic boom in drilling and production, and everyone from service companies to lease operators would race to increase their stake in the marketplace. That has not happened in this pandemic recovery period, according to Blanquez. Rather, the San Antonio, TX-based energy expert said he's seeing "more discipline" from energy companies as they navigate this new risk landscape.
In particular, this is true of the larger energy companies who have the technology, equipment, infrastructure, and talent to weather the COVID storm. Unfortunately, the same cannot be said for the smaller operators and contractors, said Blanquez, many of whom are struggling to keep up with the market trends without having access to the lines of credit that they once had.
One area of risk that is particularly challenging for energy companies – and this is being felt across almost all sectors – is commercial auto, where there has been a significant uptick in nuclear verdicts, causing insurers to increase rates, reduce capacity, and shore up their underwriting guidelines and risk mitigation requirements.
"Carriers are requiring fleet telematics to be installed on all vehicles," said Blanquez, who joined Breckenridge in February 2021 to build out an energy practice. "Carriers want to see insureds getting involved with driver selection and monitoring how their drivers are acting behind the wheel. Fleet telematics, when used properly, can help put companies in a defensible position when a lawsuit happens. Insurers will not sit back and just accept information from a supplemental application; they want to see how clients are implementing telematics and what actions they're taking based on the data collected."
Directors and officers (D&O) liability has also become more challenging for oil and gas companies. This ties back to the social pressure from investors for big companies to take affirmative action on climate change. If companies do not perform, or are unable to meet the desired environmental, social and governance (ESG) standards, they're at risk of facing costly litigation with financial and reputational consequences.
"As a result of that, we're seeing more green initiatives within the energy industry," Blanquez told Insurance Business. "For example, carbon capture is an area of interest. We're seeing an uptick in submissions where insureds are using consultants to perform preliminary air quality studies to figure out how to make the ageing equipment they have out in the field more efficient, and how to capture carbon and safely sequester it back into the ground."
"Moving forward, I expect we'll see more activity around renewable natural gas and natural gas in general. These are two areas where I think the energy industry could pivot quickly to social pressure to go green. Investors are asking the questions: 'What are you doing for carbon capture measures? What are you doing to get into the renewable/natural gas space?' If the energy industry can make progress in those areas, it can meet the green initiative demand and keep investors happy."
As the energy companies are going green and making ESG adjustments, so too are the traditional oil and gas insurers, many of whom are making large investments in renewable energy underwriting, training, and resources to be able to cater to the future clean energy market. Insurers are also facing similar pressure from investors to clean up their portfolios and take action on climate change. With this, carriers are rapidly changing their appetites so having a broker with ready access to viable markets and industry expertise at specialist firms like Breckenridge is key.
In this dynamic marketplace, underwriters are demanding detailed submissions from their brokers Blanquez explained: "We need a complete narrative. We need supplemental applications and loss summaries. We need to know as much as we can about the client and what risk mitigation measures they've put in place to prevent a loss. That goes back to the relationship with the client. We understand chasing down loss runs can be tough for agents, but even if they can get a loss summary from the client or old loss runs, that will show the underwriters how the client has performed, and that should help to get a better insurance result. If insureds are emerging into this new green space, underwriters need to know what they're doing and what their niche is because it's such a new market. An experienced broker is invaluable in this type of market to save time, provide valuable insights and avoid costly coverage errors."
Thomas joined Breckenridge in early 2021 and has more than 20 years of energy insurance expertise to provide agents with informed and competitive options in this space. He is also well versed in all lines of coverage for transportation, manufacturing, construction, habitational and retail/specialty. Thomas is based in San Antonio and has rapidly been building a team and presence in central and south Texas. He can be reached at [email protected]