Will turbulence continue for the aviation sector in 2022? | Insurance Business America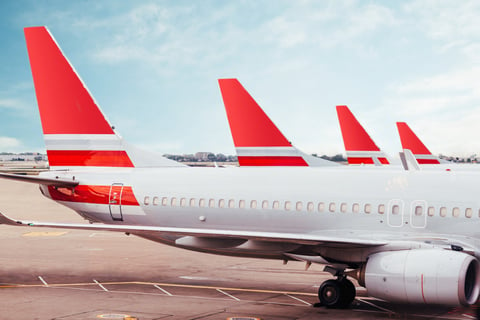 The aviation industry has overcome numerous setbacks in recent years, such as 9/11, SARS and the 2008 financial crisis.
The COVID-19 pandemic is the latest astronomical challenge the industry has had to contend with, and now, Haley Hughey, client service director at Risk Strategies' aerospace and defense practice, has spoken to Insurance Business about the extent of the damage sustained over the past few years.
"For 12 years, we were experiencing a soft market with either rate decreases or flat renewals, but now aviation insurance rates have increased rapidly" she said. "Additionally, the market capacity was reduced. There were approximately 30 insurers in 2005, compared to 18 in 2021."
Read more: Aviation insurers seek rate rises after a tough year
A prime example of how the appetite of the market changed could be seen in the aftermath of the Boeing Max 737 groundings following multiple crashes, according to Hughey. The events caused insurers and reinsurers to reassess coverages and limits. In some cases, to ensure books of business were stable, long-time clients weren't eligible for renewals.
"Fast forward to 2020 and the pandemic occurred at the same time as a hardening market which caused some of our operations to be shut down completely," she explained. "In other cases, it was a positive for some in the general aviation community where fixed-based operators (FPOs) and managed fleet owners were able to see growth."
Brokers operating in this sector now have to be thoughtful about which businesses were forced out of the market, and who were engaging in M&A activity to survive.
"We've had to merge some of our clients together because the acquisition will provide coverage on different exposures," said Hughey. "Some changes in a client's operations, such as adding flight school to their profile, have also been apparent."
Hughey anticipates ongoing M&A aviation activity to continue in the future, but the effect will not be as prominent in 2022.
"Brokers also need to think outside the box and stay knowledgeable about market capacity as well as liability limits," she said.
With a lack of capacity in the marketplace, companies are building quota share policies to fulfill 100% capacity within multiple markets, and Hughey explained that knowing what markets are willing to participate with reasonable limits will help an account to move forward and grow.
"In previous years, such as 2018, increases were upwards of 60%. We are starting to see rates soften, meaning that we're going to be looking at flat renewals or see smaller increases of up to 5%, which will help some of the smaller companies continue their operations," she noted.
When it comes to exposures brokers should consider as this year progresses, Hughey said technology should be top of mind.
Read next: Aviation technology evolving side-by-side with risks
"5G is rapidly developing, and it will enable increased data transmissions for drone operators worldwide. The FAA is predicting drone operations will grow 100% year-over-year in the next five years," she explained. "Bringing this technology into the industry will push operators to be inventive."
Paying attention to aerial firefighting will also be something to consider this year as risk profiles can dramatically change. "This will add complexity to the marketplace that we need to be cognizant of," Hughey added.
There is a high demand for aerial firefighting around the world due to drought and other climate related conditions, and brokers are actively working with aviation markets to meet these increasing demands while working on procedures that will enhance safety and mitigate risk.
"All brokers should be mindful of what they're writing and constantly checking in on clients to see if there are any changes in operations that increase their exposures," Hughey emphasized. "We need to keep brokers involved in those changes to support and grow the overall marketplace moving forward."