Content is king: why insurance agencies need to up their online marketing game | Insurance Business America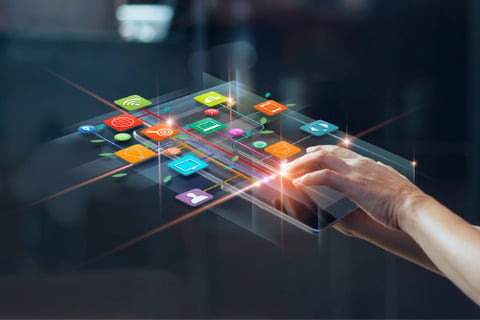 It's no secret that insurance shoppers and even savvy insurance agents are turning to agency websites for resources and information before making any purchase decisions.
Eighty-four per cent (84%) of shoppers use digital channels to gather information at some point through the insurance buying process, according to McKinsey Insights. Shoppers are looking to make informed decisions, compare products and providers, as well as gain a proper understanding of what they need before committing to a purchase.
"By writing and publishing content on your website, you are providing answers to people who are in that buying process. They will be more likely to call or complete a quote request on the website to go to the next stage in that sales process," says Becky Schroeder, chief marketing officer at Insurance Technologies Corporation (ITC), a leading provider of marketing, rating and management software and services.
During the coronavirus pandemic, ITC looked at quoting volume on its comparative rating platform and found the number of quotes completed by agents had drastically decreased since shelter-in-place orders came into effect mid-March. However, while quoting volume on the agent interface was down, quoting volume from direct-consumer traffic on websites went up, proving that prospective buyers were shopping even amid the pandemic, and they were doing it on a digital channel.
No better time than now
Creating relevant, quality content has never been more important. ITC found that insurance companies that blogged more than 16 times per month, get more than four times the number of leads compared to companies that published four or less posts in the same time period.
If you don't already have a digital presence or a way to capture these online shoppers, Schroeder says it's time to jump on the bandwagon. While this can be intimidating, the more you do it, the better you get at it and the easier it becomes.
"A lot of people say, 'I'm just not a writer,' but don't let that blank screen intimidate you," she said. "You don't have to create a perfect post on your first draft. Get all your thoughts down, take a break, and revise later."
One of the biggest challenges to getting started is coming up with topics to write about. ITC released a free e-book to help agents brainstorm ideas and create content. The e-book provides a full calendar year of planned digital content, including topics that are insurance consumer-centric and evergreen. It includes expert advice on how to turn your website into a resource and boost visibility online.
Insurance content creators can also find inspiration from what is changing in insurance, local happenings and current events, or using the questions that clients ask every day to create engaging and eye-grabbing information.
"Insurance isn't always sexy," says Schroeder. "Consumers don't want to read about insurance all the time. It's something we don't generally want to buy, but we purchase it because it's something we need to have and hope we never have to use."
Schroeder says using content on an agency website is a great way to show that you are about more than just insurance; it's an opportunity to show that as an organization, you care about your community, clients and referral partners.
To get your copy of the e-book, "12 months of content ideas for your insurance websites," click here.