How an innovative firm is leading the insurtech revolution | Insurance Business America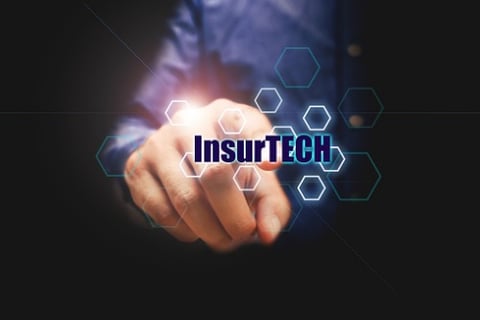 To compete for a larger share of a valuable market, insurance companies improve the customer experience by offering tailored products and efficient services while also amplifying their social engagement. One organization at the forefront of such efforts is Arizona-based RightSure Insurance Group, recipient of Insurance Business America's Top Insurance Employer Award for 2021.
In an interview with IB managing editor Paul Lucas, RightSure president Jeff Arnold talks about the company's participation in worthy social causes and its innovative business processes that enhance its overall operations.
Watch now: Jeff Arnold on RightSure's innovative business processes.
According to Arnold, vital to the company's success is the large group of people who work for the organization. He adds that RightSure attracts good employees by being involved in community initiatives, which he says "starts with the first dollar of every premium we take in. So many companies will do net income and leftover contributions to charity or philanthropic activities. Ours is [a] part of [the] first dollar." Furthermore, the firm gives to several organizations at the city, state, national and global levels. For example, RightSure supports a community food bank in preparing thousands of meals every year. At the state level, the company assists domestic violence centers by providing for the needs of people who have to get out of abusive relationships. At the national level, RightSure supports the Special Olympics "because every child deserves a chance to stand on the podium and get an award". At the global level, RightSure contributes a large amount of money to combat human trafficking. Arnold emphasizes that recruiting people is easy for RightSure because it has a broad purpose outside of the insurance industry.
Improving the customer experience is another priority, and, in this task, Arnold says that insurance and technology (called "insurtech") have an interwoven relationship. He recalls that the insurance industry was one of the first to use typewriters in issuing policies in the past. Then, the industry upgraded to the use of word processors and fax machines, and then ultimately to modems and websites. For an industry that has always embraced technology, speed is a crucial feature of business operations, which are now characterized by faster coding, policy issuance, claims adjudication and contact with underwriters. He believes that the customer journey is about "what the customer wants, what's best for the customer, not the insurance company workflows, not the insurance company processes, but speed and how fast [products can be delivered] to the customer, the policyholder."
Having previously described the RightSure platform as "the end of insurance shopping," Arnold explains that "once a customer has a policy with RightSure, they will never shop for insurance again. [They'll] never go through a customer rate increase again without knowing about it."
RightSure also applies artificial intelligence and predictive analytics to understand the stages in a customer's life path. For example, if a person needs life insurance because they are getting older or getting married, RightSure uses predictive analytics to reach out to them. AI is also applied in customer interactions such as the use of chatbots at call centers and in verifying underwriting information. The purpose of individual shopping, he says, is to ensure that the company takes care of all the customer's insurance requirements.
In addition to leading an innovative insurance firm, Arnold is also the author of two bestsellers titled The Art of the Insurance Deal (2017) and How to Beat Your Insurance Company (2019). He says he never expected to become a bestselling author, which "pleases my mom and shocks my wife". His writing was inspired by a mentor that he had known for more than 15 years, and who challenged him to consolidate into a book their experiences in buying several insurance companies over the years. These experiences are narrated in his first book, whereas his second book is mainly a marketing piece that brings customers to the business. Arnold says he focuses his attention on "[leading RightSure] through this great insurtech revolution," and aims to write more books along the way.
Find out more – watch now to see how Jeff Arnold is helping to revolutionize the insurance space