How chatbots are revolutionizing the insurance customer's journey | Insurance Business America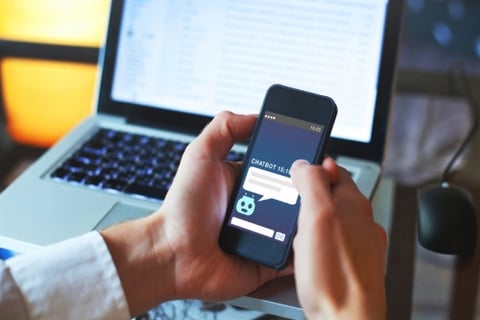 Picture a potential insurance customer looking to get a policy quote on a website. As they're using the quotation engine to fill out the necessary information, a chatbot pops up on their screen and says, "Hey, can I help you with that?" It then has a conversation with the customer using natural language and helps them to complete the quote, providing suggestions for how to lower the quote, and keeping the customer engaged all the way through to conversion of sale. What's even better is that this chatbot can work around the clock to be available whenever that customer needs to get a quote estimate.
This isn't a pie in the sky idea. Technology company ServisBOT is already providing AI-powered chatbots for insurance companies to deploy across a variety of customer touchpoints, including policy quoting, claims submissions, renewals, as well as onboarding for both new customers and employees.
"Our job is to help existing insurance companies and clients embrace a digital approach to dealing with their customers, so we look at things like helping fill out an application form, helping them onboard new customers, helping them make a First Notification of Loss claim, and helping them make policy changes," said Cathal McGloin, CEO of ServisBOT. "We see those as customer interaction points that you can digitize. We allow customers to engage in these types of activities on a mobile device or website at a time of their choosing in a manner of their choosing so a customer is not constricted to '8am to 5pm.' They can do it any time of day or night – they can start a process, stop the process, and come back to it later."
With 79% of insurance executives agreeing that AI will revolutionize the way their companies interact with customers, according to Accenture, ServisBOT is meeting the needs of both a changing insurance landscape as well as evolving customer expectations on how they interact with their insurance provider.
After all, more and more people are looking for natural language interfaces when it comes to AI technology, says McGloin. Just take a look at Alexa and the types of conversations consumers are having with the device. Moreover, customers no longer answer their phone if they don't know the number, so it's becoming more difficult for insurance companies to contact people via this traditional communication channel, and millennial customers specifically don't want to talk to anybody – they want to transact through text messaging.
For these reasons, ServisBOT has turned customer engagement into a conversation that supports the lifecycle of an insurance customer – from purchasing a new quote, to onboarding, customer service billing, renewals and loyalty, meeting the customer with where they are in their journey with the brand, instead of the process dictating the conversation, explains McGloin. The benefits of implementing AI-powered chatbots for customers and their insurance companies are manifold.
For example, AA Ireland, one of the largest providers of car, home, travel, and life insurance in the country, increased customer conversion by more than 11% thanks to the 'Quote-to-Sale' Bot built on ServisBOT's Conversational AI platform. Customers could activate the bot from the AA quotation page, both on the website and mobile app, and the bot in turn helped them navigate and interact with the form so they could find the right coverage at the right price. If a customer required more assistance, this chatbot for sales conversion could easily transfer them to a human agent via the bot integration with Zendesk, a live chat software.
Customers didn't have to look for menus and fill in application forms on their own. A chatbot that spoke to them using natural language assisted them throughout the process, making it an easy and efficient experience. The same can be said of chatbots that help customers with claims or policy changes, though the technology can quickly become more personal when necessary.
"When something becomes personal, such as an accident, you have this tendency to want to talk to somebody and get it off your chest immediately, which is why most companies allow you to ring up straightaway and notify your insurance company," said McGloin. "We believe that with this automation-first approach there are certain times when the customer may want to just talk to somebody. In our world, all you have to do is say, 'I'd like to talk to somebody' and the bot immediately transfers you and hands you over to an agent, or if the bot tries twice to understand something and it doesn't, it will immediately escalate to [a human agent]."
Claims scenarios might be best handled by a chatbot. For First Notification of Loss, when an insurer needs to gather some initial basic information on an incident, a bot can be sent to the customer calling in to request that they take and send photos of items like their driver's license, the damage caused, and the car registration. The bot will also pull the individual's location from their phone, send help if someone is hurt, and while this is happening if the customer wants to speak to someone, they always have the option to be transferred to a human.
Similarly, if a customer wants to make a change to their policy, chances are they don't need to talk to somebody to do so. If they just want to add a child or partner to their policy, for instance, and they don't want to wait in line on the phone, they have the option to be sent a virtual assistant via SMS to help them with this change. On the other hand, if they do want to talk to someone, they can request a call back, making the policy change process adaptable to their needs.
In fact, ServisBOT worked with an insurance company in the United States on exactly this type of bot. If a policyholder made updates to their house and they needed to up their insurance cover as a result, the insurance company would send them a link to a bot to help them take photos of the upgrades, whether it was a kitchen with brand new appliances, a new roof, or a freshly landscaped garden. Those pictures would then be analyzed by image recognition software to ensure that the upgrades were actually made, while also looking for risk factors, such as a trampoline in that garden.
"We're finding conversational chatbots make it both easy and convenient for customers to engage with a brand, and because the bot will always wait there with the conversation history at hand, the customer can say, 'It doesn't suit me to do it now. I'll come back to it tonight,' and they can stop the process and come back to us when more convenient," explained McGloin.
The reality is that it's cumbersome for consumers to switch insurance companies and most would rather stay with their current insurance provider. If they have a positive experience each time that they interact with their insurer throughout the year, they will be less likely to look for another company come renewal. Chatbots that operate using natural language and are integrated with an insurance company's various backend processes and systems can help companies establish exactly this kind of good rapport with their clients and maintain that critical 'stickiness.'
"If you treat your customers well – you make it easy for them to solve their problems and you respond to their requests – chances are they're going to stick with you," said McGloin, adding that, from a customer's perspective, "You might have three or four or five points of interaction with your insurance company during one year and if each time you come away, saying, 'Hey, that was a great experience, it was really easy,' you're probably going to stay with that insurance company."
To learn more about how the AA increased sales conversion rates by 11% and decreased agent handling time by 40%, check out the case study.